Nancy Drew: Secret of Shadow Ranch
Exclusive
A phantom horse visits Shadow Ranch, leaving a trail of frightening "accidents." Local legend says the horse has come to avenge the hanging of its master, and that misfortune will befall whoever sets eyes on it. The ghostly horse tramples all hope of a restful ranch vacation for you, as Nancy Drew. You must discover the truth from the ghost stories quickly - you might be next on the list for unearthly revenge!
Incredible storyline
Expansive outdoor environments!
Rein in a ghostly secret!
Game System Requirements:
OS:

Windows XP/Vista/Win7/8

CPU:

600 Mhz

RAM:

128 MB

DirectX:

6.0

Hard Drive:

571 MB
Game Manager System Requirements:
Browser:

Internet Explorer 7 or later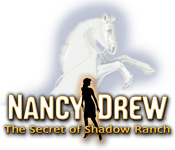 NEW299
The Big Fish Guarantee:
Quality tested and virus free.
No ads, no adware, no spyware.

Reviews at a Glance

Nancy Drew: Secret of Shadow Ranch
0
out of
5 (
0
Reviews
Review
)
Customer Reviews
Nancy Drew: Secret of Shadow Ranch
60
60
Slow-moving adventure, with good storyline
Overall I liked this game, but maybe I made a mistake in choosing Shadow Ranch for my first Nancy Drew. I often wasn't sure what to do, even with extensive notes and a task list. I liked the concept of having to think ahead and plan things, and I'm definitely going to try another Nancy Drew after this! I was immediately in love with the ranch and all the characters, but there was a terrible lull in the middle of the game that almost made me want to quit. All I seemed to do was ride around looking for arrowheads, with no hints as to where to look. I finally managed after checking out the game forum. The sense of adventure was dampened a little by the constant saddling the horse and bringing the saddle back. The inventory box took up half the screen and you had to keep opening and closing it all the time while doing this. Also the tasks were very household-oriented (feeding animals, baking, sewing...) and they required some studying first. I enjoyed learning about horses, and a bit about Arizona. Exploring the ghost town of Dry Creek was my favorite part, as well as talking to people to collect clues. There aren't many wild west -themed games so it was a change from the usual. Having lived in a city all my life, spending time on the ranch talking to cowboys was fun. I enjoyed the barrel-racing game which a few people seemed to complain about in the forums! I guess the problem is you can't move on until you beat that game and it took awhile, but then EVERYTHING in this game takes a while. I can't wait to try another one of these. I was happy to come across something different and more challenging than the usual HOPAs.
August 18, 2013
Love Nancy
I like the fact that I can select the level of difficulty and most of the puzzles are intuitive. The story lines are fun. The one thing that would have improved the fun factor for me is if once I get to a new destination, that there be a quicker way to travel between locations. I enjoy puzzles more than hidden objects and the story line defines the puzzle themes. Took me a while to get the hang of roping but once I did, I couldn't believe it took me so long. Cant wait for the next Nancy game.
April 5, 2012
Enjoyed it - nav is still a pain tho
I'm playing all the ND games in order of release on Senior mode. Fun Factor: O.K. but could have been so much better. I don't know why, but it seems that nearly all ND games are plagued by downright horrific navigation. Sadly, this really takes away from the fun factor. In addition, at times it could get a little bit frustrating trying to figure out what to do next. The vegetables were definitely frustrating and the penalty for getting it wrong was over the top. I noticed a number of other people who quit the game just b/c of that. Visual/Sound: Voice overs were great (compared to other early ND games. They really had character even if the wrangler was a bit cliche. I loved the facial animation on the perpetrator at the end (if you first fail in your escape). They really nailed that one. Sound was o.k. but nothing special. Level of Challenge: It had a good mix of challenges in it. Some tasks required reading, others common sense, some with problem solving skills, and some just plain good luck. I docked a bar on this tho because some of the challenges needed better explanation. For example, figuring out when to throw the lasso OY! Picking vegetables.. (GRRR)! Essentially, it wasn't quite as intuitive as it could have been. Storyline: I enjoyed the storyline. It was so tragic. In the end, I felt a twinge in my heart b/c all I could think was how sad of a story it was. How what could have been never was and how so many lives were shattered. There was a very sweet counter balance love story which I thought was absolutely adorable and helped create a nice happy ending for the game. Overall, the storyline is the main reason I gave it 4 stars. At times it offered creative new ideas for adventuring which I enjoyed but that stupid navigation system and some of the abrupt fails for silly things did take away from the fun factor. It is one of the longer games and I don't think the back and forth was too bad (compared to ie: Scarlet Hand and Deception Island). I would recommend this game but only to experienced adventure players and preferably those who have some experience with ND game mechanics.
August 30, 2013
Liked it!
I have played many of the Nancy Drew Games. This is an interesting one.
October 14, 2012
Nancy's "Cowgirl" Escapades Bring About A Winner!
Nancy Drew "Out West!" That is the setting -- the Arizona setting -- for this 10th game in the Drew Series, and my own 22nd Drew game traversal. The game is good, but the reason for my four-star rating instead of my usual five-star rating for these games is because of a certain lack of forboding such as was seen in "The Curse of Blackmoor Manor," which immediately followed this game, and other Drew games such as "The Haunting of Castle Malloy." Also, the constant twanging of Country-Western guitar music added nothing to the atmosphere. Nevertheless, the game had an excellent plot, and the identity of the culprit behind all of the cunning and deception, revealed at the very end, didn't surprise me. because I thought this person was kind of "sleazy," anyway. Great fun! I recommend this game highly!
December 17, 2012
Very solid adventure game!
Since I've stumbled over the Nancy Drew games, I'm basically trying to get them all. This one has a lot of atmosphere and even if some of the tasks are repetetive, it never gets boring. The storyline could have been a little bit more developed (especially around the phantom horse), but its very solid and the puzzles around the storyline are challenging but not impossible.
June 8, 2012
Good
could be challenging at sometimes but very fun to i would reccomend this game to people who like challenge and fun.
May 1, 2012
Kept going in circles
This is a 360 degree games, which I personally don't care for. I had no idea what I was looking for or doing. You just keep going around in circles looking at a lot of things that are useless. Graphics are poor and not clear. Didn't like it at all.
March 18, 2012
Just not for me !!!
I tried the demo based on the reviews thinking it would be something new to try. Shouldn't have bothered it was all over the place. If this is what all the Nancy Drew games are like I definitely won't be buying any.
March 19, 2012
Disapointed
Sorry But This game is making my head Spin I Cant Find anyone to talk to with any Idea where the Rawlinys are and,they are nowhere to be found I must be missing Something at this moment I dont recommend hthis game
April 6, 2012