Small Town Terrors: Livingston
Your family is missing and the town is in chaos in Small Town Terrors: Livingston! Search for your family, uncover the evil that has enveloped the town, and escape with your life in this mystifying Hidden Object Puzzle Adventure game. Explore abandoned buildings and search for helpful items as you try to piece together what has happened to the town. Find your family before it's too late in Small Town Terrors: Livingston!
Explore Livingston
Uncover the evil
Find your missing family!
Check out our Blog Walkthrough
Game System Requirements:
OS:

10.7/OSX_10_6/OSX_10_5/OSX_10_4

CPU:

1.2 GHz (INTEL ONLY)

RAM:

256 MB

Hard Drive:

474 MB
Game Manager System Requirements:
Browser:

Safari 4.0 or later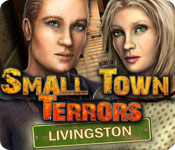 NEW299
The Big Fish Guarantee:
Quality tested and virus free.
No ads, no adware, no spyware.

Reviews at a Glance

Small Town Terrors: Livingston
0
out of
5 (
0
Reviews
Review
)
Customer Reviews
Small Town Terrors: Livingston
114
114
Neither terrific nor enthralling
There we go again... Same old story that has been hashed and rehashed in several previous games: some kind of disaster has struck a little town turning it into Leipzig after the Allied Bombing and where no-one is left except your family, two men [one watching a movie in a movie theater...uuhhh ???] and a shadow that appears every now and then. Objective: save the family. And that takes care of the plot. Highly original, isn' it ? The decor is pretty depressing even though the artwork is clear..... and very red in Chapter 1, a feature that after a while becomes eye straining. Things turn blue in Chapter 2, green in Chapter 3, purple in Chapter 4. The HO Scenes are a mess and progressing through the different locales is rather tedious due to the constant backtracking that doesn't seem to follow any logic, and even though some of the tasks are not without interest. Finding Medikits to replenish your health is a novelty never used in a HOG before, but it doesn't add much excitement to an adventure that quickly turns to be boring. Some minigames are interesting too, like moving a boat through a maze, but others are just common place. They can be skipped. No voice-over, no widescreen option, two gaming modes, a map, clearly stated tasks, and a hint system that points at what you can do next or tells you to visit another location. A warning at the start tells you the game is not for the faint hearted. LOL. I didn't see anything scary in it. Maybe later on in the game.... I played the demo, didn't like it, and decided Livingston would be a no-buy for me.
March 17, 2012
Been there, done that
Another game that starts with a car crash and the driver waking up from a coma in a grimy, dingy hospital. Stop me if you've heard this one before. Of course, the whole town is deserted except for some kind of creature, nothing works, and everything looks like it has been through a war. The only new wrinkle is you have some kind of disease and you need to keep finding "health packs" so you can perform tasks that require physical exertion. The HOS are standard junk piles (like there is anything else in this town). Sorry, but this is a no-go for me.
March 17, 2012
The usual
Just another " get out of town " game. HOS are the usual, not too hard and minigames are not too challenging either. Storyline so far seems to be everyone turned into " zombies"? You need to find health packs to do certain tasks and move on. Graphics are just okay. Sorry but this game just does not grab me and want to buy it.
March 17, 2012
A No-Go
It feels as if the developer woke up one day and thought, "That's it! I'll take a little bit from this game, a little more from that game, I'll make it all dark and gloomy, and I'll throw in the ever-popular crowbar as a hidden object, a few skulls, murky water, several zombies from another game, a few scares--and pretty much I'm done!" Er, no. We gamers at BFG need and always hope for more. Something new and refreshing ... something amusing and unique. In this game, the developer delivered on none of the above. Sorry, this is a no-go for me.
March 17, 2012
Small Town Terrors is a Terror
Pro's: 1] I loved the opening Warning sign. 2] Graphics and sounds were ok. 3] Hidden object scene's were great to me. Not too hard and not too easy. The objects actually look like what they were supposed too; no blue starfish or pink wrenches. 4] I liked all of the mini puzzles except for the first one. It was impossible to complete it. I had to hit 'Skip' and that's no fun. And after hitting 'Skip' it didn't show you the solution. I think they lied to us. I don't think there was a solution. 5] *****The guy in the tent scared me. I laughed so hard. I wish I could've clicked on him again to see him scare me again. Out of all of the scary HOGs I've played this was the first time something made me jump. Loved it! Con's: Too many to list but here's the most irritating. 1] Sparkles not having anything usable when you click on them. I would click on a sparkle and a box would move and there wouldn't be anything behind the box. 2] Too many things that sparkled weren't treasures. You'd have to go find a key or something to open it and then there wouldn't be anything really exciting inside of it when you finally get it open. I like getting things and moving on. And then down the road discovering something that might need a key and I already have it in my Inventory. 3] There is one scene where I clicked on a stool and a keyhole on a door popped up. The door was 35 feet away. What's a stool got to do with a door that's 35 feet away? 4] I'd click on something and it would fly down into my Inventory but not show up in my Inventory. Hmmm.... don't know what they were but they're hiding in my Inventory somewhere. 5] I didn't like the design of the cursor. It was hard to tell when it would change to an eyeball or hand a lot of times.
April 2, 2012
The Game Itself Is A Terror
After seeing this game around for a long time, I finally decided to have a crack at it, and I'm sorry I wasted my time! (based on 40 minutes free trial# Good Parts: Really good graphics. Clear, modern and really good designs. Chilling, ominus music suited the game perfectly. I liked the HOS. They were a really good challenge for me, and tested me quite a number of times. Cute little warning at the beginning of the game. I liked the "Emily flashbacks" which you received after finding one of Emily's things. Skip recharged quickly. I liked the tasks, and the step by step instructions to complete them. OK Parts: I liked the idea of the storyline, but there were no voice-overs, not even in the intro. Voice-overs would have made the storyline a lot more effective. Bad Parts: Hint takes forever to recharge, and I needed to use it a lot. It was so hard to figure out what to do, there really should have been a strategy guide. I hated the puzzles. They were all so hard and a complete waste of time. I didn't like the "health meter" and the way you had to fill it up by finding "health packs." This took a lot of time and really was a poor adition to the game, plus, activities drained the health metre. I disliked how the only use for some places was to get a health pack #e.g. the locked door of the truck# This game let me down in more ways than one. It had so much potential and I'm really disappointed by it.
October 31, 2012
wasted my money on this one
I usually like this kind of game. Graphics were sub par.
March 25, 2012
Small Town Terrors?
Didn't find anything of terror here. Didn't get through much of the Demo before I deleted the game. It is absolutely Boring. Nothing new, too many "movie" or cutscenes.
March 21, 2012
I feel like I played this before
This is so similar to so many games and particularly similar to one that I have played that I went back to look at my account to see if I had bought it twice. I feel like it must have been published under another name at one time.
March 22, 2012
Same old, same old....
The car accident/coma/filthy, abandoned hospital/ghost town has been played to death. The graphics are very dreary and depressing. I like spooky and creepy, not filthy and broken. I especially disliked having to scrounge around for energy packs to stave off constant attacks of weakness, it reminded me too much of the dreaded TM games that I avoid like the plague. I don't enjoy being stressed (even a little) while I'm playing a game. I have a job that provides me more than enough stress and I play games to relax. This one did nothing for me.
March 17, 2012
The Apple logo is a trademark of Apple Computer, Inc.
The Windows logo is a trademark of Microsoft, Inc.