Gutterball: Golden Pin Bowling
Get a perfect score in Gutterball: Golden Pin Bowling! Work your way through different alleys and master this fun Action & Arcade game! Unlock tons of different bowling balls and purchase fun power-ups. Use the three-way shot to get a strike or blow the pins up with a powerful bomb! Unlock amazing achievements win golden pins as you learn to line up your shots perfectly in Gutterball: Golden Pin Bowling!
Unlockable balls
Perfect powerups
Avoid a Gutterball!
Game System Requirements:
OS:

Windows XP/Vista/Win7/8

CPU:

1.0 GHz

RAM:

512 MB

DirectX:

9.0

Hard Drive:

157 MB
Game Manager System Requirements:
Browser:

Internet Explorer 7 or later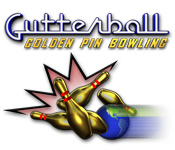 NEW299
The Big Fish Guarantee:
Quality tested and virus free.
No ads, no adware, no spyware.

Reviews at a Glance

Gutterball: Golden Pin Bowling
0
out of
5 (
0
Reviews
Review
)
Customer Reviews
Gutterball: Golden Pin Bowling
8
8
If you're a SERIOUS bowler, do NOT buy this game. However, if you just want some fun...
The varied environments, music, commentary, powerups, and bowling balls make this a family game up to 4 at a time can enjoy.
January 26, 2012
Luxor 5 th Passage
Lots of fun - will play for hours...
December 17, 2012
Let The Good Times Roll?
Obviously designed first for the iDevices. That said, the game plays well enough with mouse controls. You can even use your mouse after you release the ball to steer the direction of the ball. Makes improving your average a rather simple effort. Turn off that feature, learn to put a spin on your ball, and then off you go into nostalgia land. Hey, it's bowling -- nothing terribly new, play solo or against other friends. There are lots of "features" -- commentator, music, SFX -- you can control them all. Wide screen action at your Mac's max resolution for "fantastic" display. Several colorful alleys -- fanciful and otherwise -- to choose from. Select balls with different power and speeds, colors and designs. Unlock more choices as you earn golden pins. Use other "crazy" enhancements to knock down your pins, pick up splits, produce explosive strikes. This is the only bowling game BFG has ever offered, and Mac got it first. BFG Club members -- get this with a Punch Card Creditand go bowling for free! Aw c'mon -- you know you want to play this old favorite on your 21st century Mac. Let's go bowling!!!
January 12, 2012
Good Fun for a Novice!
Before I say anything about this game, I have to admit that I am a total newbie to bowling games and bowling itself. I know nothing about it really and I have never gone bowling. So there. I liked this game. Yeah, you can see straight away that it was designed for iPad/Phone, because of the movements and "tap to skip"-message, but it does work allright on a PC. It's very easy to play - just swipe your mouse forward or in an arch and the ball is off. You can use your mouse to "steer" the ball after "throwing" it, which makes it nice and easy, although I do understand it doesn't work like that in real life. :) Some people have said that this game is too easy, but I don't think so. Even with the help I get, I only manage to get strikes and spares about half the time, so I would say this game is good fun start for a newbie. Every time you knock down a golden pin, you get some points/credits/money to use on balls and alleys, and with every consecutive strike there are more of them among your target. The most I have got so far are 6 (but I didn't manage to knock them all down, and I was very lucky to get there.) Someone here complained they couldn't find the place where to buy different balls. To buy/swap balls, click on the bowling ball under your name on the screen where you can choose the alleys. I only found it accidentally myself, clicking around. :) What I Like: You have seven alleys to unlock and explore, each with their own challenges (weird gravity in space, a gong to hit in the chinese one, slope upwards in the ice dragon one etc); about 30 different balls to buy, some of them with fancy effects (how about a bouncy bowling ball? :D) and some power-ups (bomb, triple ball, bigger ball), but so far I have found that they are very expensive to buy for one-time use, since my "skillz" aren't that good yet. Last, but not least, there is a plethora of achievements to get, from getting several strikes in a row to different scores to splits and even a "buzzard" award, when you have managed not to hit anything 5 times! :) Fun and keeps you trying. I do like the visual side, although I can't manage to use very good graphics - the game slows down too much on my computer. The alleys are fun and the balls very nice as well. What I Don't Like: I am not sure how much I like the music. Every alley has a different theme, and some of them are nice, but some are too... "boy racer" for my taste. However, you can turn it off from the options, like the commentator (I didn't like her at all, I turned her off after the first couple of minutes. Maybe she/he is different in other alleys as well, but I don't want to risk it. :D) The last thing I want to complain about is the time it takes to load between the screens. I mean, this is a tiny game compared to some. What is there to load? Different gravity and effects? Even with the lowest graphics and fairly small screen size it's still too long a wait for me. All in all, not perfect, but good simple fun to kill a bit of time. Try it! tuskel, sincerely
April 16, 2012
Oh Oh
the color and graphics werre great. As for player control of the ball it needs fixing. I have played on other web sites where you can bowl and had no problems or obstacles like I encountered here. If game gave bettercontrol of ball to player then I would have purchased the game. I leave the purchasing of the game to the individual player.
March 21, 2012
Gutterball Golden Pin hmmmm
I noticed on the download page unlock-able balls. Where do you find that? You purchase lanes which isn't great looking and look like the old version. I do like that you can spin the ball but its confusing as to getting to do this. When you select an option like bomb or split ball well you have to be quick and think at the right time. I still haven't seen selection of balls yet. I only played the trial version and I do like that you can choose your screen resolution which fixed the previous versions issue, but the game isn't all that great. I rank on fun factor being slightly boring, visual sound good, I always like the music, level of challenge, a four year old could play it easily and for the adult very easy but confusing on spinning the ball. storyline, none at all. Typical sports game.
March 24, 2012
A Complete Disaster
I have both other Gutterball games, and was excited to try this game, but it was a total DISASTER!!! Good Parts: Great graphics Power-ups were great OK Parts: Not much of a challenge. Only to position the ball right. Bad Parts: Did not understand the use of the Golden Pins. They were used as a currency to buy stuff which annoyed me, because I liked the old way of unlocking things Limit of only 5 profiles. Unable to play against a computer. This was really annoying and made the game VERY boring!!! They've removed the "mouse steering" from the game. The ony way to activate it is to turn it on when you create the profile. Tutorial was not needed and was SUCH a bore! Seriously! I quit halfway through!!!! Overall, the game is a complete and utter fail. Do not play this game, play Gutterball 2 instead as it is much better.
August 11, 2012
Pretty Bad
Poor navigation, very poor tutorial; slow, choppy. Deleted the game after 10 minutes of the trial
January 13, 2012
The Apple logo is a trademark of Apple Computer, Inc.