Behind the Reflection 2: Witch's Revenge
A witch's quest for revenge spells trouble for a young mother and her son in Behind the Reflection 2: Witch's Revenge! Guide the mother as she pursues the witch through time and space to save her son from a fate worse than death. Interact with a variety of characters, find useful objects, and stop the witch before it's too late in this incredible Hidden Object Puzzle Adventure game. Triumph over evil in Behind the Reflection 2: Witch's Revenge!
Amazing characters
Search wonderful locations
Save your son from a witch!
Game System Requirements:
OS:

Windows XP/Vista/Win7/8

CPU:

2.5 GHz

RAM:

1024 MB

DirectX:

9.0

Hard Drive:

272 MB
Game Manager System Requirements:
Browser:

Internet Explorer 7 or later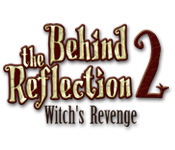 NEW299
The Big Fish Guarantee:
Quality tested and virus free.
No ads, no adware, no spyware.

Reviews at a Glance

Behind the Reflection 2: Witch's Revenge
0
out of
5 (
0
Reviews
Review
)
Customer Reviews
Behind the Reflection 2: Witch's Revenge
48
48
Immensely entertaining
Thouroughly enjoyed this one. Just the right mix of puzzle and HO for me. I did initially have a problem getting past the chess puzzle (couldn't get anything to move) but I waited until the skip was full and used it. The rest of the game makes up for it though. The HO are of two types being The hoarders room wth a list and also circles you have to complete. Items are easy to find with the odd one being a bit more challenging and the puzzles are nicely varied. The hint button recharges quite quickly and there are instructions on the puzzles if you need them. All in all this game is definitely a purchase for me. Enjoy!
March 21, 2012
Great Fun!
Based on Demo-that was far to quick IMO Child soul stealing witch escapes jail & wants revenge on a mother that turned her in. I haven't played the first one, but it really doesn't need it for this sequel. Intro/Loading music is very interesting & actually upbeat. No voice overs, balloon text on background-video clip replayable in notebook. WOW! excellant computer graphics are very clean great combo of HO/Gather items for next step (in same area-good# The music changes to suspenseful after intro once into game. clear instruction, fun mini games so far. a bit of thinking involved. no level options- click penalty in HO.#there are 18 ways to define stamp BTW) Sparkles only light up after 30 seconds-so good directions that way no map iinteractive or otherwise-so no info on length. So all in all a fun, somewhat challenging game for HO/Puzzle fans. 4/5--the map would have been helpful ALOT not only to gauge length, but also possible areas to explore, interactive would have been even better--so I'm spoilt :D
March 21, 2012
An Almost Identical Sequel
Story: Sending her to jail wasn?t enough to get rid of the witch who has now sworn revenge, and again your son is stolen by her. She is determined to have his soul, and before you can rescue him she escapes with him through alternate realities again. You?ll meet other victims of the witch this time, who will help, but it is still a race against time to get to your boy. Developer: ****** Release Date: Mar 2012 Extras: None This is so like its predecessor, it?s almost like an additional few chapters to the original story. Once again we are faced with magical mirrors and alternate realities. The graphics are the same style, although there is some technical improvement, and the music is the same mind-shatteringly irritating few bars from the first game. The game play has not changed either. There are things to find to complete tasks, which can be found either openly or hidden in the location, or occasionally in another close by. There are HOs and puzzles to complete others. All of it is as easy as you could possibly want, and will bore a more experienced player who likes a bit of challenge. But for quiet afternoons, and a cuppa, I think it?s a great fit. I prefer this game to the earlier one because it has interesting characters and parallel worlds, one of which I found quite intriguing...
March 2, 2013
You may be surprised
Beautiful graphics which were crisp and clear with a lot of things to look at in a scene. A couple of ways to find objects, reminiscent of Crystal Portal games. The scenes were not hard but some of the objects in them took a little more challenge. The puzzles were easy. If you are looking for a real challenge then this game will disappoint but sometimes it is nice to be able to wander through a game at a relaxed mode and enjoy really nice graphics. The hint system is fast. There was a little overuse of sparkles but overall an enjoyable game if you want a nice pace, easier puzzles and beautiful graphics.
March 21, 2012
Next?
The best way I can describe this game: Not for hard-core gamers like myself. Story line is too familiar, Mom looks for kid's soul that has been stolen by psycho witch. Hmmm, sounds familiar. Lets start with the cons: Although graphics are crisp and bright, animation is rough around the ages and outdate. Game looks old. Music is repetative and sound effects got on my nerve after a while; too much whispering in the back-ground. No voice-over, no map and sadly, one play mode which I think is the downfall of the entire game. I now know what it means to have too many sparkles and too many arrows pointing the way. It feels like I am dragged from one place to another without having any options to explore on my own. Seriously, a game for beginners. Game mechanics involve pop-ups to find missing items along with HOS. As for the Pros of the game: Cute mini-games I havent seen for a while and unfortunately that is it. While this game had great potential of being a good game, it lacks any kind of challenge making it fall flat. Too simple and too dull for my taste, sorry will pass on this. Cheers
March 21, 2012
Back to Basic fun and challenge
I was pleasantly surprised with this game for entertainment value. It is fast paced with lots of small puzzle games dispersed in the scenes, that actually take a bit of thought to do. While the creators skipped some frills, like animated drawers opening and extra tasks to get the hidden objects to work, you don't miss them, as so much else is going on. You no sooner finish one challenge then three more appear immediately and I found myself playing for an hour completely engaged in the game. So this will be one I buy, just because it was fun and caught my attention. It does not have the artwork of some of the "collector games", but I really liked playing it.
March 21, 2012
not worth it
I didn't play the first game - and if it's the same quality as this one - no chance I would buy it. First -that finger pointing has to go! In most games, that means you've found something good. In this game, just a distraction. Second - does the music have to be so strange and change with every scene? Third - why keep highlighting areas that don't need to be searched Fourth - when I ask for a clue, I really would like one - not the circle around the task I know I still must do. Had a hard time figuring out where things were, only to find parts 2 windows back, inside a HO game, or laying about somewhere. Summary - not worth the time. Found that I don't really care what happens to the kid or his mom. Sorry about that.
March 23, 2012
Too sparkly
This game started off with a lot of promise apart from the music / background sounds which became irrating. That wasn't a problem as I would just simply turn the sound off. Graphics were brilliant. Clear hidden object scenes which were not cluttered, with some items hard to find which is a challenge I like. The other aspect is finding a collection of items to obtain an inventory item you need. This again is something I like. Some unique puzzles and some variation on the common ones. This was a definite buy for me until... What totally put me off was what happened when she left the house. Whilst I am not an expert player and cannot play games in hardcore mode, I was overwhelmed by the sudden appearance of lots of sparkles and arrows all over the screen. Whether this had happened in the house and I hadn't realised I am not sure but it certainly hit me in the face later and I could no longer carry one. No buy for me but I will recommend the game because what bothers me might not bother you.
March 21, 2012
Run of the mill game
Boring, sometimes confusing game really has no clear cut objective. I spent almost the entire Demo hour in the house. Graphics could be better, spent a lot of time looking for objects that must have been drawn from someone not of this world. A carrot looked like a pepper. A coffee mill resembled an oil can. Too many puzzles that were tedious and not fun, skipped almost all. Reminded me of the first HOGs that came out years ago. Only upside were the drawings of the people and the witch.
March 21, 2012
WHAT A GREAT GAME!!!
Finally something different in a HOG...I love the combination of HOS and placing objects in a circle. Really different kind of game FAR from the same ole same ole! It was a little too easy as were the puzzles. The storyline was FANTASTIC and really good graphics. Give this game a try I'm sure alot of gamers will enjoy this one!! Thanks BFG
March 21, 2012