Restaurant Empire
A gastronome's dream come true! Starting with nothing except some cash, a passion for food and a great idea, you start by building a restaurant from the bottom up - hiring waiters, decorating, even cooking the meals. Restaurant Empire takes the art of cooking and running a restaurant to new heights. Command over 30 chefs and conquer the culinary world by buying, building, outselling and undermining your competition.
5 restaurant types.
Over 200 recipes.
Unlock secret recipes.
Game System Requirements:
OS:

Windows 2000/XP/Vista/7/8

CPU:

600 Mhz

RAM:

128 MB

DirectX:

6.0

Hard Drive:

657 MB
Game Manager System Requirements:
Browser:

Internet Explorer 7 or later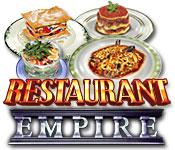 NEW299
The Big Fish Guarantee:
Quality tested and virus free.
No ads, no adware, no spyware.

Reviews at a Glance

Restaurant Empire
0
out of
5 (
0
Reviews
Review
)
Customer Reviews
A sims type game but not without problems
Do you like sims type games? Although I like 'the sims' it does frustrate me that I have to feed them, see they are rested etc when I just want to get on with the game. Here in this game you don't have that problem (horrah!) They seem to be automatons - not needing breaks etc. This has the same look/graphics of the original sims. Somehow I really got into this game- just got addicted to it. But like any sim type game, you can't pick it up and play for just 30 mins at a time. But I would say, that those that like pure sims games may be a bit frustrated at the lack of control (see above) of making them eat etc. It's not that kind of a game! It's all about making your targets, seeing customers are happy, making profits, winning cooking competition etc. I do think you need a walkthrough purely to give you tips on how to play this game and hints. I was lost at the beginning but hours into it, I got it. There is in built tips which does help but not fully. If you have time to invest, then you may like this. Tips - click on everything - customers, menu etc. Even if you manage to do all the tips - it's not 100% you will still get customers not happy - I guess that's life! I prefered restaurant 2 (not here in BF yet) it has more choice in furnishing, type of restaurants, food and even has a cake shop. It also gives you this original game free. I played this game first but I'd recommend you getting the 2nd game. In all though it's still a fun playable game!
November 19, 2011
Best game on all BFG
I have had this game for a few years now. I have been a member on BFG since like 2008, so I've played a LOT of the games here. What I love about Restaurant Empire is that I keep coming back to it. Anyway, in my opinion, this truly is the best game BFG offers because it is also the most unique. In every genre of games you can find a cookie cutter copy of any hit game with a few minor details changed. This game at least is truly original. I think that's why I keep coming back. It's refreshing. I love that there is a great deal of strategy involved, from menu pricing, recipe quality, what recipes you can serve, quality of service, quality of decor, and even if your stats are perfect (i.e. service, atmosphere, food, pricing) you will still get dinged because your restaurant is so good, people are getting turned away due to lack of seating! I know this sounds like a no win situation, but think of the valuable lesson this teaches us... there is no perfect scenario and sometimes your best is as good as it gets.
January 26, 2012
Awesome!
If you're into mindless games you can learn in 5 minutes, this game is not for you. You won't completely learn the game in your free 1 hour trial. There is even strategy in decorating your restaurants. As the game progresses, even more components are added. Many, many different aspects to this game and games within the game. Steep learning curve, but weeks and months of entertainment here. One of the best I've ever played.
December 17, 2011
awesome
kept me playing for the longest time, and playing a few times! I just wish we could continue with the game after winning the last scenario instead of heading to sandbox and starting from scratch again.. meh... challenges can be quite tough sometimes, I've had to replay some of the scenarios on easier level :P if you enjoy running restaurants, this is the game. not so much about cooking.. the restaurant external deco is quite fixed.. internal deco you can manage yourself. good idea to buy recipes and not spend money on "cooking tips" from customers.. build up enough money, win tournaments (save before entering, load if you lose! hehe..) for first time ever, i managed to build up to $3million woohoo!
August 10, 2012
Always fun!
I love this game! It has never been so fun to run your own restaurant. This game is really worth the money! It's a good storyline, you have many options are provided to do and it remains just plain fun. Cons: I still think you have a very bad unfinished tutorial gets. They were a little more time to spend because you're the most self-invent, like people that start with the sandbox option. They get no tutorial. That is quite a drawback. But otherwise, I love this game so bad! This is truly a must-to-play game.
June 21, 2012
Quirky Restaurant Tycoon Game
I love tycoon games and I love cooking so this one is perfect but be ready to invest time in learning how to play. You also need to have an interest in running a restaurant business and keeping customers satisfied. The graphics are so so but there is enough variety and challenge that I have played this many times over several years. You get to furnish and decorate restaurants, pick recipes, adjust the prices, hire and fire workers and work to improve their skills. There are also cooking challenges of a sort although I found these a bit annoying.
February 7, 2012
Good gameplay but loaded with design flaws
If you like cooking games, sim games, and are looking more something less casual and more intense, Restaurant Empire seems like an excellent title-- it has a lot of aspects I really enjoy such as picking out recipes, the minigames in the story mode, and decorating the restaurant. But it's loaded with design flaws in that there is no way to really address customer complaints or control the food quality. The sandbox mode also just lets too much happen at once while the story mode is incredibly limiting. All in all, it can be a fun play if you have cheat codes but has too much going on at once for the casual gamer while the seasoned gamer will get turned off by design flaws.
January 24, 2012
Boring to me
Well,if you like strategy games,it's good...what you have to do is to create and run your restaurant(s).In my opinion is soooo boring,I played for about 1 hour and I run out of money...Tutorials were helpful but so long as well,I felt like they would never end!Oh,and I should not forget to mention the colours...nice graphics...really cool...but the colours were not so lively as I expected.Oh,and you don't have to cook actually as I thought...you are just the owner...It's so anoying that generally I love strategy games and it's a piece of cake to me but this one was...oh!I just let my sissy playing it!She finds it very good although...I don't really know why!Trust me,"zoo empire"is much better!
May 3, 2012
One of the best games ever
So fun, run your own resterant and compete in iron chef
January 30, 2013
Impressive
It's clear a lot of thought has gone into the gameplay, from designing menus to the layout of the restaurant and the staff that work there, most of what I wanted was there. It's a great game and I'd definitely recommend it to people who like management roleplays.
July 25, 2012