Surface: Mystery of Another World
Exclusive
After your son, Bobby, mysteriously disappears, it's up to you to find him in Surface: The Mystery of Another World! A peaceful train ride to the coast goes way off course and now strange occurrences are happening all around you! It seems that there is another world just past your reflection. Use your Hidden Object talents to explore the mysterious area and save Bobby before it's too late in Surface: the Mystery of Another World!
Game System Requirements:
OS:

10.7/OSX_10_6/OSX_10_5

CPU:

2.5 GHz (INTEL ONLY)

RAM:

1024 MB

Hard Drive:

677 MB
Game Manager System Requirements:
Browser:

Safari 4.0 or later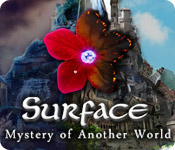 NEW299
The Big Fish Guarantee:
Quality tested and virus free.
No ads, no adware, no spyware.

Reviews at a Glance

Surface: Mystery of Another World
0
out of
5 (
0
Reviews
Review
)
Customer Reviews
Surface: Mystery of Another World
215
215
Illogical, Convoluted and Bewildering
I have played some excellent games by this developer, but sadly this wasn't one of them. "Sadly" because the story and artwork were really, really good. I loved having live actors in the cut scenes. Even some of the HOS had live (or photos of live) animals or people. But I thought the game play was illogical, convoluted and entirely to much trekking back and forth. Normally, I don't like a hint system that tells you exactly what to do, but in this game I needed it and the transporter map as well, because the game is seriously all over the place. The artwork, live actors and story almost make up for the game's defects, though. It's a good game but not a great one like I have come to expect from this developer. Three stars because I had to use the hint button to know what to do next entirely too much.
July 7, 2013
TEDIOUS IN BOTH WORLDS
Review based on incomplete game because I had reached my wit's end. Use of live actors were good when they appeared; same with vos. Too much (for me) reading. Most of the scenes are back and forth searches, combining inventory items with HOS. The HOS will continue to sparkle because an item is needed from another location. You will have two lists - inventory and ho and you must switch between the two. Map does transport to previous locations but not to areas with a question mark. There is no misclick penalty. Hint charges fairly quickly and gives instructions and directions and believe me, it's needed. Many of you will enjoy the challenge but I found it to be frustrating. I play these games for relaxation and enjoyment, not to wind up with a migraine. Give it a trial run. It may be just the game for you. For those of you who love a good challenge, I will recommend the game. It just wasn't for me.
February 9, 2013
great game until they took a siesta
I was really looking forward to playing this game.. And I did, enjoy graphics, story line, and minigames which are really pretty good. Then I started the second half of this game and it was as if they let a whole new staff finish witing the game. The constant running back and forth between floors to place one item became demanding, boring and frustrating. And you cant really continue without placing that one item to advance. Thank god for the map, because I didn't remember where I was or was going at that point, it covers a very large area. Its really a shame, this could have been one of my favorite games.
January 23, 2013
Its good but..
Its a weird game to review, on the one hand its a lot of fun, good puzzles, pretty graphics. Until you get to the story..the cut scenes are cheesy, the story is cheesy its like a bad B movie made by high school kids! BUT, in a game like this the story isn't the most important factor, its nice, but its not crucial. so I would say try it out just don't expect to be thrilled by whats going on around the puzzles!
August 18, 2012
No continuity.
The action was not smooth. One puzzle did not intuitively follow the action of the previous. Really made no sense.
July 10, 2012
Not as good as I thought it was going to be..
It has a strange European feel....the graphics include live action which has terrible acting...the people are obviously not speaking English as the words do not match their lip movements. These things detracted from the game. Yes, it is different....but not a good different. Sorry I purchased.
March 13, 2012
Disappointing...
This game has everything a good game should have. Its very long, great graphics and music, live actors, voice overs, beautiful hidden object scenes but the storyline is just so bad that I felt like this game was never going to end and it was sooo boring to me that it took me forever to play it. I wanted to at least finish it but it took me weeks because every time Id play a little, Id start falling asleep. Im not quite sure what was going on as the plot went into some crazy realm. Im all for long games when they are fun but this one dragged on and on and on. Elephant games are one of my favorite developers but this and Black Isle have been really disappointing. The graphics/animation are stellar but the game goes nowhere and becomes routinely boring. Like I kept doing the same things over and over again but with a different tool. Why couldn't I keep the same tool and use it more often? Who gets rid of a swiss army knife? If anything thats the tool Id keep with me at all times. I don't know if its just me but games about saving the children are starting to get really boring to me. This kid could have stayed gone and Id been okay with it. The letters you read were also very confusing. All in all Im just so glad this game is over so I don't have to continue playing it. Yawn.
May 2, 2012
Mayzy's Reviews - Surface: Mystery of Another World
I really loved Surface: The Noise She Couldn't Make, so I had very high hopes for this game. Unfortunately, I was sadly let down. To be honest, I had to really force myself to even finish it. The concept of parallel worlds has a lot of potential in games, but this one clearly did not have a lot of thought put into it. The world seemed disjointed and slapped together. In one area the technology is medieval and in another there are... steampunk cell phones? The story line could have worked but I was always so dismayed by the lack of depth that I couldn't lose myself in the game. The HO scenes were nice, but some of the tasks were so ridiculously illogical that I wanted to chuck my computer out the window at times. Need to cut something down off the wall? Don't use the knife or the hammer! Use the..... string?? The acting was horrible to the point that I almost couldn't watch the cut-scenes. I really try to avoid being so negative about games. There are a lot out there that are way worse. I guess that, after such positive experiences with other games by this maker, I expected much, much better. I would definitely not recommend Surface: Mystery of Another World.
December 1, 2012
Good puzzles; ridiculous cut scenes
To me this game felt like an interactive B movie. The cut scenes were so campy and terrible and the villain wasn't even half scary. (On the other hand, it would have made a fantastic episode of MST3K!) Take the cut scenes (and the fact that the reason your son has been kidnapped and sealed away with his "twin" in a parallel universe is NEVER explained) out of the game, and there are some beautiful scenes and really unique and interesting puzzles. This game has some really good elements but personally I don't think it's worth buying.
October 15, 2012
So Boring
Maybe I missed something because everyone else seems to have rated this game highly....but I found this game to be boring x 10. The story line failed to keep me interested, the puzzles were easy and there was way too much back and forth travelling for me. The items, machines and people I had to engage with bored me silly. The graphics are basically a collage of browns and grays with some fire thrown here and there. I had to literally force myself to finish this game as I kept yawning and wishing I were doing something better such as the laundry. If you like an engaging story line, lush scenery and intelligent puzzles, my advice would be to skip this one.
April 21, 2013
The Apple logo is a trademark of Apple Computer, Inc.
The Windows logo is a trademark of Microsoft, Inc.