Surface: Mystery of Another World
Exclusive
After your son, Bobby, mysteriously disappears, it's up to you to find him in Surface: The Mystery of Another World! A peaceful train ride to the coast goes way off course and now strange occurrences are happening all around you! It seems that there is another world just past your reflection. Use your Hidden Object talents to explore the mysterious area and save Bobby before it's too late in Surface: the Mystery of Another World!
Game System Requirements:
OS:

10.7/OSX_10_6/OSX_10_5

CPU:

2.5 GHz (INTEL ONLY)

RAM:

1024 MB

Hard Drive:

677 MB
Game Manager System Requirements:
Browser:

Safari 4.0 or later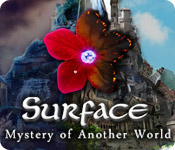 NEW299
The Big Fish Guarantee:
Quality tested and virus free.
No ads, no adware, no spyware.

Reviews at a Glance

Surface: Mystery of Another World
0
out of
5 (
0
Reviews
Review
)
Customer Reviews
Surface: Mystery of Another World
216
216
So Boring
Maybe I missed something because everyone else seems to have rated this game highly....but I found this game to be boring x 10. The story line failed to keep me interested, the puzzles were easy and there was way too much back and forth travelling for me. The items, machines and people I had to engage with bored me silly. The graphics are basically a collage of browns and grays with some fire thrown here and there. I had to literally force myself to finish this game as I kept yawning and wishing I were doing something better such as the laundry. If you like an engaging story line, lush scenery and intelligent puzzles, my advice would be to skip this one.
April 21, 2013
disappointing
very sorry i bought this one based on reviews. It has the most annoying voice overs ever. not appropriate to the story line at all.
April 14, 2012
This one's not for me!!
Nice graphics, but way too easy and too much flitting about from one place to another for my liking, although the map helps. It's not an awful game just not for me.
September 4, 2012
Surface:Mystery of Another World
The story line was really bad. And it wasn't very challenging to me even on a hard setting.The scenery was the best thing going for this game.I just sampled the game and did not purchase this game. You can do better Fish!
March 7, 2012
Weird
Not a big fan of the characters...weird. Too much jumping around also.
March 2, 2012
No, no, no!!! I LOVE "Surface games" But not this one!
I had high hopes for this game because Surface: The Noice She Couldn't Make & Surface: The Soaring City were the two best PC games I've ever played. Surface: Mystery of Another World was disengaging and disappointing. The storyline is lost almost immediately. Many of the HO's couldn't be completed when you came to one because you have either missed items needed or haven't played the game far enough to find them. The map was of no help & you are trapped chasing your tail by having to constantly return to previous places. The game has little if anything to do with the storyline. I thought it was just me, so I restarted the game to give it a fair chance. That confirmed it... this game was so poorly put together that I can not even force myself to finish it. Keep in mind, I have given every other "Surface game" a straight 5 star rating. The 2 games I mentioned at the beginning of this review are extraordinary, so Please, try and buy those instead.
November 3, 2014
Space-cadet Developers! Review Based on Finished Game...
Wow! I hardly EVER give a bad review! A game like this gives "Adventure Games" a negative outlook. Started out rather interesting with a parent and child sitting on a train and the son gets kidnapped. Thereafter, the story is fraught with ridiculous, complicated twists and turns and a storyline that made no sense whatsoever! There is a Journal and a "Map" which gets you to different places, however, you are literally "lost in space" with wandering to and fro to the point of frustration. By the time I picked up a useful object, I completely forgot where it was needed due to being spread out too much. Most annoying was having to use an inventory item to interact with a hidden-object scenes as well as throughout, the irksome comments when placing the wrong item in a scene, "That would work on Earth". Alas! The actors were terrible, their costumes looked like curtains and I'm running around trying to find "water" with water fountains everywhere. Really? What I don't understand are the rave reviews!! This game should have been an excellent game given all the time, work and money invested, however, it's probably the worse game I've ever purchased/played on BFG and anywhere. I couldn't wait until it was over. Hoping the second "Surface" game is way better since I purchased both games based on reviews and the one-hour demo--which is very deceiving as the game gets so much worse instead of better. Very disappointed BFG!
September 13, 2012
Surface: Mystery of Another World? Mystery to me!
I am truly amazed at all the rave reviews for this game and am joining the ranks of the dissenting. This game is designed for people with excellent memories and/or who can complete the game in one sitting? neither of which is me. This saddens me greatly because Elephant Games was one of my favorite developers. What I liked: ? Graphics. ? Detailed hints. ? Fast hint and skip recharge (thankfully!). What I disliked: ? STORY: I found the story to be boring and disjointed with too much reading. About half way through I quit reading almost everything acquired and even stopped picking up messages to try to speed the game along to end my misery. ? GAME PLAY: Designed to make the game long rather than interesting and enjoyable. Illogical use of inventory items. I enjoy games that require the player to ?think outside the box? but in this game it was just a means to prolong the agony. Another game-lengthening technique that was overused was the room changes in chapter 3. If it had been changing to one room, completing it and then on to the next, it would have been interesting. To keep changing for only a few objects at a time was tedious. ? HIDDEN OBJECT: Way too many items to find in hidden object scenes with many, many multiples. I took the advice of another reviewer and just started clicking everywhere in the HOS until almost all items were found. Having to use inventory items to complete the scene would have been interesting if items were already in inventory. But too many times the item needed was not found until much later in the game. Then to remember where to use it? (sigh) ? MAP: It may be interactive but with no actions noted, it was next to worthless. It was much easier to just use a HINT to get a detailed description of what to do next. ? INVENTORY: One of my pet peeves with developers these days is the use of a pop-up inventory without giving the option to lock it in place. ? PUZZLES: Run the gamut from easy and enjoyable to tedious and time-consuming. ? CUT SCENES: Amazing that anyone would admire the live action cut scenes. Most were campy and poorly executed with lips not in sync with voices. Another reviewer suggested it was foreign actors using a different language which would make sense. I have played very few games that use live action to advantage. If you can?t do it right, don?t do it at all. ? BACKTRACKING: Games that require backtracking through many rooms for one item at a time are frustrating, tiresome and unimaginative. Definitely take it for a spin but keep in mind that the demo is a far cry from the real game.
October 12, 2013
Got to be THE WORST "Hidden Object Game" I've Played! :(
I am truly sorry that I wasted my money on this one & wish that I had it back I am sad to say..... & this is my first time to comment. I found myself constantly using the "hint" button to find out what I was supposed to be doing next; This one left me constantly confused, gave me an incessant headache & the constant going 'back & forth/from this place to that' again & again & then never giving you the thing that you NEEDED in the first place was so annoying! & then the main character calling himself the "Lord".........well that was IT for me! I quit the darn thing before I even finished playing it, I was so frustrated & had such a headache! =0
August 12, 2012
I still don't know if it ever ended
If you like going back and forth constantly you will love this. If you like one HOS after another you will like this. Suffice it to say, as though you couldn't tell already...I did not enjoy this game and cannot recommend it. Even in the cut scenes, the idea was so preposterous as to render this unenjoyable I'm afraid. I really can't tell if the game got worse as time went on or if I just grew less tolerant. I was supremely disappointed because the game came so highly recommended. Caveat Emptor.
November 10, 2012
The Apple logo is a trademark of Apple Computer, Inc.
The Windows logo is a trademark of Microsoft, Inc.