Brink of Consciousness: Dorian Gray Syndrome
Help Sam Wilde rescue his love Anna in Brink of Consciousness: Dorian Gray Syndrome, an incredible Hidden Object Puzzle Adventure game! Sams every move is being tracked so he has to be extra careful. Putting his journalistic talents to the test, Sam must find the maniac who has kidnapped Anna, and stop him before its too late. Explore gorgeous locations and solve tricky puzzles in Brink of Consciousness: Dorian Gray Syndrome!
Begin your discrete investigation
Stop an evil maniac
For a more in depth experience, check out the Collector's Edition
Game System Requirements:
OS:

10.7/OSX_10_6/OSX_10_5

CPU:

1.0 GHz (INTEL ONLY)

RAM:

256 MB

Hard Drive:

454 MB
Game Manager System Requirements:
Browser:

Safari 4.0 or later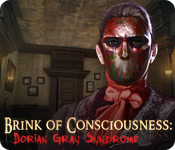 NEW299
The Big Fish Guarantee:
Quality tested and virus free.
No ads, no adware, no spyware.

Reviews at a Glance

Brink of Consciousness: Dorian Gray Syndrome
0
out of
5 (
0
Reviews
Review
)
Customer Reviews
Brink of Consciousness: Dorian Gray Syndrome
205
205
Very Good, Very Creepy... but get the collector's edition.
If you love horror movies like I do, then you will adore this game. From the very first scene, it establishes a dark, chilling, and arresting atmosphere that only intensifies as the game progresses. The story is frightening and enthralling: I was genuinely apprehensive as I worked my way through room after room of grotesque art and challenges. The voice acting is excellent, and it is clear that a great deal of thought was put into this game's production. However, I would STRONGLY recommend that anyone considering purchasing the full version opt for the collector's edition rather than the standard edition: the plot is rather incomplete without the extra level. I would have liked to have played it and seen all the loose ends tied neatly. This is one of the best hidden object games I've played, thusfar.
March 16, 2012
A great game with a few flaws
This game was great but with a few annoyances. The graphics are excellent and the voice over was awesome. I enjoyed the mini puzzles which were sometimes too challenging to complete but this game provided a button to explain how do to the puzzle, something I appreciate that not all games provide. There is a map and a journal, both of which you will need. The thing that annoyed me the most was getting lost. There seems to be so many rooms and areas that you get lost even with the map, which is sometimes confusing due to just the way it is set up. Overall the game was worth the price and it kept me entertained for about 6 hours. I really enjoyed the attention paid to small details throughout the game! For example while searching for clues things get knocked off a desk and break and electricity goes in and out changing the lighting in the rooms. Great! I wish the ending had been longer but otherwise I would recommend . ( I didn't play the collectors edition which allows for continuation of the story if you do.)
February 6, 2012
Lovely graphics but turn off the cough
I just finished playing the SE of this game and I did really enjoy the "toing and froing" - remembering where all the areas were was a challenging exercise. The graphics were realistic and beautiful, especially the ambient light from the stormy sky. I'd love to live in some of those rooms and eat on that porch. The HO scenes were well done, fairly logical and not too junkpiley. There were a few scares, and the atmosphere stayed eerie, although the villain's voiceover got very tedious and very annoying. The music was just beautiful but I eventually turned the sound off due to the incessant and irritating coughing - seriously, the main character coughed constantly. Is he tubercular or does he have a dust allergy? The map wasn't oriented well and following it sideways was a pain. A self-orienting map please! Some of the puzzles were great fun and others were annoying and needed the skip button to end the pain. The ending was, well, just an ending, and there will obviously have to be a part 2. Anyone venture an opinion on whether changing up to the CE version is worth it?
January 29, 2012
fun fun game
This was a very fun game. I liked the fact that at the start of the game you could choose your difficulty level ( thank goodness. I played the regular mode and it was pretty tough) I got stuck a few times and had to go online for a walkthrough. The hints are not really all that helpfull and I got easily frustrated when I could not figure something out and had to quit and look it up on the walkthrough. Some of the graphics in the hidden object scenes were kinda dark but not too bad. The mini games were a lot of fun they were not the same ole same games that are in all the hidden object games. The voice over was excellent and the story line was great. Overall this is an awesome game!!
January 27, 2012
It was great but....
This game had very impressive graphics, nice voice overs, nice music. Yes, yes yes. BUT it is so much running around that I stopped playing about 4/5ths of the way through out of sheer aggrivation. There is a map which isn't interactive, puzzles that give little to no info and a "hint" system that merely says "nothing to do here". It is a challenging game, however I don't think tedious running, frustrating puzzle info and tasks spread out over so many layers is a "feature" that adds to good gameplay. I would have loved this game to death if it was a bit more user friendly and the time spent playing was on more puzzles/things to do in one spot rather than clicking and hunting and then doubling back again to click some more. If you have the patience, this is a beautiful game.
January 25, 2012
Too Much Back & Forth
1st I will say that I played Without Sound so do not know how that was. I seldom play with sound because it gets on my nerves and I really do Not like eery sounds. I play for the fun of it. That being said - this game had good color and graphics with some mini-games that were hard or just boring so I hit Skip - did not want to take the time to complete it. The game was actually fun - at times - But then I would have to go back and forth too much and was easy to forget where to go back to. Then it became Boring so I would quit for awhile. I usually love HOG but in this game - just when things were back to being fun - I would have a HOG which was depressing. I did make it through the game But I seriously doubt that I will ever play again.
May 5, 2012
Brink of Boredom
Beautiful graphics, great twist near the end, fantastic storyline & villain and fab location.......so why the low rating and what went wrong? Quite frankly the traipsing back and forth a long way was tiring. By the time you'd found what you were looking for you'd forgotten where it was supposed to go. The map, which was supposed to be helpful, wasn't. It didn't show where you should go, nor did it show you where the hog scenes were which it should have done. The puzzles were uninspiring and i skipped most of them as they were boring. I nearly gave up playing but stuck at it till the bitter end as id paid for it. So, a frustrating game, which is a shame as the story had potential......but if you don't mind a LOT of traipsing about then you wont mind this game..if however you prefer a game which has an instant travel map then you might want to give this a miss.
April 11, 2013
Dorian Gray
Game was full of twists and turns! Clues were confusing; I seemed to be going aorund in circles most of the time trying to figure out where I was going next? Repeating room over and over again was very boring. Graphics were average. This is just not my type of game!!
February 5, 2012
Thought it would be better..
I want to first say this was an average game, I felt it was more for a beginner, the puzzles were very easy and I almost finished the whole game within an hour. I didnt finish it out of sheer boredom and the main character was constantly talking to the point I actually shut off my speakers. Everytime you go somewhere he is talking to you, even without the speakers he still is talking (you can shut off the dialog) but you wont be able to move until he's done. I really wouldnt recommend this game...The graphics were cool though......
January 27, 2012
Wish I had known
This was a good game but I wish I had known that in order to see the ending I need to play the collectors edition. If I want to see the ending I have to pay another 13.99 and probably play the game over again. Is it worth it? Probably not.
April 3, 2012
The Apple logo is a trademark of Apple Computer, Inc.
The Windows logo is a trademark of Microsoft, Inc.