Rita James and the Race to Shangri La
Join the "More Brave than Brilliant" Rita James on another whirlwind adventure in search of the mythical paradise of Shangri-La in Rita James and the Race to Shangri-La! Travel with Rita, Sebastian, Dr. James, and Marbles the one eyed monkey, to a land of mystery where few have ventured in this mesmerizing Hidden Object Puzzle Adventure game. Find the legendary city while being chased by the sinister Dr. Stroheim!
Incredible locations
Amazing characters
Find Shangri-La!
Game System Requirements:
OS:

Windows XP/Vista/Win7/8

CPU:

1.2 GHz

RAM:

512 MB

DirectX:

9.0

Hard Drive:

352 MB
Game Manager System Requirements:
Browser:

Internet Explorer 7 or later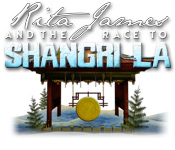 NEW299
The Big Fish Guarantee:
Quality tested and virus free.
No ads, no adware, no spyware.

Reviews at a Glance

Rita James and the Race to Shangri La
0
out of
5 (
0
Reviews
Review
)
Customer Reviews
Rita James and the Race to Shangri La
44
44
Just plain fun!
What a nice little adventure this was! There were enough HO scenes scattered around to keep the HOG'rs happy, but it plays like a true--if fairly easy--adventure game. The characters, writing, and graphics style was straight out of a comic book complete with "cliffhangers" at the end of each chapter. The puzzles were fairly easy, but you still had to put a little thought and effort into them, and they were entertaining, with a few I hadn't seen before. The hidden object scenes were a nice mix, with each one having several single objects, a few multiples, and one or more that were very interactive. A few objects were a bit dark, but for the most part everything was very clear, and proportionately-sized to the scene. There were voice-overs for all the dialog, and they were well done. The music was not overly repetitive, it was very pleasant and appropriate to each scene. The locations are large and interesting, with some backtracking but never more than a few clicks. No map. Hints recharge at different speeds depending upon the difficulty of game play you choose, and are unlimited. The story is not overly involved, but entertaining, carries through the entire game and made me want to find out what happened in the end. It took me 4-5 hours at the medium difficulty setting. Really a fun little diversion for when you're tired of all the dark, dismal, horror games, and don't want to work too awfully hard. I'll be looking for more in this series!
July 4, 2013
Excellent game!
I loved this game! The story and cut scenes were funny. I really liked Marbles the one-eyed monkey. The graphics aren't as good as most other, recent games, but I would rather play a fun game like this than another one of those gorgeous looking, boring ones!
May 29, 2013
What a funny and memorable game!
This one just became one of my favorites! Despite its outdated visuals, "Rita James and the Race to Shangri La" is a memorable and amazing game. - Despite that in some scenes the graphics would really seem old, the interior of certain buildings such as the hotel and the restaurant were beautiful, not to mention the exterior, especially in the village! The snow falling was just a beauty!; - The music was beautiful and very oriental, amazing, really, one of the best soundtracks that I ever had the pleasure to listen to in a casual game; - Amazing voice-overs! - Very funny and memorable characters, as well as lines, such as "How I Lost My Marbles"!; - Though looking for objects in the locations sometimes was difficult, I started enjoying it more and more as the game advanced; - The storyline was great, and I couldn't wait to set my... er... Rita's foot in Shangri La, at last!; I don't know what else to say, really. This game had no flaws for me, except that it ended, unfortunately! I only wish they make a sequel or another game with Rita. The trip I made to Shangri La was an amazing one and I only wish it didn't had to end. I just loved this game, but I realize that most people probably won't, so what you have to do is try and I sincerely hope you'll love it as much as I did!
April 25, 2013
Have you ever spent a rainy day in the Pacific Northwest
This was such a fun, funky game, way to go developers. Hardly noticed the rain at all no better way to spend a day. Thank you
April 4, 2013
A fun quirky game
The graphics are nice - not the depth of other stunning games but good enough to get you involved in the atmosphere. The storyline is good and it is set in the cold once again! This is more cartoon-like and the characters are fun and the dialoge amusing. The tutorial will help you with the game. The HOS have different ways of finding items - including putting items together and there is some challenge here. The puzzles are good and not too hard and if you persevere, you can work them out so for those looking for some challenge, this may be the game for you. The map is interesting - it shows you the locations plus the tasks and is easy to work with. An enjoyable game.
March 26, 2012
Entertaining HOAP game
This game ticks all the boxes for an entertaining game that isn't overly challenging, but not too easy either. No option for different modes of play, but thankfully no sparkles and not too much hand holding either. The HO scenes were interactive, and very nicely done. The game play didn't have you running back and forth too much which is a bonus. Once you've finished a chapter, you are in a new environment with little more than a handful of various rooms to visit. The hint refilled quickly, and didn't give too much away. The puzzles were too easy really. I skipped some - more out of boredom than the challenge! You collect up to four different energy crystals that have different functions..start fires, add electricity, blow wind and help young things grow. I found these being used more towards the end of the game. I played non stop for 6 hours, and still just have the last bit to do. A relaxing game, well thought out although the graphics weren't that special. Cartoon cut scenes, most of which I skipped. Voices weren't irritating and characters quite amusing.
March 26, 2012
A race in which you can take your time
I rather liked some of the locales for their graphics which are clear, not overloaded with useless details, the setting in snowy and icy Tibet and the "technical" aspect of several tasks involving machinery and tools. It seems the devs derived their inspiration from some scenes that made the originality of Syberia and Paradise. I was also amused by the intro, cutscenes, characters and dialogs; there is a small amount of humor to them and the voice-acting which backs them up is quite good. So is the music which shows an effort has been made to produce a decent soundtrack. The rest however left me fairly cold [no wonder, we're in Tibet... LOL] and unimpressed. The game would probably have been more enticing without any HO Scenes although these are quite manageable and on the whole not too cluttered. It would also have gained in quality if the puzzles hadn't been so dead easy. As for the tasks, well, always the same sort of stuff with the traditional screwdriver, crowbar and similar items. Hints deplete even if there is nothing to find, but the map helps locating your whereabouts. I am not too sure the story makes sense in the end. Strictly speaking this is a 3 Star game. I am giving it 4 stars mainly because of the cartoon intro movie and cutscenes and the soundtrack. Not really challenging and rather relaxing you may want to keep this game on the side in case it comes up on the Week's or Daily Deal, the sole instance that would fully justify my recommendation, unless you like tackling machines and mechanisms or are looking for something simple to do
March 26, 2012
A cute game that will give you a laugh
I've played others in the Rita James series also and I've found them all to be fairly entertaining. The dialogue and characters are amusing to say the least. Gameplay itself is not bad at all. It's pretty straight forward and holds your interest enough. I don't ever pay much attention to music in games since I usually turn it down or off in order to hear the environment and voices better so I'm not a good one to rate music. HOS scenes are interactive and objects are clear enough to see without wanting to throw something at your computer screen. Graphics throughout the game are nice and clear as well. Overall a cute game that I would recommend trying since there are certainly much worse games out there than this and like I said it's amusing so you'll get a good laugh once in a while at the very least.
March 26, 2012
Boredom fighter
I liked this game. It's really on the cheesy side, but it's pretty funny in a cartoon way. You have to play it with a lot of acceptance in areas that you would have to do something that in real life you would no way attempt, but, hey, it's a game and that's the fun of it. The characters are so full of themselves it makes me laugh.
April 9, 2012
Fun for all
I enjoyed this game simply for the fact it was a bright cartoon with not too much emphasis on the hidden object factor. I am not much of a fan of the constant hidden object scenes that alot of games bury people in so this was enjoyable.
April 1, 2012