Phenomenon: City of Cyan
Help Monica uncover the secrets and tragedies of her childhood in Phenomenon: City of Cyan! 20 years ago a dangerous experiment destroyed most of Cyan City and turned many of the citizens into strange creatures. Explore the deserted city, overcome supernatural enemies, and find powerful allies on your quest to find out what happened to Monica's parents in this fantastic Hidden Object Puzzle Adventure game.
Master the minigames
Explore the deserted city
Uncover Monica's past!
Game System Requirements:
OS:

Windows XP/Vista/Win7/8

CPU:

600 Mhz

RAM:

512 MB

DirectX:

9.0

Hard Drive:

325 MB
Game Manager System Requirements:
Browser:

Internet Explorer 7 or later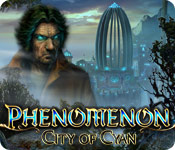 NEW299
The Big Fish Guarantee:
Quality tested and virus free.
No ads, no adware, no spyware.

Reviews at a Glance

Phenomenon: City of Cyan
0
out of
5 (
0
Reviews
Review
)
Customer Reviews
Phenomenon: City of Cyan
226
226
Did Not Hold My Interest
This game had possibilities in the beginning until I had inventory items with no scenes to place them and scenes with inventory items I couldn't find. The constant jumping from place to place had me dizzy. Not my cup of tea.
June 4, 2012
Not as good as I expected
I played the trial and bought the game on the strength of that. I liked the fact that the puzzles and clues were a bit different to the usual. But the storyline is garbled and it's difficult to see what move to make next without resorting to hints. It's also very "heavy" and ran too slowly on my computer. Also it was pretty short , less than 4 hours, I'm sure. Interesting but not worth the money, unfortunately.
June 3, 2012
Starts good, ends disappointingly
I enjoyed the trial hour and decided to purchase, however I'm disappointed and wish I spent the money on another game. The story started well but ended abruptly. The visuals and sound were good but the actual play lagged and became difficult to manage. I tried both with the finger pad and with a mouse. Some improvement with mouse but still had lagging pointer and choppy movements. I like the mini-searches within the hidden object. It definitely added a new element as well as the "jigsaw" puzzle within a puzzle. Overall though, the puzzles were too easy even on the advanced setting. Additionally, some parts had little flow as to what to do next despite the task list. Final thoughts: great premise but does not deliver.
April 14, 2012
sorry to swim against the tide, but...
This is based on the demo only because I won't buy the game unless it is on DD or CotW. Pros: *Beautiful colors and well-drawn. *Interesting HOSs within HOSs. Cons: *Voiceovers. The heroine, Monica Dipp (aptly named) could not be more of a wooden board if she tried: "I. guess. I. should. try. to. find. my. mother. Right. ?" (paraphrased, but close...) YA THINK? I cringed as i listened to her dumb lines and "acting". * Puzzles were ridiculously easy with too many instructions. Let me think and figure things out for myself! *Tasks were ridiculously easy. We need to make a potion for dad's eyes... let's see, everything is RIGHT HERE, no "cooking" or finding stuff later to come back and finish the task....just put the petals and berries in the pot of water and VOILA! Same for getting into the city, the necessary items are right there, waiting in plain sight. No thinking or searching required. I always play on the hardest mode offered (this game offers two) because I like to be challenged, not led around by the nose. I like to think and keep the grey matter functioning, not just look at the pretty scenery. Sorry, not a buy for me, unless it's on a $2.99 sale. Maybe not even then, it'll depend on what games I have left to play.
March 27, 2012
Too Much
I would have enjoyed this game much more (great, colourful graphics) had there been more play and lots less talking. When I play a game, I want to play it without having to stop continuously to click past a lot of dialogue. If I want to listen to that much yammering, I'll watch a movie. I also did not enjoy the mini-games I got to play in the demo, not because they were not interesting and different than the norm but because the challenge was taken out of them by the step-by-step instructions. For my liking, there was simply way too much in the way of guidance. I much prefer games that give you a clue then let you figure things out for yourself.
March 26, 2012
Not a winner in my book
This is my first review, but I have to express my complete disappointment in this game. I've played quite a few HO puzzle adventure games, and while the developers did try to do some different things, that alone was not enough to land a winner. The problems? Well, the puzzles were way too easy for one thing. I at least like to be challenged to think, but the puzzles I played in the demo were pretty obvious once I gave it a few seconds thought. The clues were often right there in front of me, & pretty obvious. Secondly, the story just didn't make any sense to me. Thirdly, there was too much hand-holding in this game. Between the puzzle instructions, the journal entries, and the task list, I did not have to do any thinking for myself. Finally, in spite of what other reviewers have said, the voice acting was pretty atrocious. And the characters were too long-winded for my taste. All in all, not one I would even spend a credit on. Sorry to be so negative, as I am a big fan of BF games as a rule. This one just missed the mark for me.
March 25, 2012
No Challenge
I'm pretty disappointed in this game, especially given the ratings it's had so far. I was expecting something much better. The good aspects of the game simply don't outweigh the bad ones. Good: *graphics overall quite nice. *some originality in the hidden object scenes, which is rare these days Bad: *lead character voice-over painfully bad. *any challenge in the game -even on advanced mode- is eliminated by the game either telling you exactly what to do or just doing it for you. Blah. *the WORST example of non-ending I've seen in a game yet. I realy wish game makers would consider story-telling an important part of a game. Stories should have endings. This one fails utterly. The last two points are why I rate this game so low. I want to be challenged by a game and play through a satisfying story. Sadly neither happened here.
April 4, 2012
Wow
Cons: 1. Poor writing & storyline - the heroine is both too dumb to know how to get into the city by crossing the bridge and yet has immediate encyclopedic knowledge of the technology surrounding her. Info dump galore, via her mouth. Makes no sense. 2. S*x kitten heroine, as a teenager? Really? Demographics for these games, again? Pre-teen boys? I don't think so. 3. The voice acting is... bad. 4. Easy puzzles. 5. Unduly complex tasks that ultimately make little sense (to me, anyway) in the context of this created environment. Former townspeople need to get through a gate? Good luck, since one must jump through 10 hoops to get the gate open. 6. Pandering to the women gamers (actual demographic of these games from my understanding) by having the scientists be women. As long as they're male-defined gorgeous, that is. Sorry, devs, didn't work on me. Pros, because I feel the need to find something: 1. Artwork of the river and long shots of the town was nice. 2. Fills my widescreen monitor without losing aspect ratio. 3. Difficulty choice = good. 4. No sparkles = good. Goodness, I don't understand the positive reviews here. I have not been this disappointed and fed up with a game like this one in a long time.
March 26, 2012
Why are people rating this with 5 stars?
Check out the reviews for 1 and 3 stars i agree with them. Story line could have been good but very bad acting, and provided you with not only major hints but they just downright told you what to do (donot read the journal if u want to try by yourself). After a cutscene items were placed into my inventory with no explaination or letting ME try to find them or figure out i Needed it. They just gave me exactly the knife i needed and boom puzzle solved. Ending caused me to believe this was a pure waste of money.
March 27, 2012
Wait. What? That was it?
The story ended so abruptly, it left you wondering what happened. It's like reading a book to the end, only to find out someone ripped out the last 5 pages. There was almost no resolution. Maybe they are planning a follow up game, I don't know. Definitely anticlimactic. I don't recommend.
June 7, 2012