Monument Builders: Titanic
Relive the great moments of the creation of the legendary Titanic and be a part of its incredible story in Monument Builders: Titanic! Use your Time Management skills to produce wood and metal that will be used in the construction of the world's most famous ship. Manage, train, and hire workers to speed up the project and finish in time for the Titanic's inaugural launch. Get rid of pesky thieves and conquer other obstacles in Monument Builders: Titanic!
Manage resources
Command a workforce
Build the Titanic!
Game System Requirements:
OS:

Windows XP/Windows Vista/Windows 7/8

CPU:

1.4 GHz

RAM:

1024 MB

DirectX:

9.0

Hard Drive:

113 MB
Game Manager System Requirements:
Browser:

Internet Explorer 7 or later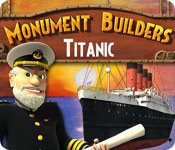 NEW299
The Big Fish Guarantee:
Quality tested and virus free.
No ads, no adware, no spyware.

Reviews at a Glance

Monument Builders: Titanic
0
out of
5 (
0
Reviews
Review
)
Customer Reviews
Monument Builders: Titanic
28
28
Expecting a good TMG and wasn't disappointed
I like TMGs and this game is no exception. The object of the game is to build the Titanic. The game is timed and the higher levels get really interesting. There are good instructions with a history of the Titanic included. The game play is fairly fast and each level builds upon the last. One draw back in that I had difficulty recognizing the various buildings that are required for the game. I think, though, that as I play, building recognition will get easier.
March 27, 2012
I loved this awesome Time management game!
What a great 2nd chapter to the Monument Builders series. It has a great story filled with facts about the building of the Titanic. The graphics were great. They seem to have fixed all the glitches that plagued the first game in the series, so it plays much better. Hope you enjoy it as much as I did.
March 28, 2012
Just like Monument Builders: Eiffel Tower
For starters, I normally turn off the music on games because they're so irritating. This one stays true to its' Irish roots by playing music from that era, so I really liked it and actually increased the volume. Other than constructing a different object, it's exactly the same as the first game, but it's fun to read the little factoids about how the Titanic came to be, and is appropriate since we're close to the 100th anniversary of the sinking. You're chopping down trees, building scaffolds, directing traffic, repaving roads, etc. It's just a pleasant game, and I knew I was going to buy it even before I played the demo.
March 27, 2012
Pleasantly Surprised!
I had read the reviews on Eiffel Tower and was hesitant to purchase this one. However my fascination with all the "Titanic" won out. I was pleasantly surprised. When I first started playing it, I was fairly confused...but I soon caught on and have found this game to be very fun and challenging. The strategy to this game is fresh and new. I mainly play TM games and sometimes it's easy to figure out your strategy early on. On this game, I've had to really think about it...which has added to the enjoyment level. I am very glad I bought this game and I'm even considering buying Eiffel Tower after all!
March 29, 2012
A Different Kind of Building Game
I love the Build-A-Lot games and have played them all. I I'm loving this one because it very different. It's a quick moving game. I'm not sure that the storyline goes with the building, but, I'm enjoying reading the history of the Titanic which is given before each building level. I've played 8 levels and each level seems to get more and more challenging. Music, I can't speak to because I rarely keep the sound on. So far, I have not run across any upgrades. I think they come later in the game as I see where there are options "locked." You do not have an option to play time or without it. I would recommend that if you like building games, give this one a try.
March 27, 2012
Monument Builders: Titanic A Fast Paced Game
This is my first time management game. So I can not compare it to anything else. I have to say I like it. Very creative. It keep me alert. The tasks keeps you real busy. I was lost for awhile then caught on to the game concept. I can see why so many people get hooked on this type of game. It really keeps you thinking and motor skills tuned.
March 28, 2012
love the factoids
This is basically the same as Eiffel Tower but it seems as if the characters are smaller. Or is that just me? I love the little factoids at the beginning of each level. I've only played the demo so far but I'm looking forward to getting to the later levels (bought it and downloading the full game right now). I like the way each level builds on the last so there isn't a huge jump in speeding up your thinking time or mouse clicks like there is in some of the TM games. I think I preferred the graphics of Eiffel Tower. They seemed clearer and less cluttered to me.
March 29, 2012
no sinking here
Liked this one better than the first one. Loved the music.it gets challenging pretty fast. Click on the carts and send them to their destination. Repair roads, chop down trees (they do come back) build sawmills etc to keep the supply and demand going all in the style of long gone times.even learn some historical facts about the titanic and the time it was build in. I like TMgames but I am not sure this one is for me despite the good review.Things are a bit small and sometimes hard to tell apart.
March 28, 2012
If You Love Time Management Games, You'll Like This
I started out disliking the "pressure" of time management games, but after a few years of HOs and mahjong, I gave them a try and of course, I'm hooked. This one is really good - it builds on each level to teach you how to do the tasks required to build the Titanic. Between each level are facts about the building of the ship and her sister ship, the Olympic. It makes you realize how much time and work went into the building of the Titanic, and how in one night, thousands of lives and years of work sank to the bottom of the sea. I usually play with sound off so as not to disturb others, but am so glad I tried this early in the day. The music is traditional Irish and very lovely. This helps make up for what I think are some of the most drab and boring graphics I've seen in a game. You really have to love time management to play this game because the graphics almost made me uninstall at first. In addition. the facts often lack punctuation and spacing at points so wordsruntogether, which is sloppy and annoying. It seems an easy fix to space and spell correctly yet so many games disregard that quality check. A game is so dependent on its visual qualities, and the style of this one almost ruined it. I'm not asking for cartoon graphics, but a bit of color and fun would have helped. After all, it is a game and not a realism exercise. That big criticism aside, I think it is an interesting game and one I would like to buy only for the game play.
March 30, 2012
Same as the last.
I really enjoyed Monument Builders Eiffel Tower & was looking forward to this one,but,and this is a BIG but....it is basically the exact same game. If you have already purchased Eiffel, then this would be a waste of your money. The only things different I can see after finishing the trial is different theme : Ship instead of Tower. Music: English instead of French. If you have NOT played the first game then by all means give it a go, it is a lot of fun and though there is a lot of "clicking" it takes a while to strategize about the "best" way to get things done..I am just really dissappointed in the developers for not challenging us with something new instead of the same game dressed up in new clothes. I gave it 2 stars only because it has been done before. I would have given it 4 stars if I had never played the first in this series.
April 1, 2012
The Apple logo is a trademark of Apple Computer, Inc.