Prodigy of the North: Akatori
Go on a mission to slay an emperor during a civil war in Prodigy of the North: Akatori, an incredible Strategy game! Gather up different warriors and battle your way to the throne of the evil emperor and overthrow him before the civil war tears the entire world apart! Learn different skills to use against the numerous enemies that you'll encounter and save the day in Prodigy of the North: Akatori!
Recruit powerful warriors
Overthrow an emperor
End a civil war!
Game System Requirements:
OS:

Windows XP/Windows Vista/Windows 7/8

CPU:

1.0 GHz

RAM:

256 MB

DirectX:

7.0

Hard Drive:

146 MB
Game Manager System Requirements:
Browser:

Internet Explorer 7 or later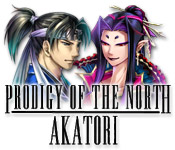 NEW299
The Big Fish Guarantee:
Quality tested and virus free.
No ads, no adware, no spyware.

Reviews at a Glance

Prodigy of the North: Akatori
0
out of
5 (
0
Reviews
Review
)
Customer Reviews
Prodigy of the North: Akatori
7
7
I am really enjoying this game
This is a very fun game if you can get past the missing mouse controls. You have to use the keyboard. I am used to using the keyboard so it is not a show stopper for me. Your character is part of a group of 4 characters that are on a quest to end a civil war. You are asked by the Empress to arrange for the assassination of the Emperor, her husband. Each character has a secret, something in their history, that is compelling and draws the player into the story. The art is old style RPG/Anime, not the fancy graphics of 3D games, but the straight style of strategy games. In battle, you have the option of a straight weapon attack, using Chi power points, or using special skills. Chi points are earned during battle if your character does damage to the enemy. Special skill points are like health points; your character starts off with a set number that goes up with each increase in level. In some RPG's your character is automatically assigned new skills as they level up, but in this game, you select the skills your characters will have by spending points that are won after a successful battle. This allows you to control which aspects of your character go up first. I saved my points and purchased the 'earn points faster' upgrade right away so I could level up my characters earlier in the game. I certainly hope that I don't discover later that this game was chopped up, but so far that doesn't appear to be the case. I have been playing this game for 5 hours and haven't run into anything off-putting yet, so thus far I am very happy with this new game and recommend it. If I run into anything off-putting, I will post it in the forums.
March 28, 2012
Awesome game
I read the reviews before trying this game. I must say: I have quite a different take on it. I have only been playing the game for about an hour and a half so I can't speak to the entire game, but what I have seen so far is excellent. As a bit of background: I grew up on the Dragon Warrior and early Final Fantasy games, so there is an element of nostalgia as I play this... I have read that the graphics are a bit mundane. I don't think this is the case at all. The characters and enemies, while there is little to no animation to them, all have inspired artwork -- enough to make you able to connect to each character and enemy without mistaking all the characters for one another as is wont to happen in the games that simply supply you with generic sprites. Beside the first impressions of appearance, not all enemies are created equal as in many of the RPGs that can be found at this level. Players will find themselves prioritizing one type of enemy over the other based on the traits of each enemy. Some of these differences are quite subtle, but the depth involved with customizing the enemies is noticeable and appreciated. The storyline so far is excellent. The Asian-oriented storytelling is obvious -- reminiscent of the Suikoden series. I'm not putting spoilers on here, but I'm intrigued to find out what happens next. And I am expecting/predicting some relatively significant plot twists... I haven't paid much attention to the music, but I have played enough RPGs to know that it is easy for RPG-makers to include music that players almost dread hearing again. The music in this game so far seems to fit the environments and function nicely to complement the backgrounds in which they are heard. If they do cause irritation, I have noticed three separate volume controls in the menu to eliminate any offending noises. Keyboard-only controls have always been a source of irritation to me. This game incorporates them... but does it right. Menu systems are intuitive, and there are multiple accept and cancel buttons which allow for multiple preferred hand placements. They even went so far as to allow diagonal movement so you don't get into the left-down-left-down finger coordination tests. Bravo on making this less desirable control/interface system palatable! Last but DEFINITELY not least: So far, I love the character building. Leveling your characters results in your standard base stats (pretty much the same you see in every game, hp+, sp+, etc), but, in this game, also results in gain of Ki per your performance in each battle. Ki allows you to customize many aspects of your characters' improvements and adds an extra RPG element to your gaming experience. I recommend this to RPG fans looking for something else. Give it a try. Heck, if nothing else it's free for an hour. Try it out and see if you're into it. Happy gaming!
April 7, 2012
Great game!
Am currently lost but working my way to the next part. The storyline is great, its challenging and fun, but no mouse control, which I don't really mind, but its only partially responsive to a game pad, so its a keyboard game. I'd recommend it.
April 1, 2012
pretty cool game
wonder's when part 2 is coming out?cant wait .. recomended my be..
June 19, 2012
Not as Exciting as I Hoped
I was excited to see a side scroller game! Used to play these all the time, and was disappointed when they fell out of favor. So downloaded it and played it for an hour. CONS Way too much dialog. Seems like I figured out what I was going to do and another pop up window appears I can't seem to figure out the storyline, is a point to this? PROS A side scoller! Unfortunately, looks like I'll pass on this one.
April 11, 2012
Gabby Prodigy of the North
Typical mission-driven game. Story line is ok. Have only played the demo so far and am on the fence about buying. There is no way to see or avoid enemies; they just pop up randomly. Keyboard-only controls don't bother me, but does there have to be so much dialog?! The developers of these games seem to think they have to make up for the graphics with paragraphs of inane conversation. Keep it short and sweet guys. I recommend this game with reservation.
March 29, 2012
Buyer's Remorse
This is a personal first for me: writing a review to warn off others. There are high points to this game (character skills, artwork, didn't even mind keyboard-only control) but the lows are too low. This game is painfully relentless. Dialogues go on too long. Dungeons go on TOO long, and surviving them isn't the issue but two hours to get through because of random battles every ten steps? Just too much tedium. Also, there seem to be no side quests that I've found in over 5 hours of playing to break the monotony. I was, however, left with a bad feeling after talking to townsfolk and getting the impression I'd rudely interrupted their day :/ I'll stop before this review goes on for 'too long' :)
April 22, 2012