Schoolmates: The Mystery of the Magical Bracelet
Help Flex and Eva find Blondie in Schoolmates: The Mystery of the Magical Bracelet! The three girls are having a great time being a part of Selena's Order learning magic, going on dates, and generally enjoying their school days. Suddenly, Blondie disappears and it's up to the other girls to find her! Deceive the evil trolls, befriend the whimsical fire spirit, and defeat a powerful mage in this incredible Adventure game!
Overcome dangerous obstacles
Defeat a powerful mage
Help Flex and Eva find Blondie
Game System Requirements:
OS:

Windows XP/Vista/Win7/8

CPU:

1.4 GHz

RAM:

512 MB

DirectX:

9.0

Hard Drive:

335 MB
Game Manager System Requirements:
Browser:

Internet Explorer 7 or later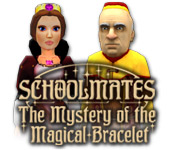 NEW299
The Big Fish Guarantee:
Quality tested and virus free.
No ads, no adware, no spyware.

Reviews at a Glance

Schoolmates: The Mystery of the Magical Bracelet
0
out of
5 (
0
Reviews
Review
)
Customer Reviews
Schoolmates: The Mystery of the Magical Bracelet
33
33
There's a game here?
I get that it's for kids (very little kids). But, story is lacking & game play is mostly walking. Back and forth. Characters don't seem to interact. Don't want to settle problems. Instead of asking friend why she's mad, she goes to study telepathy. Is that what we want to teach our kids? What adventure?
March 28, 2012
Way too easy
Items to find too small and the whole game moves way too slow. Good for beginners
March 28, 2012
Not ready for prime time
I'll pass on this one. This was by far the worst game I have played in a while, I could only stand 15 minutes or so and I may have been too generous giving it 2 stars. The game play, graphics and general feel just seem very amateur. This game is an all around big miss.
March 28, 2012
Slow and annoying
I think its safe to say the slow movement is really a killer, I kept looking for a way to make the character move faster and thinking "There is no way I'm going to watch her saunter around the room for long!" I didn't notice there being too much reading or dialogue as some people mentioned. I dont mind a lot of reading in a game anyway, in fact, I rather like it. Nor did the hidden objects seem hard too find. Full screen would've been nice but I could live without that. I thought it was cute and colorful in a cartoony way and maybe geared towards younger players but I also dont mind that. What really did it in for me was that as I was looking for way to change the movement speed I noticed there were only very very basic options available so I thought I would check from the main menu. I looked for a way to save, but not seeing one decided there was an auto save, something common in HOG and other games. So I left, went out the main menu, didn't find any more options and decided to try the game a bit more...and found myself back at the start again! So I don't know, maybe its a check point save, or they were going to get to how you save later in the tutorial..I don't know and I don't care. I'm not going to find out. Usually games bombard you with "Do you want to exit?" "Are you SURE you want to exit?" etc. This one? No warning, no question, no nothing, just went to the main screen, argh! I really just gave up at that point, shortest trial I have ever given a game..
August 11, 2012
VERY VERY SLOW
It is slow and boring all that has been said about is accurate not worth the hour. items VERY hard to find, I like a challenge but this is dumb
March 29, 2012
Challenging in the Wrong Way
After sticking it out for 40 minutes, I had to mercifully put this game to rest. I kept wondering what about the game the folks at BFG found valuable enough to bring it to us. The graphics are bright, HOG has a different approach then many, the cartoon characters a departure from the norm, but that is where the positives end. The negatives firmly overwhelm these positives from the very first minute of the game. When a game opens without the option of full screen, it generally means trouble. This was followed by really tiny items to find. I found myself thinking... make the screen larger and the items larger developers! Add to this disproportionate dialogue and generally sluggish movement and you get a game that is annoying at best. Not a buy for me.
March 28, 2012
The laziest game in the world !
"Slow" is too weak a term to describe how the game behaves. "Sluggish" would be more appropriate. You have plenty of time to brew yourself a cup of tea between the moment a character leaves the left edge of the screen and the moment she reaches the right edge ! Needless to say that nearly 15 minutes of this ordeal was more than enough for me. I could have been more patient had this game offered plenty of great features such as sumptuous graphics, challenging puzzles, innovative minigames, unusual tasks, a gripping storyline, in short everything we expect from a good casual game but, unfortunately, obtain far too seldom. So, don't expect any of these great features here, everything is simply common place. The three characters [ the girls ] are really weird-looking, drawn in false 3D in the Barbie style but without harmonious proportions. Their animation in the intro is equally weird, and even ridiculous when one of them [slowly !] practises Kung Fu... well, sort of ! The HOs I saw were given as silhouettes and were easy to find...even for me who is no great HO hunter. The sole puzzle I saw was a mix of gears and slider, which I solved in less than 20 seconds. And on that fantastic brain-storming exploit, I just quit. This Bracelet has one superb magical power though: lull you into deep sleep in no time.
March 28, 2012
Too slow
I lasted 7 minutes of the demo and had to stop playing. I simply cannot abide any game where you have to wait for a character to walk somewhere - especially a one as slow as this. I just wanted to kick her up the backside. I will recommend the game simply because, who am I to say do not try it based on my personal grievance?
March 28, 2012
NOT A WINNER THIS TIME BF!!
Not a good game at all...Very slow and trying to read the dialogue was almost impossible very small and found myself squinting at the monitor. No widescreen on my monitor, I HATE the black bars!! It looked like it might be a fun game until I tried it, lasted 17 minutes and could not take anymore. Struck out on this one BF, hopefully TGT will be a good one!
March 28, 2012
Schoolmates Flunk out!
Poor game. I was so disapponted with this. Graphics were horrible. Do NOT buy this game. Please get rid of it and take it off the Big Fish list. Big Fish should be ashamed. :(
March 28, 2012