The Blackwell Legacy
Play the role of Rosangela, a medium, in The Blackwell Legacy. She must assist tormented spirits by investigating supernatural mysteries with the aid of her spiritual guide Joey Mallone. The duo's first case will involve a series of suicides at a local university. Something unnatural has forced these students to kill themselves, and only you can solve the mystery!
Solve an emotional mystery.
Professional voice acting.
Great orchestral soundtrack.
Game System Requirements:
OS:

Windows 2000/XP/Vista/7/8

CPU:

800 Mhz

RAM:

256 MB

DirectX:

8.0

Hard Drive:

249 MB
Game Manager System Requirements:
Browser:

Internet Explorer 7 or later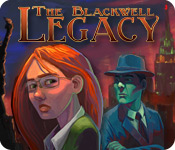 NEW299
The Big Fish Guarantee:
Quality tested and virus free.
No ads, no adware, no spyware.

Reviews at a Glance

The Blackwell Legacy
0
out of
5 (
0
Reviews
Review
)
Customer Reviews
The Blackwell Legacy
12
12
Great Characters and Story
This retro-styled game focuses on character development and plot, not solving random puzzles like so many other games. A refreshing alternative--and a good reminder of how important writers and voice actors are!
February 8, 2013
A gem of a game for the ones willing to take a chance
I have never ever given 5 stars to any game on this site before.These stars encompass both of the games i have completed to date. (i have not looked at the "unbound" game that goes back in time yet.) If you only judge a game of worth because of the graphics, uninspiring voice-overs and how much reading you have to do, then you are not interested in the immersion the developers have put into this game and its second sequel. This is the best single-player game i have bought this year. The other reviews will tell you how this game is played and what to expect, i just wanted to let you know that if you are willing to take a chance; more interested in playing a game that has a developing, captivating Story, then give this game a try. It will pull you in. Kudos to the developers, please don't stop. Oh, btw, those of you who do play this game and the sequel...don't forget to watch thru All the credits! :)
November 28, 2012
Totally different!
I love adventure stories, I love mysteries, I love a good sense of humor! This game has them all! The two main characters are done really well and I found them both entertaining. Joey has a sense of humor which I find a bit unusual for a ghost and totally refreshing! Rose is believable in her part and the story grabbed me from the beginning. The graphics are totally "old school", and (for me) just added to the story line. I guess I was so totally engrossed in the story that I didn't even hear the music if there is any as I don't remember it. I now own all of the series, have played 2 of them all the way through, and yes, they are a bit short, but the story line and characters made up for that for me. I only wish there were MORE of this type of game and I hope WadeEye Jet doesn't stop now! I totally recommend this game and the others in the series!
April 23, 2013
Short but excellent game
The storyline is fabulous and the game requires quite some ingenuity. The only complaints I have is that the voiceovers aren't quite as good as in the first game of the series, and that it is a pretty short game. But for everybody who loves something different, this is it!
January 8, 2013
Good Begining.
I enjoyed this game. It isn't as good as the other two, but worth it. Fun characters and a captivating story line. thumbs up!
February 20, 2012
Good old-fashioned adventure game
There are two things about this game you need to know first & foremost: 1) It's a dialogue-heavy, point-and-click adventure game, done in the style of the 90s classics. If you don't like those, you won't like this game. If you don't know what those are... feel free to try, but your odds aren't that good either. 2) It's a casual game, and as such, it's a lot shorter than games of old. (But then again, it's a lot cheaper, too.) If neither of those points is a problem for you, then congratulations buddy, buy this game and don't look back!
July 30, 2012
Old Time Adventure Game!
Really enjoyed this game. It made you think rather than hunt thru a hidden object scene to progress. I knew it was going to be fun when I had to solve the first "puzzle" in the park. The hardest part was that I kept forgetting to use the notebook to combine clues to get new ones. If I got stuck that was normally why. Going to download the next one. Really enjoyed. Sure wish they would convert more of the older adventure games to BF.
July 14, 2013
Fun for what it is
Its more like an online user directed story than a game but I enjoyed it.
February 12, 2012
Interesting story, too short
This game reminded me of older games I used to play based almost entirely on dialogue, with poor graphics. Because this game was released recently, I think this was a style choice on the developers part and does lend a retro, nostalgic air to the game. There is a LOT of reading, so bear this in mind if you are considering getting this game. I liked ~ the interesting storyline, although there are adult themes like suicide and the supernatural, so I wouldn't recommend it for younger kids. ~ the characters were well done and entertaining. I didn't like ~ the overall length of the game, depending on how quickly you read, it wont take more than a few hours to finish. ~ the lack of challenge, this adds to the shortness. Overall, I would recommend this game, especially as an introduction to later games in the series, but due to its length, it probably isn't worth full price.
April 22, 2012
Short, quite easy, old fashioned adventure
At least there is a demo so you can see the graphics for yourself, even though this was released in 2006 you would think it was released in the very early 90's. Wadjet eye games was obviously going for the retro feel and it brought me back a couple of decades, so I didn't mind that but some will. It's a manual save game (inventory bar is at the top) and you also combine things in your notebook by clicking on each item. There are no mini games or puzzles in this game. This is the first of four games in this series, your character is Rosangela Blackwell who is a freelance journalist and who discovers through this game that she is a medium. It's more of an interactive novel so expect a lot of dialogue. You can speed up the dialogue by clicking through it. Although there is a choice of dialogue you end up with the same outcome so there really isn't a choice. I was surprised how short it was, if you are an experienced adventure player I'd say around the 3hr mark or 2hrs if you speed up dialogue. It is a very good game for beginners to try as you are limited in areas to go to and there is very little to actually pick up and use. As long as you know the type of game (flat 1D characters with mega pixels, short) then you can enjoy it for what it is. It's certainly not the best adventure game there is which is why I can't give it 5 stars but it passed the time nicely and if you are looking for a retro game this fits the bill.
May 17, 2013