Mystery Trackers: Black Isle
Investigate a supposedly abandoned island in Mystery Trackers: Black Isle! After a journalist is kidnapped after beginning an investigation, its up to you to learn the truth behind Black Isle. Years ago an earthquake struck leaving the island deserted. None of the buildings seem to be damaged, however, and a hooded figure seems to be stopping people from discovering the truth. Find the missing journalist and learn a sinister secret in Mystery Trackers: Black Isle!
Find the hooded figure
Save the journalist
For a more in depth experience, check out the Collector's Edition
Game System Requirements:
OS:

Windows XP/Windows Vista/Windows 7/8

CPU:

2.5 GHz

RAM:

1024 MB

DirectX:

9.0

Hard Drive:

560 MB
Game Manager System Requirements:
Browser:

Internet Explorer 7 or later
Mild Blood
Mild Violence
Tobacco Reference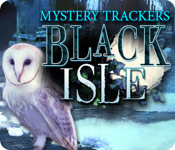 NEW299
The Big Fish Guarantee:
Quality tested and virus free.
No ads, no adware, no spyware.

Reviews at a Glance

Mystery Trackers: Black Isle
0
out of
5 (
0
Reviews
Review
)
Customer Reviews
Mystery Trackers: Black Isle
90
90
good game
from the begin of the game story was fine and get in the middle of the game starting become a bit bored and silly
April 18, 2012
Good story and look, irritated by the back tracking
I enjoyed the plot and the look of the game. I didn't like how I had to keep going back and forth between locations to get the items I needed to proceed with the game. I was also irritated with having to use some items in inventory to complete the HOG. If you don't have that item, you can't finish the HOG. It is not always intuitive regarding what you need. It was interesting to see how the developers incorporated video into the game so that the people and animals that you interacted with were real rather than drawn.
December 1, 2013
Plan a visit to Black Isle!
What a thoroughly entertaining game! Played it all in about 3 days! Great scenery and well-drawn HOS's! Plenty of cute and original mini-puzzles. Seems like there are a lot of things to find, but you use some in the HOP. The map is good for getting around, layout is easy to figure out. It is a well written and well developed story, although like other commenters here, ends a little abruptly. Elf, your companion is also cute and helpful! If you are after a game that gets you thinking and makes you use logic, this is one for your collection. I will play it again and deighfully enjoy the visit back to Black Isle!
November 4, 2013
Phantom of the Opera meets X-Men
Not a perfect game, but pretty good. The resolution could have been better, especially in the HOS. I did enjoy using items from my inventory with items in the HOS. The little dog was cute, but wasn't always used to the best effect. There is too much backtracking, especially just to pick up one item, in the last third or so of the game. Not only does it waste time, it gets boring have to search through the same area over and over. I prefer to do what I have to do and move on, unless there is some valid reason that I have to return. I had to use the hints a lot toward, as well, mainly because I'd forgotten where things were. It wasn't so much that I didn't know what to do as that I couldn't remember where it was. As with all of these games, there are some actions that are just added as padding; these become a little too frequent toward the end, as well. There are several points earlier on when a necessary action cannot take place for 15 minutes or more as you run away finding one thing at a time -- the theatre would have burned to the ground by that point. But overall, the game kept my interest.
June 29, 2013
WITH ELF'S HELP ........
A really good-looking game with an interesting storyline and excellent puzzles. There is a lot of running around, but the hint button and map take the frustration factor out of the searches. Just pleasant time spent playing this better-than-average game.
May 20, 2013
I felt like a beginner
I've consider myself an intermediate player, but with this game felt like a beginner. Graphics and cut scenes were well done, but had more trouble than usual finding HO's. Used hint more than normal. Story line was well done, but became lost on what to do next on many occasions. Did like the little dog. Would liked to have given this a 3 and 1/2.
April 4, 2012
Just not up to par...
Elephant Games are one of my favorite developers but this game is lackluster at best which is sad because Raincliff is one of my all time favorite games. The best way to describe this game is "Sloppy". I've never played an Elephant game that had sparkles in advanced mode for hidden object scenes. Usually Elephant Games gives a really stellar performance and its almost as if this game was tossed together using old scenes from raincliff and not putting much thought into it at all. I thought the game itself though was fun as it kept my attention and was just long enough to hook me but not too long like their game surface which bored me to death halfway through. So Im kind of torn reviewing this because although I do like it and think it had lots of potential, I think Elephant games fell short with this one. I've seen what they can do as a developer and this is a mediocre offering at best which is sad because the rest of the games in this series are amazing. This offering reminds me of something ERS would do which is throw together some junk, make the atmosphere pretty and call it a masterpiece but what companies like this don't realize is we as consumers KNOW what our favorite developers can do based on previous offerings and this Elephant Games is not a true reflection of who I value you to be and that is why I no longer buy ERS games so hopefully we will get some more awesome awe inspiring games from you that are not just beautiful but have great storylines and are not simply thrown together to make a profit. Cheers. I recommend this game because its not a bad game, its just not where the 3rd installment of this game should be developmentally wise.
April 25, 2012
Back in Black - A Guy's Review
*review based on completing the full game in advanced mode* I started this game right after finishing "The Void" and "Raincliff", the two first games in this series. The first one was good and the second one was great, so I had a lot of expectations coming into this game. I sit left with a big question: What happened? This seems lazy compared to the other two. It's still a good game, but seeing that it is a third in a series and is worse than both of its predecessors, something must have gone wrong somewhere. Let us start with the graphics. I can not see any improvements in graphics compared to "Raincliff". Actually this seems more grainy and blurry. It might be my imagination, but it really does. They have live actors in this as well and they seem more out of place. That might have lots to do with the lip-sync being way off and bad acting, but still. Integrations doesn't seem as well done as it was in its predecessor. I did not get as caught up in the story either in this one. It seemed like a lousy spinoff of "Raincliff". Both previous games had suspense that held your interest. This one not as much. Still not totally bad, just not as good as before. At least they moved on to giving some voice overs. The voice overs themselves are well done, though as mentioned, the lip-sync is horrible. Now, both of these letdowns would not mean that I would not like the game, because from my experience with Mystery Trackers, I know they hold a lot of game play and adventure elements. That is most important to me. How disappointed I was when I realized that too was minimized compared to the other games. I finished this game in half the time I spent on "Raincliff". I didn't believe my eyes when the game was over. Well, when it comes to game play, you can expect much the same as the previous games in the series, just a little less of everything. There's a nice selection of puzzles ranging from pretty easy to mediocre. So a bit easier than before. There are lots of adventuring still, but this too seems thinned out. The HO scenes are also in the same vein as before, but this time they have added interactive elements to them. Even taking use of your inventory items. I like when they are interactive, so for me that is a plus. The scenes are crisp and colorful, though feel a bit grainy at times. One thing that was quite annoying in the previous two games were all the back and forth between locations. There is still a lot of that, but this time they have given us an interactive map. This makes it much less annoying and is a BIG plus in my book. I do forgive that the map is a bit clunky and clumsy. There is still no journal though, not even video clips this time around. They have kept the same 3 levels of difficulty as they had in "Raincliff" which are: Casual: Sparkles on active zones and items, quick recharge of hints/skip Advanced: No sparkles except on HO scenes. Slow recharge of hints/skip. Hard: No hints, no skips and no sparkles. The hints were at least more "hints" than clear answers this time, but could still be more vague to my taste. Also recharge seemed a little slower that before in advanced mode. You see a whole lot of owls all over the place and I suspect that they are collectible in the CE version. Not so in SE. Achievements were in place in the SE of "The Void", I do not know about "Raincliff" as I only have the CE of that one, but there are no achievements to collect in "Black Isle". I suspect those are limited to the CE as well. 3 stars might seem a bit strict on a game like this. I would have given it 3.5 if I could. The reason for this is that I expect to see some improvement as a series develops through time, but this is more like a step back. Hugely disappointing. It is still a good game that I would recommend to players who likes these types of games. Though if you are new to the series I would actually recommend playing this before the other two to get a better progressing experience. I truly hope that "Four Aces" is a big step forward compared to this, or I might lose faith in this franchise. For the guys: There is no gender bias. Should suit all. TJ
November 8, 2012
Frustration, thy name is Black Isle
This game has an interesting story line, good graphics and sound and is very challenging. Therein lay the problem for me. I enjoy some challenge, but when I choose the easiest game mode so that I can relax, I expect that it will be easy. There was so much back and forth travel between the locations, puzzles within puzzles that were all missing pieces that had to be found elsewhere, and no clear idea on where to head next without hitting the hint button (which was very helpful). My frustration level rose to such a degree that I am not sure when I will finish the game, despite the desire to know how it will end. The Collector's Edition of this game would be a much better bet to buy with the Strategy Guide that would come with it. With a little more instruction relaxed players could enjoy the game a lot, even with the back and forth.
April 13, 2012
Dull, dark and dreary
I usually like the games from Elephant but this edition was a disappointment. I bought it before I tried it, won't do that again. HOS are few, HO are easy to find and the award items are no challenge as to where they go. Constant rain and travel between two main buildings, dull play. Animations are OK at best and storyline unimaginative. Some contributers found this to be a great game, but I feel it doesn't live up to expectations.
April 7, 2012
The Apple logo is a trademark of Apple Computer, Inc.