Mystery Trackers: Black Isle
Investigate a supposedly abandoned island in Mystery Trackers: Black Isle! After a journalist is kidnapped after beginning an investigation, its up to you to learn the truth behind Black Isle. Years ago an earthquake struck leaving the island deserted. None of the buildings seem to be damaged, however, and a hooded figure seems to be stopping people from discovering the truth. Find the missing journalist and learn a sinister secret in Mystery Trackers: Black Isle!
Find the hooded figure
Save the journalist
For a more in depth experience, check out the Collector's Edition
Game System Requirements:
OS:

Windows XP/Windows Vista/Windows 7/8

CPU:

2.5 GHz

RAM:

1024 MB

DirectX:

9.0

Hard Drive:

560 MB
Game Manager System Requirements:
Browser:

Internet Explorer 7 or later
Mild Blood
Mild Violence
Tobacco Reference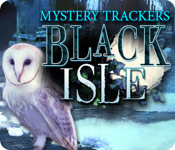 NEW299
The Big Fish Guarantee:
Quality tested and virus free.
No ads, no adware, no spyware.

Reviews at a Glance

Mystery Trackers: Black Isle
0
out of
5 (
0
Reviews
Review
)
Customer Reviews
Mystery Trackers: Black Isle
81
81
Back in Black - A Guy's Review
*review based on completing the full game in advanced mode* I started this game right after finishing "The Void" and "Raincliff", the two first games in this series. The first one was good and the second one was great, so I had a lot of expectations coming into this game. I sit left with a big question: What happened? This seems lazy compared to the other two. It's still a good game, but seeing that it is a third in a series and is worse than both of its predecessors, something must have gone wrong somewhere. Let us start with the graphics. I can not see any improvements in graphics compared to "Raincliff". Actually this seems more grainy and blurry. It might be my imagination, but it really does. They have live actors in this as well and they seem more out of place. That might have lots to do with the lip-sync being way off and bad acting, but still. Integrations doesn't seem as well done as it was in its predecessor. I did not get as caught up in the story either in this one. It seemed like a lousy spinoff of "Raincliff". Both previous games had suspense that held your interest. This one not as much. Still not totally bad, just not as good as before. At least they moved on to giving some voice overs. The voice overs themselves are well done, though as mentioned, the lip-sync is horrible. Now, both of these letdowns would not mean that I would not like the game, because from my experience with Mystery Trackers, I know they hold a lot of game play and adventure elements. That is most important to me. How disappointed I was when I realized that too was minimized compared to the other games. I finished this game in half the time I spent on "Raincliff". I didn't believe my eyes when the game was over. Well, when it comes to game play, you can expect much the same as the previous games in the series, just a little less of everything. There's a nice selection of puzzles ranging from pretty easy to mediocre. So a bit easier than before. There are lots of adventuring still, but this too seems thinned out. The HO scenes are also in the same vein as before, but this time they have added interactive elements to them. Even taking use of your inventory items. I like when they are interactive, so for me that is a plus. The scenes are crisp and colorful, though feel a bit grainy at times. One thing that was quite annoying in the previous two games were all the back and forth between locations. There is still a lot of that, but this time they have given us an interactive map. This makes it much less annoying and is a BIG plus in my book. I do forgive that the map is a bit clunky and clumsy. There is still no journal though, not even video clips this time around. They have kept the same 3 levels of difficulty as they had in "Raincliff" which are: Casual: Sparkles on active zones and items, quick recharge of hints/skip Advanced: No sparkles except on HO scenes. Slow recharge of hints/skip. Hard: No hints, no skips and no sparkles. The hints were at least more "hints" than clear answers this time, but could still be more vague to my taste. Also recharge seemed a little slower that before in advanced mode. You see a whole lot of owls all over the place and I suspect that they are collectible in the CE version. Not so in SE. Achievements were in place in the SE of "The Void", I do not know about "Raincliff" as I only have the CE of that one, but there are no achievements to collect in "Black Isle". I suspect those are limited to the CE as well. 3 stars might seem a bit strict on a game like this. I would have given it 3.5 if I could. The reason for this is that I expect to see some improvement as a series develops through time, but this is more like a step back. Hugely disappointing. It is still a good game that I would recommend to players who likes these types of games. Though if you are new to the series I would actually recommend playing this before the other two to get a better progressing experience. I truly hope that "Four Aces" is a big step forward compared to this, or I might lose faith in this franchise. For the guys: There is no gender bias. Should suit all. TJ
November 8, 2012
Frustration, thy name is Black Isle
This game has an interesting story line, good graphics and sound and is very challenging. Therein lay the problem for me. I enjoy some challenge, but when I choose the easiest game mode so that I can relax, I expect that it will be easy. There was so much back and forth travel between the locations, puzzles within puzzles that were all missing pieces that had to be found elsewhere, and no clear idea on where to head next without hitting the hint button (which was very helpful). My frustration level rose to such a degree that I am not sure when I will finish the game, despite the desire to know how it will end. The Collector's Edition of this game would be a much better bet to buy with the Strategy Guide that would come with it. With a little more instruction relaxed players could enjoy the game a lot, even with the back and forth.
April 13, 2012
Dull, dark and dreary
I usually like the games from Elephant but this edition was a disappointment. I bought it before I tried it, won't do that again. HOS are few, HO are easy to find and the award items are no challenge as to where they go. Constant rain and travel between two main buildings, dull play. Animations are OK at best and storyline unimaginative. Some contributers found this to be a great game, but I feel it doesn't live up to expectations.
April 7, 2012
Frustrating
Yes, HOGs don't make a whole lot of sense on a good day, (to put out that raging fire, first I'll need to find a wrench!) but Black Isle has ZERO flow. Some of the tasks would be near impossible to figure out without checking the walkthrough, and I hate checking the walkthrough. Ohhhhh, so the tiny bell I collected a long, long time ago needs to be hung from the hook to get the chandelier off the suitcase, because now it's not so tiny? Blech. Still, some fun elements and the visuals are outstanding.
June 16, 2012
HOS frustrating, Hint System Needed Too Much
I play HOGs regularly, and seldom need the hint system. Not so with this game: so many of the items were impossibly tiny or difficult to find. Likewise, trying to navigate through the adventure I lost track many, many times of where I was supposed to be. Although the map with its teleporting ability was helpful, the supposed "Objective" indicators were useless. It'll be a while before I try another game from this maker.
November 20, 2012
Interesting game, but could have been better
I would give this 3-1/2 stars if that was possible. The graphics in this game were very good, and there were some interesting and difficult puzzles. The HO games were also well done. However, I did not like the storyline. It did not make a lot of sense to me and did not propel the game forward. More importantly, though, there was so much back and forth between scenes that you would need a notebook to write down every place you had to return to. It made the game an excellent memory challenge but it was boring to run back and forth between the scenes. The hint command is good, and you will need it when you can't remember where that one puzzle is located. There is a lot of playing time with this game, but again, a significant amount of it is spent returning to locations multiple times to see if that is where the puzzle you were looking for is located. I liked The Void and Raincliff by the same makers, but this game did not measure up to those two.
August 19, 2012
Dissappointing and humdrum
I found this game to be a farce. After Void & Surface, which are superb, this game isn't in their league. The mood was set by endless rain and I mean a downpour. There is running back and forth constantly and the storyline is mundane. The HOS and mini games are standard. The highlight of the game for me was Elf the dog. I did finish the game but it never really grabbed me. I don't really recommend buying it.
May 14, 2012
Unable to Play
I could only play for a very short while. According to reviews the HOS were interactive w/the inventory items. Mine wasn't. On the very first one, I couldn't use the vinyl record or the crowbar needed to continue the game. I would appreciate a credit for another game. This sounded good, but something wrong happened to the game by the time I bought it. Cokie Nutt
September 14, 2013
Disappointment after previous games
I admit I started backwards on this whole Mystery Trackers series, I bought and played Mystery Trackers Silent Hollow first and loved it. Then bought the remainder of them, none of which are in the same class as Silent Hollow. I had expected the detective to have the same powers as in Silent Hollow but they are totally lacking in the previous ones. The bad parts for me: All the running around, no forward movement and no clue to what is going on. The rain, and all the things you leave out in the rain until you have another hour or so to find a key or a pair of wire cutters to free the dog. The urgency in completing something, that requires another hour to find the parts, seems like the whole island should have burned down before the hose was found. The typical mislabeled parts, like the slice of cantaloupe that was carved from a pumpkin, or the filbert that was labeled a chestnut, these things really irritate me to an extreme for some dumb reason, If you want me to find a pair of pliers don't picture wire cutters. I get frustrated with all the tools I lose on the way and need again, if we will need a knife all through the game give us one to keep, along with a crowbar and a sledgehammer. Also when there is a sword in my inventory, don't tell me I can't cut a rope with it, I can! you just don't want me to. Too many HO's with light making it hard to see, I am getting up there and my vision is not as good as it was, I don't mind things that are hidden but when I can't find them because I can't see a section of the HO that is frustrating. There were at least 2 HO's that were copies of Raincliff, the screws were in the exact place on the guns on the left, I felt like I'd been there and I had. This is the first game that I have ever played that you need items from your inventory to finish a HO, and the hint button kept pointing to the record player and whatever the other object was. I had to quit the game and go to the walk through to discover I needed to do. And the ending, what was with that??? A cliff hanger? and did it get finished in the CE? I have to admit I am not going to continue to buy games that I don't get an ending to unless I pay double the price, and that seems to be the norm lately. The good parts: The hint button was mostly good, although I used it more often in this game then any other I have ever played. Graphics were good for the most part Voice overs were mostly good, one or two didn't match the players movements. I loved Elf, and that he gets to stay! It lends a continuity to the games. Although the rain was well done and sounded as good as what is going on outside today, a little sun would have been nice lol I guess all in all I am not sorry I bought the game but more so I have a background in future games if they are as good as hollow.
August 9, 2013
Good Fun
The graphics and colors were great, puzzles I found a little to easy. Sometimes some of the items that were to be used to figure out the puzzles just didn't jive, had to use hint a few times to figure out what to do next because of this. I like when there is multiple things you can do at once. This one was more get a item then move on in sequence. Kinda just back and forth a bit to much. But a good fun entertaining few hours.
April 17, 2012
The Apple logo is a trademark of Apple Computer, Inc.