Mystery Trackers: Black Isle
Investigate a supposedly abandoned island in Mystery Trackers: Black Isle! After a journalist is kidnapped after beginning an investigation, its up to you to learn the truth behind Black Isle. Years ago an earthquake struck leaving the island deserted. None of the buildings seem to be damaged, however, and a hooded figure seems to be stopping people from discovering the truth. Find the missing journalist and learn a sinister secret in Mystery Trackers: Black Isle!
Find the hooded figure
Save the journalist
For a more in depth experience, check out the Collector's Edition
Game System Requirements:
OS:

Windows XP/Windows Vista/Windows 7/8

CPU:

2.5 GHz

RAM:

1024 MB

DirectX:

9.0

Hard Drive:

560 MB
Game Manager System Requirements:
Browser:

Internet Explorer 7 or later
Mild Blood
Mild Violence
Tobacco Reference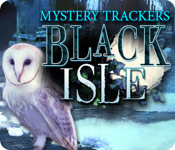 NEW299
The Big Fish Guarantee:
Quality tested and virus free.
No ads, no adware, no spyware.

Reviews at a Glance

Mystery Trackers: Black Isle
0
out of
5 (
0
Reviews
Review
)
Customer Reviews
Mystery Trackers: Black Isle
90
90
Frustrating
Yes, HOGs don't make a whole lot of sense on a good day, (to put out that raging fire, first I'll need to find a wrench!) but Black Isle has ZERO flow. Some of the tasks would be near impossible to figure out without checking the walkthrough, and I hate checking the walkthrough. Ohhhhh, so the tiny bell I collected a long, long time ago needs to be hung from the hook to get the chandelier off the suitcase, because now it's not so tiny? Blech. Still, some fun elements and the visuals are outstanding.
June 16, 2012
HOS frustrating, Hint System Needed Too Much
I play HOGs regularly, and seldom need the hint system. Not so with this game: so many of the items were impossibly tiny or difficult to find. Likewise, trying to navigate through the adventure I lost track many, many times of where I was supposed to be. Although the map with its teleporting ability was helpful, the supposed "Objective" indicators were useless. It'll be a while before I try another game from this maker.
November 20, 2012
Interesting game, but could have been better
I would give this 3-1/2 stars if that was possible. The graphics in this game were very good, and there were some interesting and difficult puzzles. The HO games were also well done. However, I did not like the storyline. It did not make a lot of sense to me and did not propel the game forward. More importantly, though, there was so much back and forth between scenes that you would need a notebook to write down every place you had to return to. It made the game an excellent memory challenge but it was boring to run back and forth between the scenes. The hint command is good, and you will need it when you can't remember where that one puzzle is located. There is a lot of playing time with this game, but again, a significant amount of it is spent returning to locations multiple times to see if that is where the puzzle you were looking for is located. I liked The Void and Raincliff by the same makers, but this game did not measure up to those two.
August 19, 2012
Dissappointing and humdrum
I found this game to be a farce. After Void & Surface, which are superb, this game isn't in their league. The mood was set by endless rain and I mean a downpour. There is running back and forth constantly and the storyline is mundane. The HOS and mini games are standard. The highlight of the game for me was Elf the dog. I did finish the game but it never really grabbed me. I don't really recommend buying it.
May 14, 2012
Unable to Play
I could only play for a very short while. According to reviews the HOS were interactive w/the inventory items. Mine wasn't. On the very first one, I couldn't use the vinyl record or the crowbar needed to continue the game. I would appreciate a credit for another game. This sounded good, but something wrong happened to the game by the time I bought it. Cokie Nutt
September 14, 2013
Disappointment after previous games
I admit I started backwards on this whole Mystery Trackers series, I bought and played Mystery Trackers Silent Hollow first and loved it. Then bought the remainder of them, none of which are in the same class as Silent Hollow. I had expected the detective to have the same powers as in Silent Hollow but they are totally lacking in the previous ones. The bad parts for me: All the running around, no forward movement and no clue to what is going on. The rain, and all the things you leave out in the rain until you have another hour or so to find a key or a pair of wire cutters to free the dog. The urgency in completing something, that requires another hour to find the parts, seems like the whole island should have burned down before the hose was found. The typical mislabeled parts, like the slice of cantaloupe that was carved from a pumpkin, or the filbert that was labeled a chestnut, these things really irritate me to an extreme for some dumb reason, If you want me to find a pair of pliers don't picture wire cutters. I get frustrated with all the tools I lose on the way and need again, if we will need a knife all through the game give us one to keep, along with a crowbar and a sledgehammer. Also when there is a sword in my inventory, don't tell me I can't cut a rope with it, I can! you just don't want me to. Too many HO's with light making it hard to see, I am getting up there and my vision is not as good as it was, I don't mind things that are hidden but when I can't find them because I can't see a section of the HO that is frustrating. There were at least 2 HO's that were copies of Raincliff, the screws were in the exact place on the guns on the left, I felt like I'd been there and I had. This is the first game that I have ever played that you need items from your inventory to finish a HO, and the hint button kept pointing to the record player and whatever the other object was. I had to quit the game and go to the walk through to discover I needed to do. And the ending, what was with that??? A cliff hanger? and did it get finished in the CE? I have to admit I am not going to continue to buy games that I don't get an ending to unless I pay double the price, and that seems to be the norm lately. The good parts: The hint button was mostly good, although I used it more often in this game then any other I have ever played. Graphics were good for the most part Voice overs were mostly good, one or two didn't match the players movements. I loved Elf, and that he gets to stay! It lends a continuity to the games. Although the rain was well done and sounded as good as what is going on outside today, a little sun would have been nice lol I guess all in all I am not sorry I bought the game but more so I have a background in future games if they are as good as hollow.
August 9, 2013
Good Fun
The graphics and colors were great, puzzles I found a little to easy. Sometimes some of the items that were to be used to figure out the puzzles just didn't jive, had to use hint a few times to figure out what to do next because of this. I like when there is multiple things you can do at once. This one was more get a item then move on in sequence. Kinda just back and forth a bit to much. But a good fun entertaining few hours.
April 17, 2012
Typical but Entertaining
Pros: Spooky atmosphere, decent puzzles, some non-typical HO gameplay (using inventory items during HO puzzles) Cons: Cheesy videos, audio dubs are horrendous, storyline pretty thin
March 18, 2013
HAD ENOUGH!!!
Could not finish this game. It became tedious and boring. I had inventory items I could not use and items that were needed, could not find. The HOs were good but too many puzzles for my taste. The storyline re: paranormal abilities I enjoyed because it's always been of interest to me but it dragged on. The VOs and use of live actors were great. Too much jumping from scene to scene. Just glad I did not purchase the CE, if there is one.
June 20, 2012
Not bad but without originality
One thing about this game I appreciated is the fact that all the HOs are not, on the whole, ludicrously tiny; some are even quite big and hence easy to find, others are best located by the Hints. That said, all the HO Scenes are junkpiles, filled once more with objects that bear no relation with the context... a fork here, a harmonica there, and in between a spring, a spoon ... just name it. The good thing is that there are not too many of these boring HO Scenes, a larger part being dedicated to finding key items and visiting locales. Still, there is no originality in the nature of these key items: oilcan, bulb, ladle, keys...and naturally... skulls. I think one of these days I am going to play ONE game and save all the objects for all subsequent games since they all make you find the same thinggies ! Not that many puzzles either and those you have to solve 1] are rather simple, 2] do not require logic, just guessing and the error and trial method. The artwork is good, neatly crafted, colorful and pleasant, the voice-acting decent although out of sync, tasks are listed, and navigation is made easy thanks to a map which allows you to teleport. However you visit the same locations several times and that's a definite lack of variety. As regards the story, nothing new under the sun: a malevolent creature, a kidnapping... we've had that dozens of times. I'll recommend this game because it is easy if not very interesting and only mildly challenging, and can be enjoyed by gamers who are new to casual games.
April 1, 2012
The Apple logo is a trademark of Apple Computer, Inc.