Echo: Secret of the Lost Cavern
Walk the path of Arok, a prehistoric tribesman in search of his destiny in Echo: Secret of the Lost Cavern. His journey will take him into the heart of an enchanted mountain and through a cavernous maze. Armed with his wits, and the help of a mysterious spirit guide, Arok seeks out magic cave paintings to help him solve cunning puzzles and face deadly traps. Modeled after the real-world cave network of Lascaux in France, this Adventure game is sure to challenge and inspire.
Clever and intuitive puzzles.
Breath-taking environments.
Explore the Lascaux cavern.
Game System Requirements:
OS:

10.7/10.6/10.5

CPU:

800 Mhz (INTEL ONLY)

RAM:

256 MB

Hard Drive:

1205 MB
Game Manager System Requirements:
Browser:

Safari 4.0 or later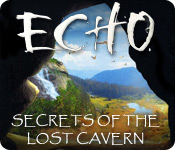 NEW299
The Big Fish Guarantee:
Quality tested and virus free.
No ads, no adware, no spyware.

Reviews at a Glance

Echo: Secret of the Lost Cavern
0
out of
5 (
0
Reviews
Review
)
Customer Reviews
Echo: Secret of the Lost Cavern
34
34
Old School Adventure Gaming At It's Best
This is another excellent adventure by Kheops Games; they seem to specialize in historic games, or else games different enough that set them apart from run of the mill game developers. Echo: Secrets of the Lost Cavern is a wonderfully imagined story that features a young man coming into manhood during prehistoric times. As he learns things about life and his environment, so do you. As for the game itself the artwork is very good, colorful and believable; the puzzles are moderately difficult, all of them cleverly appropriate to the age in which this story takes place. When you walk through a valley or a cave here, you feel as if it's very immediate and you're there. The storyline is logical, well thought out and developed. It absolutely fits the character and the era, and is engaging and interesting. The graphics are lovely, with deep colors and shading. A few of the puzzles however are quite difficult; they're time consuming and (frustratingly to a gamer that is long since accustomed to modern hidden object/adventure games) non-skippable. A walk through is helpful for portions of the game, though some of the puzzles simply take your own effort and trial and error, because the moves needed to complete the puzzle change each time. The game hearkens back to an earlier era of adventure games; you can do a bit of exploring around each level, though the game is more linear than the oldest of the original adventure games, it still allows a bit more freedom than most of the newer titles. You aren't going to be spoon fed the answers, and will have to work for a desired outcome. Be prepared to think logically and intuitively, and for the most part you'll be all right without having to resort to a walk through.....trust me, this game is well worth the extra effort. An outstanding effort from a company that is known for imaginative and original games, and well worth the time and patience invested in it.
January 16, 2012
Very Original, Many Challenging Puzzles!
I really loved this game, very, very original. Have to use your thinking cap a bit(alot). Many puzzles take time, but if you play with the puzzles you can usually get it. I too, had to use the walkthrough. Pretty much each time you get through a puzzle, there is another puzzle looking you in the face. Fun, interesting, the only complaint is that it was a kind of short game. Keep in mind, it is hard to find a good game like this, so even if it took me two weeks it would still be to short.
February 21, 2012
Original, challenging and entertaining
I wanted a game not as the usual games. Well, this game definitely qualifies. I've just begun the game (have been busy some hours), and I like it very much. The puzzles are not easy, but it is nice when you've solved one. Some puzzles do have a quite unusual interface. Can't explain that in detail, because it would spoil your game, but you'll like it IMHO. If you like a challenge: Buy this game...
March 17, 2012
FINALLY, a REAL old fashion true Adventure game!!
Thank you BFG for finally giving us true adventure lovers an opportunity for having a non-HOG for a DD, it?s been a long time coming! First, if you want HOG, sparkles, maps, diaries, or hints this game is NOT for you. If you like to use your imagination, be independent, solve mysteries, investigate your surroundings and not be told what to do or how to do it then this is your game. In regards to lack of instruction, these games require you to explore. Less than 2 minutes into the game I found the right mouse button brings up your inventory as well as historical facts and information. Some you can click on and get further information, some are unresponsive. The esc button brings up your main menu to save and exit. If you get stuck on how to do something check the top of your screen when looking at inventory, they do give you some ideas. Made by Khoeps and the Adventure Company, one of the first in the genre of true adventure games and IMHO, the best (was so sorry to learn the Adventure Company is no longer with us). I wish more dev.?s would venture into this genre, yes you do have fans/customers out there unfortunately I think we are the silent minority. None of these types of adventure games are easy. First thing to do is find a walkthrough ?just in case?. Savor the experience, explore, and investigate. Some will find this relaxing, others frustrating (if your dependent on sparkles, maps and hints). I hope you will give it a try, for $2.99 you may be surprised to find that you may actually like this type of game on occasion. Take advantage of the sale to give it a go, these types of large file games do not appear often.
April 13, 2012
Beautiful Prehistoric Adventure
I like adventure, history and educational games, so when this game was DD few days ago, and I could try it, I knew almost straight away this was for me. I have played another Kheops game, I believe - Destination: Treasure Island, so the controls weren't as hard for me as some people have said: inventory comes up with right click and menu with Esc. When you see two stones clicking together, it means you have something in your inventory you can use there. Hand shows you can pick things up and two stones with line on them means that you can't manipulate the place yet. Although a tutorial or some kind of help page would be a good thing to have. I am slightly prone to motion sickness, so the "normal" speed made me a bit dizzy in the first few minutes, but changing it to "slow" and using the mouse carefully helped. The graphics are gorgeous, beautifully done, with lots of textures and moving things. I love how it is educational and also slightly magical, with cave paintings coming to life, and there is a mini-encyclopedia that can offer you ideas and hints to help you solve the puzzles/tasks. NB: there are no "hint" or "skip" buttons in the game though. I also liked the voices, also I found the dialogue strangely eloquent for stone age. Sure, people need to talk to each other, but it could have been done more simply, not with fancy terms and long words... But that's really my only gripe with this game. The puzzles are great, they range from well-known and -used "Hanoi Tower" to really unique creative minigames. I loved the painting and music ones. There are lots of places to explore, although none of them are really huge and you only do them few at a time. As usual, pick up anything you can see (hand icon), because you'll be using it before you know it. And don't be afraid to use a walkthrough - I love adventure games, but am usually too impatient/frustrated to take several days to figure a puzzle out myself. UHS walkthroughs are great - they don't spoil other bits of the game for you. (And use Alt+Tab to switch between your game and walkthrough without exiting.) I didn't read the game description here, so when the direct connection to Lascaux was revealing itself, I was astonished and captivated. The story is great. I didn't think I would be rating it as highly as I did, but it was an enchating, unique game experience. Give it a go. tuskel, sincerely
April 17, 2012
Fantastic game, different than others
I realy liked this game. With a nice story line. It was different than al other games I played before. It is realy educationaly (sorry for my english). You must find things to surfive, like a fire. But how did they make a fire in those days. You will find out when you reed the background information they give you about living in that period. Just fantastic, you will learn a lot. The inventory you will find with a right click on mouse. I could not do it without the walkthrough. I realy recomment this game
April 18, 2012
Fun!
I haven't played a game like his before, so it was new and different. I really liked the variety it offered.
April 13, 2012
There is more to this game than you think
I must admit, I nearly gave up as I wasn't used to the way you need to move about. As soon as I got the hang of it - ie looking up will circle around the roof area and looking down will circle around the floor. As soon as found and looked around at eye level, I could move around and find objects and complete the challenges. It is nice not to be spoon fed everything, because as soon as you realise how to do certain things, ie how to access the inventory and use objects you get another feel of accomplishment. It is a lovely game, but you do need patience to play it, but it is very rewarding as you complete the next step.
August 20, 2013
Grab this while you can at the dd price!
At least give this game a fair trial. I've only played it for about 45 minutes and, yes, it is challenging. It's also beautiful and engaging--quite different actually from the usual. It's definitely not a "hold your hand" type of game. It takes a lot of thought to find out what to do next, but this is, after all, an adventure game and it definitely lives up to it's genre. Just a hint if you are totally perplexed and can't find the objects you pick up (possible spoiler here but not by much)...You do have more than one button on your mouse, don't you? The music and soundtrack are amazingly well done; a pleasure to listen to. The game's not for everyone, probably, but for 2.99 (or even at regular price if you don't get it at today's dd discount) you're in for an enchanting experience, well worth the money. You'll probably feel like you're actually walking in Aroc's moccasins (or whatever footwear they wore back in those prehistoric days.)
April 13, 2012
Excellent Game
It was refreshing to play this game. There were no aliens, witches, demons, or monsters to have to destroy. It is a cave man on a quest. There was a problem with the "wolf scene" however after I uninstalled and installed the game, the problem was fixed. I enjoyed this game very much. I do suggest that you have a walk-through handy. A couple of the puzzles can be challenging.
April 13, 2012
The Apple logo is a trademark of Apple Computer, Inc.
The Windows logo is a trademark of Microsoft, Inc.