Life Quest 2
Move to Metropoville and begin a 12 step Life Quest program! Find a new rewarding career in this incredible Strategy game! Upgrade your vehicle, purchase a pet, and even find true love as you move up the social ladder. Go from rags to riches and complete challenging quests and difficult objectives to earn cash that you can invest in yourself! Race around Metropoville taking important classes, working awesome jobs, and enjoying your day in Life Quest 2: Metropoville!
Find a new career
Complete challenges
Move to Metropoville!
Game System Requirements:
OS:

Windows XP/Vista/Win7/8

CPU:

1.6 GHz

RAM:

1024 MB

DirectX:

9.0

Hard Drive:

128 MB
Game Manager System Requirements:
Browser:

Internet Explorer 7 or later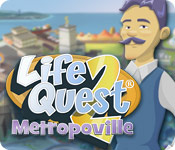 NEW299
The Big Fish Guarantee:
Quality tested and virus free.
No ads, no adware, no spyware.

Reviews at a Glance

Life Quest 2
0
out of
5 (
0
Reviews
Review
)
Customer Reviews
Really Great Game, Huge Improvement From First Game!
So far I rally like the game. I really like all the new features like the bank, the stock market, running for mayor, ability to make friends, the flu, and the fact that the npc's actually move around while in buildings instead of just being a still picture. I also like that, unlike the first game, it has more replay factor. Now you can choose the order you do the quests in, there are more jobs to choose, and more general options on how you play the game. Also, now instead of just "beating" the game there is actually a high score board so that adds to replay factor. One thing that's really cool is the fact that making friends and getting married is more realistic. Instead of just going into a dance club, picking someone at random, and dancing with them, you get to go to any location in town, chat with a person, become friends over time, talk with them on the phone, and do something with them. Also now you don't just get a boy/girlfriend now you get as many friends as you want. Over all I think that life quest 2 is a really great game and anyone who liked the first game should get it. Even if you didn't like the first game you should get it because of all the improvements. Now, if you'll excuse me, I have to get back to playing life quest 2!
June 26, 2012
love it!
good game! memory so big!! and have bug! bad allocation!
June 18, 2012
Love it!
One of the most entertaining games ever.
June 17, 2012
Loved This Game!
This was a big step-up from the first one. I liked how you can interact with different people, have friends, pick your kids up from daycare (when you have one), and plenty of other things you can do. Decorating your home was way cooler too! The only bad thing I have to say about this game is that I didn't like the character customization, I prefer the one from the 1st game. Overall, this game was more fun, addictive, and time consuming than than the first one. Definitely hope there's a part 3.
June 14, 2012
Awesome
This game is not as fun as it looks.It is even better.When i started with the first "Life Quest" it blew my mind.It was the perfect game for me.Then i started to worry that there wouldn't be a second one,but here it is. And it is even better then the first one because in the second one it brings alot more details that would be in real life.this is my review hope you liked it. See ya!
June 10, 2012
very entertaining
fun !!but the peoples shapes could of been more controled i would of liked to of chaned the peoples shapes more often i did have fun by the lay out like a pie puzzle my computer had a lot of glitches. that was very frusterating
June 10, 2012
Just Perfect Game!!!
This Game just Amazing! The Life quest 2?. Much more complicated than Life Quest 1. Very Challenging! Rushing game play! Amazing Graphic (obviously the game created on 2012) More Details then the previous life quest (much longer game play) i completed this game ... Worth to buy this game. from my experience This game absolutely Worth the Time :D.
June 6, 2012
Number 2 Was Worth the Wait!
Life Quest Metroville takes the premise of the original Life Quest game and improves it. Almost every weakness from the original is addressed and fixed. LQ Metroville is fun with good replay value. Every time I play, different sales come up at the game's stores and that impacts my strategy in that particular round. This keeps my interest level in the game high. I also have a goal--I'd like to finish one life quest in 75 days. I haven't been under 82 yet, though. There are some cons: -2 of the final quests ($100,000 and Knobel Prize) get boring because of all the repetitive clicking necessary to complete them. I'd love to see that done away with in the third incarnation. (Please make LQ 3!) -Character bodies and faces are largely frumpy and unattractive. It might mirror the population, but who wants to have an ordinary or frumpy looking alter ego? I'd love to see more attractive head and body choices. -Clothes and shoes were also not terribly attractive. I especially hate the sub-casual clothing the characters start out in. -Coordination of colors--both in the furniture store and the clothing store--are (largely) not done for you and you'll have to customize colors a lot. This gets tedious, but the alternative is a house or outfit that looks clownish and that's distracting. I'd also love to see a LQ 3 where the other characters that populate the town buy stuff on their own. Like cars. Waiting for characters to do activities is painful unless you buy them a vehicle and the $100,000 quest in Finance makes that impractical. At the very least, you'd think the alter ego's friends could ride along to activities, especially when it's a dating scenario. I spent a lot of time on the cons, but really LQ 2 is awesome and I'm not bored with it yet. I did go back and replay the original LQ for comparison and LQ 2 blows it away. I bought this game the day it came out and have played it many times since then. It's a real winner! Five stars!
June 5, 2012
AWSOME
I loved it i wished i could buy it but my parnets won't let me if only big fish would let us buy one game when we start !
May 28, 2012
A keeper
Can be a challenge for some time.
May 28, 2012
The Apple logo is a trademark of Apple Computer, Inc.