Life Quest 2
Move to Metropoville and begin a 12 step Life Quest program! Find a new rewarding career in this incredible Strategy game! Upgrade your vehicle, purchase a pet, and even find true love as you move up the social ladder. Go from rags to riches and complete challenging quests and difficult objectives to earn cash that you can invest in yourself! Race around Metropoville taking important classes, working awesome jobs, and enjoying your day in Life Quest 2: Metropoville!
Find a new career
Complete challenges
Move to Metropoville!
Game System Requirements:
OS:

Windows XP/Vista/Win7/8

CPU:

1.6 GHz

RAM:

1024 MB

DirectX:

9.0

Hard Drive:

128 MB
Game Manager System Requirements:
Browser:

Internet Explorer 7 or later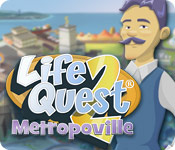 NEW299
The Big Fish Guarantee:
Quality tested and virus free.
No ads, no adware, no spyware.

Reviews at a Glance

Life Quest 2
0
out of
5 (
0
Reviews
Review
)
Customer Reviews
My Life is Improving by Leaps and Bounds!
What a MAJOR improvement this game is from the original, which I gave low scores for because ... well ... been there, done that, got the t-shirt AND changed it's color - LOL! You're all grown up and on your own as you get to complete daily challenges (well, not really daily, some take a few days to complete). Your absolute daily things are EAT (yeah, that's kind of important), go to work (yuk - yeah, I know), improve your education (school never ends) and still find time to relax, shop, or find other ways to keep your happy meter ... well ... happy. The game started out pretty slow and I thought, oh no, boredomville NOT Metropville. But, before I knew it, I was zooming around town on my fancy bike, moving into a luxury apt., having pets, finding friends, going to the amusement park multiple times, taking classes to better my job prospects, changing jobs and opening a bank account. ALL that and more just in the hour free demo. I really enjoyed this game thoroughly and can't really think of any reason why I wouldn't purchase it. Except, maybe, okay ... I'm old and done it all already - LOL. Still, I'm on the fence about it but while I'm figuring out what to do, I recommend everyone try this game of life. You don't need to have played the first one to play this one. In fact, I recommend you don't because this one is waaaaay better. Happy Gaming!
September 8, 2014
Liked LQ1 Graphics Alot Better!!!
Having played LQ1 numerous times as women and men, I was thrilled when I saw this over the weekend. Well.....Good storyline but the graphics are not the same. Not sure what happened. People / Body types were better last time. However, enjoyed having children to pick up at child care, investing money and being able to be friends first with a potential spouse instead of picking them up at the nightclub or a personal ad. A little warning about needing to propose while wearing your bridal clothing would have been nice. I got married in a business suit after I had spent time picking out a dress and shoes. Grrrrrrr. Any way to bring the graphic quality back from LQ1? Also, not everyone wants to get married and have kids. Being single should be an option or/and being single and adopting. Just a thought.
April 2, 2012
disappointing
This was a disappointing sequel to the original Life Quest. The graphics are amateur and the game play was a little confusing at first. The plot is the same as the first just a different story line. There are more body types and heads to choose from, but the clothing choices are very lacking and need much improvement to even compare with the first game. Better job choices and athletic classes to choose from though. They need to make a third one and combine the awesomeness of each of the two games to make one awesome game instead of two lacking games.
March 31, 2012
Disappointing....
As someone who has played the original so many times, I've lost count, this sequel was disappointing. The clothing and furniture choices are AWFUL, There is never the option to "eat at home". It's not an awful game, it's just not nearly as much fun as the first, let alone better.
April 4, 2012
Graphics are so Poorly Drawn they Ruin the Game
I really enjoyed the first version of this game. It was fun to compete against those you went to high school with and you could decorate your home, pick out clothes in your choice of colors - just lots of variety. I found it entertaining and relaxing at the same time. I'm a bit embarrassed to admit it, but I absolutely LOVE picking out clothes for my character and getting to decorate where I live. However, the glowing praise is about the first game only. I don't know what the makers were thinking when they ok'd the graphics for this game. The people are UGLY and so is your avatar. No matter what you pick, it's AWFUL. The graphics look like something some not particularly gifted child drew. I'm sorry to be so cruel but they were truly hideous. The clothes were not great like the first game and the furnishings you got to pick from for your house were out of proportion to each other and didn't fit the room. Everything was too tiny. I liked that I could run for office in this game and there were some good job choices, you got to make friends with the townspeople and more places to go and things to do but I just can't get past the graphics. Honestly....What WERE they thinking???? This is such a shame. I really looked forward to this new version of the game and it fell far short of my expectations. I still play the original version but most likely, won't be playing this one much, if at all, in the future.
August 21, 2012
Not As Good As The First
Like the first Life Quest very much, but this one is not as fun. Don't like the way the challenges are in this game versus the first game. Instead of imporving or making it better it was worse. I did like the fact you could build relationships in this version, that was a plus. It was ok the first time around, but had no desire to play more than that.
April 23, 2012
I agree with impulsive1 on this..
I'm not really into fashion, but I had a hard with this game right from the start because of the clothing. It's horrid and it makes the game seem generic and less enjoyable. I also disliked the fact that you had to wear things in outfits to earn more money. That made the clothing even worse looking. They need to make another Life quest, and let a woman design the clothes. Honestly, I can't really place my finger on it, but there is something about this game that just really annoyed me. It's lacking something from the first, but also has more at the same time. This is where I really agree though, and say they should make a third one, and just stop leaving things out and combine the two with added improvements for an all out awesome game!
May 28, 2012
Reasonably fun, but limited game play
I bought this game after purchasing the demo, but found that this game had little replay value. Once I completed all the "life quests" (some of which are rather dull, such as collecting money by clicking the "work" button), there was nothing novel to discover. I'm a bit surprised by the very high ratings, especially considering the quality of other well-known simulation games.
January 14, 2013
Bad Attitude!
Too much complaining by the possible mates! Who wants that! You really need gentlemen in there! The things to purchase for your home is limited. Decorating your home - wallpaper etc.... atrocious and the character design a far fall from the original Life Quest. The good restaurant is limited to only one and the recreation is very limited. The good thing is there is much more career choices! If this was worked on it could really outshine the original!
May 24, 2012
life quest ok
this game was ok It is not one of there better games .I have bought many games and played even more games .This games did not hold my interest like some .
April 24, 2012
The Apple logo is a trademark of Apple Computer, Inc.