House of 1000 Doors: The Palm of Zoroaster Collector's Edition
Guide Kate Reed as she searches for the artifacts that can break the power of a cursed gem in House of 1,000 Doors: The Palm of Zoroaster! A cursed gem that has left a trail of smoldering bodies in its wake is threatening the residents of the House of 1,000 Doors, prompting the head of the mystical dwelling to once again summon Kate Reed to its aid. Guide Kate as she searches for the artifacts that can break the power of the gem!

This is a special Collector's Edition release full of exclusive extras you won't find in the standard version. As a bonus, Collector's Edition purchases count toward three stamps on your Monthly Game Club Punch Card!

The Collector's Edition includes:
Bonus gameplay
Integrated Strategy Guide
Concept art
Game System Requirements:
OS:

Windows XP/Windows Vista/Windows 7/8

CPU:

1.6 GHz

RAM:

512 MB

DirectX:

9.0

Hard Drive:

542 MB
Game Manager System Requirements:
Browser:

Internet Explorer 7 or later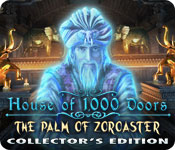 The Big Fish Guarantee:
Quality tested and virus free.
No ads, no adware, no spyware.

Reviews at a Glance

House of 1000 Doors: The Palm of Zoroaster Collector's Edition
0
out of
5 (
0
Reviews
Review
)
Customer Reviews
House of 1000 Doors: The Palm of Zoroaster Collector's Edition
174
174
This had a happy ending!
I would have given this one five stars but for the morphing objects. I would have gotten them all but one of the scenes would not reopen to let me in. It was at the fountain where you have to replace a faucet and then get all of the streams to go all at once. After I realized I would not be able to get to the morphing object I was rather miffed and it put a damper on the rest of the game. Developer, would you please not close down a scene if there is a morphing object in it? This happened to me with the original 1000 Doors game. Actually, looking to make sure that a person has all of his/her morphing objects creates tension. I would rather not have to look for them if the truth be told. As far as the mini games, they were, on the whole, very well done. I only skip some of the most aggravating ones. Also, I would rather not have so many HOS. That's just me!
April 16, 2012
not a patch on its predessor
not for me i'm afraid, game not that enchanting, rather bitty in fact, but some it seems are easily pleased, for me to give full marks it has to have perfection in my eyes and this does not. an ok game for beginners, as its not too exactlting, id recommend it just for that. Sorry developers, storyline not that clear, and i like it streamlined as far as the story is concerned. ok for beginners
April 29, 2014
Wasn't impressed.
I'm a fan of the concept of a 1,000 Doors, but the execution is always lacking. I played all three and they all bored me. It's such a shame. I wish the story wasn't convoluted; it's really hard to follow. It has no structure (again with the portal diving! why do writers think this substitues actual plot?) and I took a lot of break during because I was so bored. It seemed too long (which means it wasn't fun). Sorry, but I wasn't impressed :(
November 6, 2013
average
Truth is, these games are all pretty much similar, but for me it's the way it is all brought together that can make or break the game. I really liked the first 1000 doors, because it had intriguing characters/story and therefore fun gameplay. I found this one did not compare, characters/story not engaging, therefore the gameplay felt average and predictable - it didn't do anything new, just the same old same old. From other reviews it sounds like others really liked it, so I thought I would mention that it may not be so great for everyone, depends on what makes a good game for you.
April 12, 2012
Sequels are never as good!
I really looked forward to playing this, having loved the original. While this was a good game, I found it much easier with less challenging puzzzles and too short. This is my first review, and sorry to say - I was disappointed with this sequel. Kind of sorry I spent the money on the CE. Perhaps if the original hadn't been fantastic, I wouldn't have expected so much! Still - a good play, and would be worth it as a SE.
April 15, 2012
Really disappointed. This is 1000 Doors in name only
Have to agree with the other reviewers this was a huge let down. This is a continuation of the trend whereby publishers knowing they have made a turkey give it the name of a best seller in the hope that people will be fooled into buying it. The first four or five screens are a continuation of the last game after which it is turned into something completely different and goes down hill from thence onwards, heck it doesn't even have "Doors" it has haunted paintings. This is just a cobbled together affair that is trying to cash in on what everyone else seems to be doing. Secret Society- check Aztec Temple - check Knights Templar - check Invaded Tibetan Monastery - check Haunted Pirate Ship - check All nothing to do with the House of 1000 doors. The game plot is dark and will be upsetting for children, in fact it's totally inappropriate considering some of the violent descriptions in the text and certainly NOT for young eyes to read. The game play itself quickly becomes a chore and doesn't hold interest. All in all a bit of a mess and it would have had a lower score except that I got it as part of a multi Pack.
April 8, 2013
Deja Vu
I'm a big fan of the first House of 1000 doors. The second house of the 1000 doors was not as good. I felt that you were doing the same things in every chapter looking for same HOG doing similar Puzzles and speaking to a ghost . I have to say I liked the bonus chapter a lot better then the main game . This series has great potential the developers can do so many things with House of 1000 doors .
April 27, 2012
A Let Down for me!!
I?m in a minority here with other reviews. I bought House of 1000 Doors -Family Secrets elsewhere and loved it, it was my favorite game. One of those you hate to finish! So when I saw this one without trying it first (My Fault) I jumped on House of 1000 doors-Palm of Zoroastar CE. I should have tried it first! Huge let down! Family Secrets has a lot more interaction with people trapped in the house and time. There was very little of that in this one! I think Kate appears twice, not sure because as the game went on I forgot about her! I can?t stand Medieval type games and that?s what this was. (I suppose Zoroastar should have given me a hint) Not much to it either compared to Family Secrets. More HOS and less involvement, I couldn't find a real story if there was one.. Seemed to drone on forever from HOS to puzzle roaming around picking up this and that and so on. I had no clue I was about to finish it when I did but was I glad it was over! When your solving a mystery you should at least feel like your getting close, didn't seem to have a story line. The Bonus game was it?s only redeeming factor! However, please try it yourself.. Based on other reviews, I'll say..
October 29, 2012
I'll Admit, It was better than Family Secrets
I enjoyed this game much more than Family Secrets. Good Parts: Beautiful music to suit the theme of the game. Almost realistic graphics. Very detailed and well designed. Really Really good. While I'll admit the opening scene didn't interest me, the rest of the storyline did. The storylne was much better than House of 1000 Doors Family Secrets, but a lot more should've been done to that opening scene Really great voice-overs Hint button recharge was 30 seconds. A good time The built in strategy guide was great, and I didn't have to rely on it as much as Family Secrets. OK Parts: The Hidden Object Scenes. There were a little too many of them and although there were interactive hidden objects, the majority of the rest were hard to find. The fun factor was not great. The game could've done with a bit more fun in it! Bad Parts: No puzzles. Really disappointed here, as I usually like to see some puzzles in Hidden Object Games. I feel the fire theme was a little bit over-used throughout the game. This game is much better than Family Secrets, Had it been a bit more fun I might have given it a 4.
June 25, 2012
What a let down
After the last House of 1000 doors, that was just incredible; the first one I played... this one took you to far away places with no interaction of the people in the house and very little reason why you are their except for a scroll you found down the well. And hey; lets throw in some meaningless morphing objects just to see if more people will buy it? For no better reasoon as I can tell; not like it unlocks all the great mini games if you were to get them all as so far, there are none! Wow. Nothing new, the HO's were junk piles and dark; I am super disappointed after the glowing review and play time of the 1st one. The first one had many fun and new of nature mini-games, I am half way through the CE and it has only say app. had like 10 ish? And they were classic, of the easiest nature, I actually just skipped them cause why? They didn't require any thought. I just waited till the time ran out so that I could skip them. There weren't (so far) any twist and turns in the game; just a game, I did it cause of that by one CE get one CE free deal so I will just have to live with it. In extreme fits of boredom I will finish it maybe. So what happened? Did they have a good thing on their hands and hastily whipped out something poorly made with little insight? Because it wasn't very long ago the 1st one came out. I suppose if you are a history buff, you may enjoy it or really like the middle east; but it has nothing to do with mediums and disappearing houses and or rooms, except in the beginning, I guess their attempt to tie it to the first game which was very long, this has only 4 chapters in the regular game. Now i wish less and wish I didn't buy it at all. Sorry! , very little has been mentioned so far, except these little fire ball deals about mediums and the mystery of it all; just sad little ghost's with very little tales to tell indeed that don't make me care very much what they are saying. ; like who cares? I just want to finish and go lick my $14.00 wound and hope the other most popular game is of any worth. I may not even finish this one. It makes me more bored by the minute. Couldn't wait to get to the 1/2 way point thinking they might change it up; but ; ahh.. na. If you are thinking that you are buying the same product as before, you are sorrily mistaken.
April 15, 2012
The Apple logo is a trademark of Apple Computer, Inc.