Special Enquiry Detail: Engaged to Kill
Special Enquiry Detail detectives Turino and Lamonte are back for another case in this exciting Hidden Object game! A serial murderer known as the Engagement Killer is loose in the city and has been killing young brides. Work the crime scenes, interview key people and find your way out of a web of clues and false leads. Help Turino and Lamonte gather facts and collect evidence to catch the murderer before he kills again. Immerse yourself in Special Enquiry Detail: Engaged to Kill and bring the killer to justice!
Tense story
Immersive atmosphere
Bring the killer to justice!
Game System Requirements:
OS:

Windows XP/Windows Vista/Windows 7/8

CPU:

1.0 GHz

RAM:

1024 MB

DirectX:

9.0

Hard Drive:

203 MB
Game Manager System Requirements:
Browser:

Internet Explorer 7 or later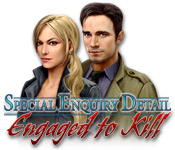 NEW299
The Big Fish Guarantee:
Quality tested and virus free.
No ads, no adware, no spyware.

Reviews at a Glance

Special Enquiry Detail: Engaged to Kill
0
out of
5 (
0
Reviews
Review
)
Customer Reviews
Special Enquiry Detail: Engaged to Kill
55
55
Frustrating
If you need a lot of hints to figure out what the game wants you to do, this is not a game for you. The hint button is hard to activate--it won't work if you click on the word "hint," but it will work if you click on the flashlight--slow to refill and not very helpful. If you have already found an area that you need to investigate but you have no clue what to do to open that area, the hint button will be of no assistance, for it provides no extra clues. The hidden object games were likewise a problem, for the items are VERY small, often half hidden by other objects and frequently are no more than a color-on-same-color silhouette. The games also have a nasty trick of not working until you get to a certain point in the story. For example, you can't look at the pile of things under the tree when you first enter the crime scene. You have to talk to the victim's brother first. There are never multiple puzzles available in an area simultaneously. One puzzle activates in an area at a time. If you can't solve that puzzle, you can't solve the other puzzles in the area and accumulate things that will help you solve puzzles later. You have to solve everything in the order that the game wants you to solve it. Finally, the game does not allow you to skip everything that you can't otherwise do. I was rather seriously annoyed by this. And this isn't due to the level of the game, because you can't choose to play a casual or a challenging game. There's only one level. The storyline was good. I really wanted to find Marcy (the young victim) alive or, failing that, to discover evidence that would nail her killer. But the game itself...there were too many problems.
April 7, 2012
This is a good game
I bought the first game, so I was hoping the sequel was just as good, and it was. The game has six chapters. The final chapter is a bit small, but still good. The other five chapters are fairly long, so the game is not a quick finish. There is a nice twist in the fifth chapter which surprised me. I like surprises in a mystery game. You have your typical hidden object scenes, which I thought were fairly thematic. It seemed as if the developers tried to work things into a logical spot. Of course there were a few out there things, but that's to be expected. There were lots of puzzles, with a few of them being a bit confusing. I enjoyed that because it meant a challenge for me. I do not play with music on, so I can not comment on the music. There are no voice actors, but that did not detract from the game, which is clearly a comic book style game. The graphics were appropriate and followed the style of the game. It was clear that the developers spent more time on the puzzles than worrying about a pretty game with no substance, which is excellent. The game took me probably 7 or 8 hours to complete. I did not skip puzzles but I used my hints button liberally in the HOS for small objects that I could not find. I can honestly say that this is the best HOG I have played in a while, and I hope other developers will take note and step up the quality of their games. I will take a comic book style game with substance and challenge over a fancy, 3-D game with nothing to it any day.
April 8, 2012
Much better than previous reviews.
I previewed this game and against some not very good reviews, I bought it. I'm glad I did. It felt a little like being a real detective. Some good challenges and some funny lines even though it's about a serial killer. I definitely recommend this game. Don't let the bad reviews turn you off. There are 6 chapters and it's a pretty good length of game.
April 8, 2012
Very challenging mini puzzles, excellent gameplay
The graphics are extremely clear & the artwork in the cut scenes are similar to a good comic book; the locations are excellently depicted; the music leaves a lot to be desired so I used my own. There is no choice of gameplay, the hidden object scenes have sparkles & there are glints if you don?t click on an active area reasonably quickly. You get a task list to keep you on track & in the bottom left of the screen is a TV which contains a map that shows where you are & is occasionally used to move you to a new location. You will need to keep your wits about you as towards the end you will have to remember what the victim?s name is, where found & which objects apply to the crime scene. The hidden object scenes are, for the most part well drawn, I did not find any too small, some objects are cleverly hidden behind others or are laid at an odd angle however there are a few where the locations are rather dark which makes it difficult to spot the items. The hint button recharges in 40 seconds which helps. There are a lot of mini puzzles; some are very easy such as move boxes of differing sizes from one place to another to the really difficult such as trapping a gunman in a maze. There is wide variety of puzzles & they make for a more interesting game (there was a variation on the old slider that took me ages to solve). If you get stuck there is a skip button which I was thankful for. This was a long game (took me about 5 hours) & if you love mysteries with hidden objects thrown in then this is for you but a word of WARNING the murder scenes are very realistic.
April 8, 2012
Not for me
Storyline is good, but the talking between the characters drove me nuts! I had to stop what I was doing to click through their discussion, and if you accidentally clicked on the same spot again, you had to go through the whole discussion, again! The HOS weren't bad, but the one in the cabin, at the dresser, was annoying. You had to open 4 drawers, over and over again, to find all the objects. Not enough interest to make me want to buy.
April 7, 2012
Real detective game!
I love the first installment of Special Enquiry Detail (SED), and when I see this, I pretty much decided to buy the game without the demo, as I also like Floodlight Games other series like Women's Murder Club and Agatha Christie. From the other series, this game is the closest to what detective really does the investigating, there are some clues to what we should do, but it seems like we do the game from first person as we investigate and find clues, it looks so real. The graphic, like many of the other series, is very crisp and clear and so realistic. I know that Floodlight Games series don't mind showing dead bodies and have 'us' examine them directly, but that what makes the game so unique (although a bit graphic). This is my second day and I'm still on Chapter 2, so I suppose this game should be quite long and really worths the money as I bought this with the spring sale. Really looking forward to play through this game and so glad that I bought it!!
April 10, 2012
This Could Of Been A Great "Whodunit"
This review is for the whole game. The story: Special Enquiry Detail detectives Turino and Lamonte are back for another case. A serial murderer known as the Engagement Killer is loose in the city and has been killing young brides. * No choice of play mode * 6 chapters * Task(s) list * Map which is occasionally used to move you to a new location as there's not really a whole lot of "wandering around" in this game. You do get inventory items however pretty much used right away. * Graphics are kind of a "cartoon comic book" style but yet have a "realistic' look to them. * Voice Overs for parts of the game while some is text dialogue to read/click through. * Hint/Skip refill pretty quick. Hint is also useful outside of HO scenes. * Mini games/puzzles. My overall impression of the game: Well just like the Special Enquiry Detail made before this one (The Hand That Feeds) i really enjoyed the story. Liked the cartoon style characters and voice over. This game however went down the hill for me were the HO scenes as they kinda remind me of Sanford & Son junkyard and as one review mentioned the HO scene with the dresser drawers as I found some items to be so small and this HO scene was downright annoying. Some other HO scenes also very small items and in dark areas. The HO scenes i found to be more cluttered and small items than the first game in this series. I also didn't care for the majority of the puzzles especially the tedious manhole cover having to use the Silicon spray and trying to get a poster off a wall as you have to do things just so. Just to name a couple of things. Patience is a must for some of these puzzles which sorry patience isn't mine for such tedious things. I play games for fun & escape not to be frustrated. As for game length: About 4 hours for me but honestly would of been longer if I didn't skip the majority of the puzzles. Overall the best I can do for this game is 3 stars and what a shame as it could of been great as I found the story to be just excellent. For me the story saved this game otherwise i probably would of rated this 2 or even 1 star. This is also why I finished the game cause I wanted to see how it ended. i sure hope if another one of these are made the developer works on these HO scenes and get rid of these tedious puzzles with some different ones. Also the game would of been great to use the voice overs throughout instead of part of it and then have to click, click, click through dialogue. I still recommend this game because the story is excellent in my opinion and I know some people really love puzzles and have way more patience than I do. Thanks though Big Fish and developer however needs some work if there are going to be future ones of the Special Enquiry Detail which I sure hope so but needs work.
April 9, 2012
Loved It!!
I am definitely purchasing this game. After reading the other review about the chalenge with the man hole cover, I was a little apprehensive, but managed without a problem. HOS were a bit a challenge and loved the task list. A definite winner!
April 7, 2012
Great Game
Puzzles were easy to solve so the game moved at a nice pace. The manhole cover had to have oil then use the manhole cover key which you found in a hidden object scene. Music wasn't bad to listen to...some plodding through dialogue but not bad. Chapter One complete....think I'll buy this game as I liked the first one.
April 7, 2012
Interesting Game
Based on the trial, I really like this game, good storyline, good graphics. I found it's best to follow the dialogue and read the instructions for the puzzles. The HO scenes are okay, not just junkpiles. Some items are difficult to spot, but I didn't have to use a hint. The puzzles are enough of a challenge to be interesting, but not too difficult. There is no option for gameplay, but the game is challenging enough to keep you interested. A buy for me.
April 8, 2012