Venice Deluxe
Venice is sinking and only you can save it! From the floating fortress of your golden gondola youll restore the city by returning its lost treasures. Sling costly coins, launch lovely lyres and ricochet ruby rings into the corresponding spaces overhead. Use your arsenal of special shots to create cascading combos and earn bonus points along the way. So grab your gondola and get ready - Venice is a classic test of wits, will and skill!
Save 72 buildings.
Revel in ornate art.
Wield astonishing power-ups.
Game System Requirements:
OS:

Windows 2000/XP/VISTA/7/8

CPU:

600MHz or faster Processor

RAM:

128 MB
Game Manager System Requirements:
Browser:

Internet Explorer 7 or later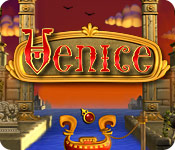 NEW299
The Big Fish Guarantee:
Quality tested and virus free.
No ads, no adware, no spyware.

Reviews at a Glance

Venice Deluxe
0
out of
5 (
0
Reviews
Review
)
Customer Reviews
Unique and addictive!
Every now and then you stumble on a game that grabs you and won't let go! For me, Pathstorm was like that, and is still one of my favorites 5 years later. This is one of those games, albeit not quite as lengthy nor as "thinky" as Pathstorm! You can call Venice a puzzle game, but it isn't like anything else I've ever played. It has elements of marble popping, elements of shape matching, elements of virtual mini-golf, and elements of brick busters. You try to shoot objects at their matching silhouettes, and as the game progresses, this isn't easy, as there are blockers, bouncers, and moving parts to overcome! If your shot goes astray, you have to catch the object you fired before it falls in the water. A nice feature is that if you totally blow a level, you start the level over - you don't lose your place in the game. You have a little helper - a cherub very reminiscent of the cherub in Slingo, LOL. You will also get some interesting powerups. There are 4 modes of play: Journey, Flood, Trick Shot and Survival. Trick shot can be unlocked by completing journey mode, and survival by completing flood. There are only 70 levels or so, but in all the different modes, that amounts to quite a few. Journey is your basic play, flood is timed, and it is HARD! LOL, that one will take a long time to beat - at least for me. Haven't unlocked the other modes yet, but I expect even greater challenges. Graphics are of good quality, colors bright, and artwork original. You can play fullscreen or windowed. There are volume controls for music and sounds, but that is about the extent of the options. The storyline is vague and superflous, but easy to ignore. I want story in HOPAs, but in this kind of game, meh. Not sure how I missed this first time around, but glad I saw it when looking over the sale games. Bought it the second the demo was done! You gotta try this one!
November 27, 2012
A Fun, Addicting Puzzler
This was not what I expected...and I love it! This game is a nice combination of a marble popper and puzzle game. The graphics are good but not spectacular. As you go on the levels get more difficult and downright frustrating; this will only make you more determined to conquer the level. This game has the right amount of challenge while still being relaxing. The storyline is negligible, it neither adds to or detracts from the game. On the whole, I'm glad I bought this.
August 13, 2012
Great Little Game!
This is just from the demo. At first I thought it was slow and I would be disappointed. It didn't take long before I knew I was going to buy it. It's different from other games out there. Definitely a challenge. I'm not very good at describing the game in detail, I just wanted to give this game another Hi-five!
November 27, 2012
LOVE LOVE LOVE IT !!!!!!!
I usually play HOS games but do have a few puzzles! This one is fantastic!!!!!! Very challenging and fun ! Have finished it 4 times and go back for more !!!!!!! Well worth my money !!!
June 29, 2013
Fun - different
I played about 15 minutes and found that the graphics were really nice, sound nice. in the game you shoot (from a vase) whatever is in it - to the same design spot in circles or other groups. I guess I'm not very good in explaining but the game seems really simply - at first - but the level of challenge gets harder and harder because the circles and other objects keep moving and in some scenes you have to brace your shot off something else. A challenge for sure and it gets more challenging as the circles and Xs keep moving. I am not certain what goes on when you continue playing - I have not gotten that far yet. - I suggest you give this game a trial to find out exactly what I am talking about. I usually play HOs but this game was a different challenge and was fun.
August 11, 2012
different and fun
I Just played the one hour trial for this game. It is very different and a fun little game. Funny, I couldn't stop playing...and I have to work all night tonight!! I just bought it. Its actually surprisingly fun. The music is okay, relaxing, it almost got me to sleep a couple of times. Its probably an older game but I enjoyed playing it enough to buy it.
August 11, 2012
Simple, but far from easy
The play-concept is simple - shoot items into matching-shaped silhouettes above. However, "easy" does not apply: - the silhouettes above are moving (left-right, rotating, etc) - obstacles are in the way & ricochet/bank shots are needed - if you miss, you have to "catch" the falling piece or lose a life No real storyline, but having one wouldn't much enhance the game anyway, in my opinion. This is really a game of angles & shot-timing (and planning shots to maximize bonuses). There is a point-bonus after each level based on your time taken - but no countdown timer etc. - so no stress. A relaxing, visual-skill challenging, all-round pleasant game.
August 11, 2012
Nice game for $3.99
Nice graphics and easy-to-learn gameplay. Kind of a cross between a marble popper and Angry Birds. Power-ups randomly available to assist you. Not terribly challenging, unless you want to try to get high accuracy stats, but a great time-waster at this price. I recommend it.
August 11, 2012
Good Game For The Hubby And Anyone Else Not A Hog Lover!
Found this little gem on POPCAP Games Weekend Sale and purchased immediately after thirty playtime minutes. Perfect, really for gamers who are not enthralled with hidden object, adventure, brick breaking games or word games. Not everyone has patience for these game types. Few and far between, games on BFG such as Venice Deluxe, Peggle Deluxe, Unwell Mel, Fairway Solitaire I and II are perfect games for those gamers who really just want to relax, play and "zone" out without a lot of brain cell activity. An excellent game to have on hand for entertaining visitors such as family and friends with younger children as this is a game for all age groups. Enjoy! -Mama Mia-
September 22, 2012
This is different....
Have not seen a similar game before. Venice is sinking and it is your job to prevent it. You work from a gondola and, oddly, shoot different shapes at moving and non-moving targets to keep the buildings above water. Get a specific power up and your gondola temporarily has wings?! Get others to increase your score. Bounce shapes off pinball style bumpers, bounce them from one target to another, but do not let them fall in the water. Right click to opt for a different shape to shoot. Complete with bonus challenges, this is a unique game that is difficult to describe. Zuma meets Pinball meets a Jigsaw Puzzle/Dart Board?? Interested in how others would describe it and if anyone has played something similar. Why not try it....it's free.
August 13, 2012