Silent Nights: The Pianist
Save your sister and uncover the secrets of an ancient organization in Silent Nights: The Pianist! You and your sister, Yvette, come from a long line of gifted musicians. When you arrive to accompany her at a vocal concert in your hometown, you discover she has been abducted by a mysterious group with plans to use her talent for a dire purpose. Explore hidden object scenes and get to the bottom of things before your sister's voice is silenced forever in Silent Nights: The Pianist!
Haunting music
Fantastic gameplay
For a more in depth experience, check out the Collector's Edition
Game System Requirements:
OS:

Windows XP/Windows Vista/Windows 7/8

CPU:

2.0 GHz

RAM:

512 MB

DirectX:

9.0

Hard Drive:

377 MB
Game Manager System Requirements:
Browser:

Internet Explorer 7 or later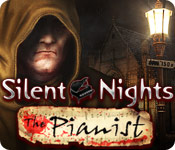 NEW299
The Big Fish Guarantee:
Quality tested and virus free.
No ads, no adware, no spyware.

Reviews at a Glance

Silent Nights: The Pianist
0
out of
5 (
0
Reviews
Review
)
Customer Reviews
Silent Nights: The Pianist
47
47
Fun, if not terribly challenging
Good storyline and plot, just the right amount of HOS, nice graphics and music. No map, but none needed. Hints point you in the right direction, but give nothing else away. I especially appreciated the attention to detail in the HOS - graphics are complex and found items stay found in subsequent visits to the same scene. Plot is a little cheesy and the puzzles aren't that difficult, but the game is fun and held my attention, so I didn't mind. SE has decent ending (with teaser for the bonus round), so you aren't left totally hanging if you don't buy the CE. Maybe a tad short, but would still recommend!
May 12, 2013
Well put together
I enjoyed this game very much. It had me hooked and I didn't want to stop playing. I liked that I could use the item in inventory rather quickly and not forget where to use it. Not a lot of back and forth either, which I liked. The music was very pleasant. Plenty of HOs also. I recommend this game.
May 1, 2013
BETTER THAN AVERAGE BUT A LITTLE SHORT
Game was on the shorter side ? a little over 3 hours on casual mode (challenge mode also available). If your screen is on the dark side, you can add extra brightness. Mystery: You are to accompany your sister, Yvette, at a concert but he doesn?t show up at your Uncle Albert?s inn. Who took her and for what purpose? Good story line. Well-developed gameplay. Nice piano music, average graphics. No journal or map ? there is some back and forth, but not too excessive. Interactive HOS (some with 2 moves to assemble an object). Hint system works very well - points in the direction to go if there is nothing to do in the scene. Ending was mysterious.
April 25, 2013
Very enjoyable
Got this on special and was sure worth it. I could not stop playing until it was done. Engaging story. Quite a few HOS but they were relevant and well done. The music was only mildly annoying, as when got too repetitive it stopped. It did end rather abruptly although satisfyingly, and I had a great time playing this.The puzzles were mostly challenging and I did skip a few which made the game shorter, but not TOO short. I think most will have fun with this one.
April 20, 2013
good, easy, but gets boring
Not a bad game. Not hard and the HOS are ok. Good graphics and music is really good to keep you startled at times. Has a good flow. I just got bored real fast.
April 26, 2013
OK Game, but I wouldn't buy it.
I used a game credit to purchase this game. I can't say I really enjoyed it. It took forever to switch scenes, and I didn't really enjoy the puzzles. It was just boring.
April 15, 2012
Not a bad game but ...
This game is typical of many; you're searching for a missing person, it's dark and raining (why is it always raining in these games?) and have to dig around in a cellar, a crypt, etc etc. It's moderately enjoyable if you are looking for a traditional HOG for stress relief. There is one annoying thing about it; between scenes the screen blacks out for several seconds. It kind of distracts from the game play.
April 19, 2012
Short, but not sweet
Quit this game after only 25 minutes, then found out I was more than halfway through the entire game. Over all, this game left me with a "Been there, done that" feeling. The bad guy is wearing a hooded monk-like robe, making me think he's in some kind of cult. The background music is off-key, which reflects the dark, warped nature of the story. Creepy, ugly visuals, like so many modern games have. Grime, rust & peeling paint everywhere. PLayed in casual mode, but that was too easy. Nothing new here. Why pay money for a short game that is so much like other games I already own?
June 17, 2012
Not that fun for some reason
There are a lot of things about this game that bug me: - the inventory is at the top of the screen. I play a lot of HO games, and the inventory has always been at the bottom. I keep mousing down out of habit. - contant "click to continue." While I appreciate not missing dialogue because I was called away, needing to click to continue after finishing an HO scene is overkill. - I found the HO scene click zones to be a little too tight. In other words, I would click on the edge of an item and it wouldn't recognize it. - a personal pet peeve is the zoom-in scene with a note that remains zoomable even though you've done what needs to be done there. I would prefer the model with a diary or journal, where all notes found go in there and can be re-read at will. (Also, I had no way to know that when I found a safe combination, it would be re-presented to me when I found the safe, so I was trying to memorize the number.) I like it when a scene is zoomable only while there is an action to be performed. That way I get feedback that I did everything I need to do. I like it best when the scene closes automatically once I've performed all the available actions. I suppose it's a little bit of a cheat, but it's what I like. - if there's a map in this game, I'm missing it There are tons of better games out there. I will likely finish it, since I bought it, but I'm not having that much fun.
July 9, 2013
Intriguing Storyline But Not Much Challenge
I usually save my money for CEs, but I got this one for free since I'd finished a punch card this month. I enjoyed the game somewhat, but I'm glad I didn't spend money on it. The storyline was intriguing, but I didn't feel the game lived up to it. I liked the robed figures and wanted to know more about them, and also wanted to know more about the backstory. Storyline wise, I had a couple of objections: 1. I didn't like the ending at all. It was anticlimatic. Nothing exciting happens when you finish (and Yvette is VERY whiny.) 2. At various points in the game, there are cut scenes where villains inform you, "Give up or else." and I kept wondering why they let me go so many times... 3. Uncle Albert didn't serve much of a purpose in the game. He showed up at various points and more or less hung around announcing he was an old man, and I could have done without him. Game wise, the problem was there was just no challenge. I especially disliked that when you solved certain puzzles it told you where to use the object you just got! ("Oh good. Now I can use X to do Y." and the like.) I always play on the hardest mode available because I want a challenge, and it irritated me that the game had blatant hints built in like that. I found most puzzles pretty easy. Some were a bit irritating because of speed considerations and after about 2000 tries I ended up skipping the very last puzzle because I knew the answer but could not click on the very last button without time running out. There were also too many HOS for my liking. I did like that the HOS only listed a few objects at a time, and the interactive ones were logical. Another plus was the objects in general made sense for the HOS scenes rather than being completely random. I also liked the random click penalty--I jumped out of my seat when it happened and was careful not to do that again! All in all, it was an enjoyable way to spend a few hours, and worth using credits or coupons to get for free, but I don't think it's worth paying for.
May 26, 2013
The Apple logo is a trademark of Apple Computer, Inc.