Azkend 2: The World Beneath
Journey through the center of the Earth on a fantastic adventure in Azkend 2 - The World Beneath, a captivating ride to remember. Hop aboard and take this fantastic voyage that will fill you with a sense of excitement! Play enchanting Match 3 chain levels as you explore a magnificent world in hopes of finding the exit. With three game modes, an amazing soundtrack, and gorgeous animated scenery, the world beneath will leave you breathless.
Take an amazing voyage!
Enjoy 3 different game modes.
Earn spectacular achievements!
Game System Requirements:
OS:

Windows XP/Windows Vista/Windows 7/8

CPU:

1.0 GHz

RAM:

512 MB

DirectX:

9.0

Hard Drive:

58 MB
Game Manager System Requirements:
Browser:

Internet Explorer 7 or later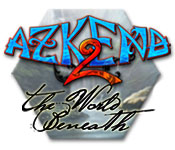 NEW299
The Big Fish Guarantee:
Quality tested and virus free.
No ads, no adware, no spyware.

Reviews at a Glance

Azkend 2: The World Beneath
0
out of
5 (
0
Reviews
Review
)
Customer Reviews
Azkend 2: The World Beneath
27
27
Don't miss this one
I've been waiting for this one for a while, and it does not disappoint. Stunning graphics, many different kinds of challenges, many powerups and achievements to earn. After you have finished you can also play the Time and Medal Challenges. Its a shame that it doesn't offer a Relaxed option. If I could I would give it only 4 1/2 stars. This wouldn't have been difficult to program in and would have expanded the audience for this addictive game. Not as long as some other Match 3 games. There are 17 chapters with 4 levels in each. This game is much harder than the original. Some boards take multiple tries to win, you need to be very fast and think about your strategy. Great replay value.
April 14, 2012
azkend 2 the world beneath
again the developers seem to forget in not just teenagers that play games if it had a relaxed mode we would have bought the game as games like this ie match three with relaxed mode are few and far between limiting the people who can play the game and reducing big fish income on the free one hour trial we would have bought it if it had a relaxed mode
April 14, 2012
Azkend 2 takes you off the mountain into the sea
This is one tough game -- a lot more challenging than Azkend 1. It is also a lot more varied in game play with several new game board challenges. Be prepared to restart levels, but stay determined! The background artwork, which was stunning in the first Azkend, is even more beautiful and also animated. This makes the seek sections that come at the end of each chapter more difficult as well. Wide screen, voice overs, catchy music scores, and a curious story all make for a very well orchestrated presentation. The secondary modes of play, time challenge and medals challenge, plus a myriad of achievements you must play all three modes to earn, make for many, many hours of satisfying play time.
April 14, 2012
This game has huge potential but....
M3 games are one of my fave genres. This game has great graphics and music. The game play is excellent as are the power ups. My gripe is this; I don't usually buy M3 games that don't offer a non timed option. There are some games I've made exceptions for as they are so good in all other respects. During the trial I reached a level I ran out of time on three occasions. The problem being, there were no moves in the area you needed them most. The time you're given isn't adequate to get those moves either. On the 3rd attempt I decided to start in the most challenging area, but couldn't as there were no moves. Couple this with the games reshuffling due to no moves, and the whole game seems pointless. If devs are going to add timed modes only, then it should be possible to complete a level within that time. Luckily it was after the 3rd failed attempt my trial hour ran out. This is a real shame, as in all other respects it's a great M3.
April 17, 2012
Great Game But
Wow what a good game that would be, but of course there is the timer. Why don't the gamers make it with both choices. Some of us would just like to play for pleasure while others like to beat the clock. I sure would have bought this game but will let it pass since theres the ever recurring timer. Everyone loses on this one except those who like to beat the clock. A no buy for me.
April 15, 2012
Do Give This One A Try, Even If You're Not A Match-3 Gamer
I previously bought this and I'm really enjoying this Match-3 game. There are 17 "chapters" to the story, and in each chapter you have to obtain 3 or 4 pieces of an item that you need to advance to the next "chapter". This translates into 3 or 4 Match-3 boards that have to be cleared for each level. The levels get more challenging the further you progress in the game. It's got enough of a story attached to it that it makes a nice change of pace for HOPA fans. When you find all the pieces in a level, there is a secondary match game that occurs. In the upper right hand corner an image of a portion of the graphic background landscape is shown and you have to match it to what's on the screen. IIRC, there are about six matches that have to be made within a fixed time period, and you are informed of your success percentage when it's done. In the Adventure mode I am playing, some of the levels are timed, but the ones where there are bugs (not icky ones) that you have to eliminate before they escape the tiles or where there are tiles on fire that you have to put out before the flames spread are not timed. I'm only about a third of the way done with the game, so I don't know what other tricks the developer might have up his sleeve. Options consist of Sound, Volume, Windowed, Voiceovers and Tutorials. There is also a Detail Level (low, medium, high). There are two Challenge modes: Time and Medals. The graphics are gorgeous, the gameplay is smooth, and the creator of the music is actually given credit at the beginning of the game which I agree with because the music really adds ambiance and drama to the game. I like the sounds of the game (the tile clicks, etc.) This is a really good game and I am enjoying it. There is an earlier version of the game, Azkend, also available on this site.
April 14, 2012
Not for me - got seasick.
This one looked like good fun at first sight but then the first levels made me very queasy. I couldn't even look at the screen to do the section where there was a match the screenshot to their picture, I just had to wait for the timer to run out so I could continue playing and that's the first time I've been grateful for a timer. That said, it's a pity there is no untimed mode. The obstacles and powerups were quite enjoyable to play. The graphics for the most part were very good but the developers need to quit the heaving sea thing as there are a lot like me who will not be able to buy because of it.
April 15, 2012
Azkend 2: The World Beneath
Beautiful graphics and pleasing music. Storyline same as many others - lost and find your way back. Choice of powerups to help master the level. Achievements and medals to earn. Love the hidden scenes, but have to beat the timer to complete them. Would have been a great game if there had been a relaxed mode.
April 17, 2012
great challenging game
The graphics are clear. The story line is good but not excellent. The woman sounds a bit relaxed. The only thing I wish it had was a relaxed time mode. Then I would give it 5 stars.
April 15, 2012
Great game when you need to relax !
I'm not a big fan of the match game, but I was boring and gave this one a chance, considering the good reviews. And I have to say that it's a pretty interresting game, with little challenge between levels. The music is also great. The storyline is too classical fo me, I've seen that too many times ! Fun game, even if I won't purchase it.
April 14, 2012
The Apple logo is a trademark of Apple Computer, Inc.