Hidden Mysteries: Return to Titanic
Exclusive
Solve Hidden Mysteries in Hidden Mysteries: Return to Titanic! After using a secret alias to board the Titanic, things go terribly wrong and you find yourself trapped among the wreckage. In order to earn freedom from your watery tomb you must appease your captor by re-writing history and freeing the spirits trapped aboard the 'unsinkable' luxury liner as well as discover why fate has chosen this destiny for you.
Unlock puzzles!
Unique Gameplay
Ultimate Maritime Mystery!
Check out our Blog Walkthrough
Game System Requirements:
OS:

10.7/10.6

CPU:

1.2 GHz (INTEL ONLY)

RAM:

256 MB

Hard Drive:

352 MB
Game Manager System Requirements:
Browser:

Safari 4.0 or later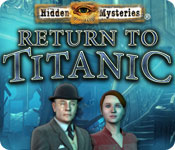 NEW299
The Big Fish Guarantee:
Quality tested and virus free.
No ads, no adware, no spyware.

Reviews at a Glance

Hidden Mysteries: Return to Titanic
0
out of
5 (
0
Reviews
Review
)
Customer Reviews
Hidden Mysteries: Return to Titanic
76
76
I SHOULD HAVE LISTENED TO THE REVIEWS
I should have listened to the reviews.....How true they are...I love playing the "Hidden Object Games" and usually find them fun and challenging to play..But I tried the demo and it wasn't that bad....but I also had finished the demo way before my free hour of play up and I also found that the "hint" button wasn't much of a hint until you finally got back into a room that had something to do. I agree that when you ask for a "hint" you don't want to see "NOTHING LET TO DO HERE" I like the hints that will at least point you in the right direction to go instead of spending 5 minutes trying to find the room where the hint button will work......ANYWAY, LONG STORY LONGER....THIS GAME WOULD BE FUN TO PLAY IF YOU WERE UNDER THE AGE OF 13 or if you are a beginner at the HOG's.. The option "Would you recommend this game" should have the choices of "YES"--"NO" and "MAYBE" as and option, because I would recommend it to some1 just starting to play HOG's or some1 younger..... but like I said "I SHOULD HAVE LISTENED TO THE REVIEWS BEFORE I PURCHASED THIS GAME" I also wanted to Thank all of the people who take their time to write the reviews for the rest of us to read and find out more about the games before we download or purchase them, I PROMISE I WILL LISTEN FOR NOW ON!! Thanks to you all and God Bless!!
April 2, 2013
Good for beginners
This was a fair hidden object game. It features a reporter, undercover as a journalist who finds himself as a spirit underwater at the wreckage of the Titanic. To be honest, the Titanic name and theme was just a grab, it could be have been any ship, and in fact the vessel seemed rather too small to be the Titanic anyways. It has nothing to do with the Titanic storyline other than the large ship sinking due to an ice berg. The storyline was fair, but nothing compared to other games IO have done. It was a rather fun game, there are fun activities, but it could use some things like voices of the characters. I am use to playing Mystery Case Files games where you actually have a cutscene with talking characters, so it bothered me to just have images and a readable dialogue. The visual graphics were not bad at all. Some things looked close to real. As for the sound, it lacked quality. There were basically only two tracks of music that played through the entire game, and I had to turn off the music just to play the game. As far as the challenge, it was good for me when my brain was tired and I needed an easier game. It's more for beginner HOGPs ( Hidden Object Game Players ) because in the hidden object scenes, you could literally click randomly and get 75% of the items you needed. If I would have known this, I would have chosen the difficult style of playing, but again, I'm use to MCF games where the difficult version is extremely frustrating. The puzzles were occasionally difficult, and I found myself to skip one or two when I got frustrated. On the other hand, some puzzles were incredibly easy and didn't even take a full two minutes to complete. The gameplay was rather slow, and laid back. The main challenge was to just figure out where you needed to go next, as the location was fairly large. If you are a master at HOGs, and have played games such as the Adventure Style Mystery Case Files ( Return to Ravenhearst+ ) then I do not suggest this game. If you consider yourself a new or intermediate HOGP, then this is a good game to get you to the next rank. Good luck, mates!
April 19, 2012
Supernatural Forces At Work On Titanic?
BASED ON COMPLETED GAME . This is the 6th game in the Hidden Mysteries series, and the 2nd one they have done on the Titanic. I remember only that I didn?t like that one at all when I trialled it, so I can?t tell you if this is a genuine sequel or not. There is certainly a different approach to the Titanic STORY here, with spirits and portals and time travel. The intro is impressive if simple. It is like a SLIDESHOW with ANIMATIONS and the GRAPHICS look great. The LOCATIONS look convincingly ornate and expensive to me. It's quite a visually attractive game without being at all schmalzy. There are no voiceovers in the game. You can skip conversations, but keeping track of the plot will be almost impossible if you do, although the ?ship?s log? will help. The scene is set for a true MYSTERY from the very beginning. For reasons that aren?t revealed until late in the game, you have gone to extraordinary lengths to be on the Titanic?s maiden voyage in order to meet a famously wealthy man.But somehow you end up at the bottom of the ocean with amnesia. I?ll let you find out for yourself the hows and whys. The GAMEPLAY is mostly HO SCENES, with a few MEDIUM difficulty PUZZLES. This is a STRIPPED DOWN style of game, so while you have EXCELLENT COMPUTER-GENERATED GRAPHICS, there is no animation and no interaction in the HOS. It is a static standard list. The ADVENTURE is restricted to a FEW locations for each chapter, so the MAP is not essential, but it does give you indicators where you have TASKS still to complete. There are PORTALS that assist some of your travelling. HINT is useless outside HOS. I have played about 6 Titanic games, and this is my favourite. It is really WELL MADE, offers a DIFFERENT kind of STORY, and has STRAIGHTFORWARD HO gameplay. It is however a simple game and easy game and will not be to everyone?s liking and certainly cannot compete with the extravaganzas now available. Still,...
July 18, 2013
Flawed but lovely
I bought this without demoing it as I love anything Titanic themed. I was unsure of the story at first but the time travel and saving poor souls grew on me as the game progressed. The game is quite flawed however. - artificially lengthened by slooooooowing everything down (such as interacting with items) to the point of frustration. - useless hint button - very confusing on where to go/be at any point in time - can't access whole ship at one time in the past but can in the future when you don't need many areas - can interact with some people, not others Some positive notes: - the past hidden object scenes are beautifully rendered, some are quite glorious, especially the buffet/dessert scenes. - the storyline is odd at first but eventually satisfying - excellent artwork
April 16, 2012
This HOG sinks in slow motion
It's very disappointing when you find a game that has an interesting story and a good "gimmick" but falls short in all other areas. This game was very slow out of the gate until the ship sinks and then comes the twist where you get to go back before it sank and change things to accomplish goals in your new water logged universe ... but unfortunately it is so slow that I lost interest fairly quickly. The graphics under water are murky, everything is blue which I guess is the only way the artist knows to draw "under the sea". The HOG are the usual clutter, you open a closet in the boiler room and find tools mixed in with plates and silverware and vases... makes no sense to me. I would recommend this game to a beginner, it has a lot going for it but it's just not for me
April 16, 2012
Enjoyed as a HOG
If I set out to play this like it was an Adventure Game.. I would have not liked it very much.. But I consider Hidden Mysteries Games to be pretty much HOGS... I am not a fan of most HOGS or HO scenes in Adventure Games... But I did Enjoy this game for what it is... A Great HOG... You play in two time periods... Pre sinking and Bottom of the ocean Sunk! You must go back and forth between past and present in order to Redeem yourself... I found it challanging at times... I liked some of the mini games a lot... There was a Nice variety of them... The past was romantic and historically warm and fuzzy... The present was creepy lonely surreal... and whenever I would return to the deep waters and Sunken Ship I would feel super creeped out... But hey..the Titanic Sinking creeps me well out... As a HOG it was very nice... As Adventure Game... I would say pass on it...
January 15, 2013
Good, but not overally challenging.
I played this game over several days. The tasks were easy enough. I skipped one, not because it was too challenging, but it was just too tedious. I liked the map feature. It kept me on target. There was a level of challenge in that you had to discover undeclared tasks/objects before you could do a task that was highlighted on the map. Visually, the game was pleasing. Overall, the game was entertaining.
April 27, 2012
Hidden Mysteries
These have been such good games in the past, but this is a disappointment.
May 5, 2012
I expected more from Hidden Mysteries
Usually I like Hidden Mysteries. This one disappointed. The music and graphics were calm and pleasant but wait times and swirl about obtaining items in an HOS were tedious. I liked the concept of a map being a blueprint and that it showed where actions could be performed. Gameplay was not so intuitive as usual and I had to mouse-about quite a bit to find whatever it was I seemed to be looking for in each scene. I gave up after helping the first ghost or is that just "gave up the ghost?" Really didn't get any "Titanic" feel/vibe from the story. Maybe for beginning easy and calm gentle Sunday?
April 18, 2012
Meh... what ever
It's okay, I don't know if I'll buy it. Maybe if I get really really bored. The hog scenes were very easy. Finding out what to do next was a bit challanging at times. Unfortunatly logic dosn't help when trying to work things out. One of the reviews said that there was a map, it might have been there but I didn't notice it. But thats just me. Got to free the second guy but no further. It was good enough that I didn't want to quit the demo, but thats all.
April 15, 2012
The Apple logo is a trademark of Apple Computer, Inc.
The Windows logo is a trademark of Microsoft, Inc.