Evolver
Explore the mysteries of evolution in Evolver! By helping the adorable little creatures evolve, you will find yourself at the center of evolution in three different worlds. Match up three or more creatures to create and unlock new species. Each one even crazier than their ancestors! Line up and create longer series to earn more points. What new species will you discover?
Addictive and challenging gameplay
Over 30 animal species to discover
3 full game worlds - sea, land and air
Game System Requirements:
OS:

Windows XP/Windows Vista/Windows 7/8

CPU:

1.0 GHz

RAM:

512 MB

DirectX:

8.1

Hard Drive:

192 MB
Game Manager System Requirements:
Browser:

Internet Explorer 7 or later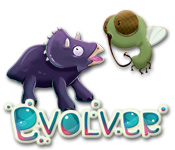 NEW299
The Big Fish Guarantee:
Quality tested and virus free.
No ads, no adware, no spyware.

Reviews at a Glance

Evolver
0
out of
5 (
0
Reviews
Review
)
Customer Reviews
Nothing Fishy here!
I'm not the biggest Match3 fan but had a little time to take things easy. The first couple of games were straightforward and then the strategy kicks in.... not difficult just requires a teeny-weeny bit of concentration. I was surprised I enjoyed it so much. For anyone who enjoys Match 3 this is definitely for you. I fully recommend this game. Well done Devs a new angle on a 'routine' game.
April 18, 2012
Excellent challenge
What an interesting and challenging take on match three! No timer, at least not as far as I got in the trial. Take your time and plan your moves. Very challenging but not in a stressful way. I really liked this interesting take on match three. Nice to have to think a little but still play in a relaxing manner.
April 21, 2012
Takes time and thought
I was prepared for "just another" match three game, but this one was different and challenging. You start by creating a couple of different creatures by matching the basic elements. Then, by matching the creatures you make, you create even MORE creatures. I played the entire hour demo and did not finish out the sea creatures. I like a game that takes me a long time to finish. This one is stress-free, relaxing and enjoyable.
April 19, 2012
Brilliant, challenging & original!
I absolutely LOVED this game! Playing the demo, I found it quite a challenge and decided to buy it. I'm really glad I did, as I found it extremely different and like no other match3 game I'd played before (once I got the hang of it!). The only down-side is that I found having only 3 worlds made the game too short. After I'd replayed each level and got 3 stars for them all, I was really sad to have finished. Same again please, with more levels next time...oh, and yeah, some of the creatures are quite hard to see against the background, so fix this too please! X
May 5, 2012
There really IS a strategy to this! Loved it! Not your regular random match 3.
After some reviews I'm surprised I enjoyed this as much as I did. I did not notice anyone mentioning there really IS a strategy to playing. This is NOT a random match 3 game where you just keep randomly making matches until you by chance get the right animals. Focus on the SPECIFIC matches to get you the higher animals - AND try for matches in the right SPOT to make the higher matches. At the left side are options to select animals to trade out with a specific one you need - definitely use those! Because of needing to plan a little and think about what I was doing, this turned out to be one of my favorite match 3s and I'll probably end up buying it. On the sound, ugh. Like some others here I wish I could turn off music and keep sound. One more ugh, can't click and drag to match - have to do the click-click. But otherwise loved this game. If you want a THINKING match 3 game, try it! If you prefer random mindless stress-relieving match 3s, keep moving...
May 2, 2012
Very cool mach-3
This mach-3 is so cool. Playing 20 minutes to try to get 3 stars is very interesting. We can say this mach-3 is a skilled mach-3 ! Ambiances are soothing and graphism are great. If you want an original mach-3, i recommend this game.
April 19, 2012
Not your usual Match-3
This is an unusual type of Match-3 game. There is no board, which means you'll need a minute or two initially to get your bearings. On the left side is a vertical bar with images of each evolutionary stage - the topmost one is blank until you unlock it. The goal is to match 3 or more lower evolved pieces, which then become a single piece of the next level. When you match 3 of the highest pieces, you unlock the next evolutionary level and end the stage. There are no power-ups to buy or find. Instead, the left-hand bar gradually fills with color, increasing faster as you make larger combos. As the color level reaches each evolutionary stage, you have the opportunity to take that stage piece and place it on the board in place of any other piece. This then drops the left bar color back to the beginning, and it refills as you match. This allows you to strategically place higher evolved pieces when you're so close to the next stage! The field is maximum 9 x 9, but rarely gets that big. When a match is made, rows often move to the left, forcing you to apply strategy and planning, rather than just clicking on matches. There is always a move available (check the corners!), but after a few seconds of no activity, a new row will drop to help out. There are about 5 boards per full level, and a bonus board at the end if you choose. Because each board requires a higher evolution, each one takes longer than the previous. There is a 'timer', at the end of each board it shows you if you beat their score. No achievements or trophies, just your time, the devs' time, and a new board. The music was fairly non-intrusive, and the sound effects are not overbearing. It was pretty easy to tune it all into the background. Overall, if you prefer Match-3 games where you just click as much as possible, and get pretty little trophies and badges as rewards, you'll HATE this game! If, instead, you want some thought in your game, a new concept, a challenge to your brain, and more sense of accomplishment when you evolve completely, then try this one. Your brain will thank you!
April 18, 2012
Different slant on Match 3
At first I played the game and after 10 minutes closed it down as I was lost as to how to achieve anything. When I decided to give it a second go I spotted the blue arrow on the lower edge of the initial pop up screen and so this time, instead of closing it down I read each page. The idea is to match species in order of evolution and thus climb your way to the top of the chain e.g matching three amoeba gives you a plant, match 3 plants and you get a lung fish etc. The first level offers new species in that phase of evolution. The trick is to get the animals where you want them as, unlike a conventional M3 there are limited spaces and they shuffle to the left. Every now and then a new line falls in to help out. The 'power up' in this first level is being able to swap one of the acquired species on the left in order to make a 3match. I would like to think they get better. This must be the first time I have played the full 60 minutes and not got off Level 1, hence the 5 star challenge, but I would imagine I would soon be bored. Excellent graphics, brilliant concept, just a little too boring at this early stage so not risking a buy on this one.
April 18, 2012
Good Mach 3
I love this mach-3 game. I found it fun and couldn't stop until I finally finish the level. And the lasts levels are so strong !
April 20, 2012
Rather fun, once you get it.
I've played this game to the end, and think it has replay value. What you have to get is the math. Three worms to make a salamander, three salamanders to make a toad and so on. To keep evolving the species in each level, you have to make more and more matches. There are three worlds, and each works the same way. Each level up is a new level of evolution and requires more and more matches. The game is flawed, I admit. There is only an on/off button for sound (no level control, no separate music control#, and levels #which can take 20 or more minutes to play) cannot be saved unless they have been completed. There is a timer that determines how many stars you get for playing the level, but the slow fall of new tokens is the main obstacle to getting a good time. Still, this is an interesting and different game. I especially enjoyed the animated game pieces.
April 20, 2012
The Apple logo is a trademark of Apple Computer, Inc.