Criminal Minds
Join the Behavioral Analysis Unit of the FBI to solve a series of shocking crimes in this thrilling hidden object, adventure game based on the hit TV series, Criminal Minds. As a member of an elite team of criminal profilers, you scour crime scenes for clues, interview witnesses and suspects, and carefully analyze evidence to catch the culprits. In the first case (A Dying Art), the BAU must find a serial killer on the loose in a college town before the body count rises further. Focus on the criminal, not the crime, to pinpoint the predators' motivations and anticipate their next move!
Based on the hit tv show
Interview witnesses and suspects
Solve the case!
Game System Requirements:
OS:

Windows XP/Windows Vista/Windows 7/8

CPU:

1.8 GHz

RAM:

128 MB

DirectX:

9.0

Hard Drive:

179 MB
Game Manager System Requirements:
Browser:

Internet Explorer 7 or later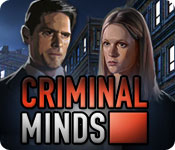 NEW299
The Big Fish Guarantee:
Quality tested and virus free.
No ads, no adware, no spyware.

Reviews at a Glance

Criminal Minds
0
out of
5 (
0
Reviews
Review
)
Customer Reviews
Very Dissappointed
I love this show and was looking forward to this game but I was hugely dissappointed. I felt like I was playing a game from my older games collection. The graphics were poor. There is no sense of direction on what to do next. At one point you need something to cut a rope holding a ladder. If you use the hint it tells you to use A or B that you got doing a HO scene but I already used A and B was not placed in my inventory when I found it. I only played about 40 minutes of my free hour.
April 24, 2012
Seriously? Are you totally kidding?
Downloaded this as a demo against my better judgement - but always willing to give a game a try. I don't watch the t.v. show so this is truly an unbiased review of the 10 minutes I allowed myself to play this nonsense. First issue - all these people are supposedly geniuses, experts in their field, etc. and so on. So, why on the plane do they talk and behave as if they are illiterates with no brains? How do you IMMEDIATELY place murders 2 yrs ago in a separate State with a new and, as far as we know, a one-time murder based solely on some similarities? Seems like a HUGE jump to me. And I'm college educated, well-read and been around (I'm a glam-ma with waaayy too much life experience). Second Issue - you are at the crime scene in the apartment. You and a uniformed police officer (or the other way around - unsure) have tackled someone to the ground. Automatically, you have assumed him to be the killer - another HUGE leap for me. Couldn't he be the building super waiting for you to show up? He sure looked like someone waiting around to me - I mean, seriously, do you expect the killer to be waiting around for the police? And, pardon me for "profiling" - ha! - but he looked like a building super to me and not a killer. Issue 3 - Again, you are at the crime scene, you and a UNIFORMED POLICE OFFICER have tackled an as yet unknown person onto the floor and "get the handcuffs on him". Uh, pardon me? Where would YOU expect said handcuffs to be? Perhaps on the uniformed police officer's belt? Of course not - they are waaayyyy across the room hanging off an exercise machine. Makes all the sense in the world to me. Issue 4 - First mini-game - on the plane you are going over the incredible LEAP from murders 2 yrs ago to this ONE TIME murder - as of yet. The mini game is a DNA strand where you connect the lines to match up around the locked atoms (?) to get from point a to point b. Each time you succeed you get another fact. YAY I completed the mini game - but why is there a loose strand at the very beginning of the puzzle - it goes nowhere - it doesn't even lead to a "locked" atom (?). I have collected inventory items at the crime scene but only 2 of the items go onto the victim. Because apparently we need to "put everything back in its original place" - Have you seriously ever heard of this? Isn't this damaging a crime scene? Isn't it supposed to be hands off and put all evidence into a baggie? Don't police, investigators, coroner, etc. even wear plastic footies on their shoes? Now what? Click the hint button. I don't just get a hint. I get an entire boatload of a list of next steps to take - go outside the apt., pick up item such and such lying on the ground, go to police station, get evidence box of crimes from 2 years ago, get x, y and z out of evidence box, go back to crime scene and use item (a) found outside apt earlier or item (b) found at the police station to do (c). Also, that poor man you tackled earlier? Give him his ID back. If the t.v. show is this ridiculous - I have not been missing much. Handholding? Are you kidding me? Realistic situation - again, are you frigging serious? I re-read my review several times before sending it off to be, well reviewed. You know what's scary? All of the above happened in the first 10 minutes of the game - no exaggerations. BF - do you even have someone play these games - or even the demo before putting it out there for the rest of us? Because if you do, I can only assume you are pleading temporary insanity for letting this one on the game list. This Glam-ma is not intrigued, amused or entertained by all this nonsense - I do not recommend this game - unless you are living in some police drama fairyland where nothing is as real life really is.
May 12, 2014
Needs polishing
I really like hidden object/adventure games and thought the concept behind the Criminal Minds game was great. There are several different cases for you to choose from. However, I experienced a few glitches that prevented me from completing some aspects of the game. I have a very fast, brand new gaming laptop and have never had any problems before. However, keep in mind that it certainly could have been something going on on my end and no fault of the game itself. That being said, I still felt that Criminal Minds was just a tad lacking. If I had never played this style of game before I would have probably been blown away and very excited. However, if you are familiar with the genre I think you might find that the gameplay seems a bit stilted. The world in which you play is very tightly structured and doesn't leave room for the 3D feel or free exploration. I feel that this game could use some cosmetic polishing. Overall, I thought it was okay. Perhaps my expectations were too high. I can't recommend this game due to the stellar competition available on the market today. I think your money would be better spent elsewhere. Would be a good game to buy on a $2.99 sale.
May 3, 2012
Disappointed in Criminal Minds
I love the show but this games does no justice to it. too much running around, lame storylines and easy HO scenes.
April 22, 2012
I don't care for it
I think this game is boring. To much reading (even though I love to read) It was just too much. I wish I had not bought it. The HOGS were good as they went with the story. Other than that, I haven't even finished it.
April 22, 2012
A game based on a TV show and no voiceovers?!?
I thought I would enjoy the game since I enjoy the show, but the game felt very flat. Without having the original actor's voice's, this game feels like a very cheap knockoff.
April 28, 2012
Locked up on me
I couldn't finish the game and had to delete it -- it locked up on me about halfway through and would not let me click through to a vital area. After reinstalling and restarting several times, I just gave up. But I love the show, and I'm pretty heartbroken that it didn't work!
August 28, 2012
Criminal Minds
Much too short. Game has only two Scenes to play.
August 25, 2012
If you like "clicking" ALOT this is your game
I felt like I was constantly clicking through this game...I played for about 10 minutes and this is why: 1. Tutorial has little directions...I actually stumbled onto what I was supposed to do 2. No voiceover and the characters are what seem to be "cut outs". 3. The hidden objects scenes were REALLY easy and I played on Expert Mode I'm sorry but this one was not for me...
July 31, 2012
Boring-lame dialogue
I bought this game on the reviews I read and the premise it would be like the tv show. Except for the visuals of the players it was to obvious where and how to find clues. Sorry, I would not recommend this game. I should have played for the trial hour and been through the entire game.
June 24, 2012
The Apple logo is a trademark of Apple Computer, Inc.