Runaway With The Circus
This heartwarming hidden object game set in 1930s France will take you back in time on an unforgettable journey of love, struggle, hope and determination. Join Mathilde, a beautiful young woman left destitute by the scarlet fever, as she becomes caught up in the colorful, character-filled world of the traveling circus. Help her fight her way up the circus ranks and steal the heart of the handsome animal trainer. Sumptuous illustrations, spectacular costumes and an endearing love story will transport you to the elegance and style of the 1930s. Runaway With the Circus!
Endearing love story
Fantastic soundtrack
1930s setting
Game System Requirements:
OS:

Windows XP/Windows Vista/Windows 7/8

CPU:

2.5 GHz

RAM:

512 MB

DirectX:

9.0

Hard Drive:

351 MB
Game Manager System Requirements:
Browser:

Internet Explorer 7 or later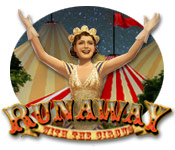 NEW299
The Big Fish Guarantee:
Quality tested and virus free.
No ads, no adware, no spyware.

Reviews at a Glance

Runaway With The Circus
0
out of
5 (
0
Reviews
Review
)
Customer Reviews
Runaway With The Circus
72
72
Not Even Worth the time it took to download
Sorry, as I hate to give a bad review because people work so hard to make this games. 1) The storyline doesn't make any sense. She runs away but mentions her family is in quarantine for Scarlet Fever..???? 2# The graphics are awful and the HOS are very small and therefore it makes it difficult to find the items. I couldn't even make it past the 3rd chapter #scene) before I quit the game. And for what it's worth, BFG, can we PLEASE get some more games other than CE's and HOGS??? What happened to the farm games and gardening games?? I know they're out there - I've seen them on other sites.
April 23, 2012
Hated it!
The graphics were terrible. It was boring, and the music was annoying.
April 25, 2012
Runaway with the circus
I like to make up my own mind about games before I read any reviews. I wish I had read these before down loading this circus game. If I had I would not have bothered with it I found it awful. The moral of this game IS READ THE REVIEWS FIRST.
April 23, 2012
Flapper Music and Mediocre Graphics
A lot of people reviewing talk about loving the music, so I suppose it is just a matter of taste. I found the flapper - roaring 20's music irritating and annoying, which ultimately kept me from being able to enjoy the game. My choice was either to turn the sound off, or play with a muted version of the music, but even a little bit was too much, and I don't enjoy playing the games without any background music. Music issue aside, the graphics are not terrible, but they certainly aren't sharp and clear. I prefer graphics that are crisp and sharp and bright and colorful. The graphics in this game were muddled and muted and slightly fuzzy, and even though the objects are relatively easy to find, I didn't personally find it to be an enjoyable game. However, if you love the music of the flapper era, and you prefer games that are low key and strictly hidden object versus strategy, then you would probably like this game. If you like games without the blood and guts and gory storylines and strategy twists and turns, and you enjoy brightly colored graphics and sharp clear images, then I would suggest you might want to try out the Aquascapes or Fishdom series, or the Big City Adventure series, or Route 66, or maybe even the Samantha Swift series. Enjoy!
April 6, 2014
Hints too vague!
Was enjoying playing this game as it was a change from the dreary ones that have you searching in the dark for objects that are extremely hard to find. However, I got stuck before too long & had to ask for a hint. When this was supposedly given it indicated it could be anywhere within an inch square of the screen! I tried clicking on every bit of the area & got points deducted for random clicking!! I wasn't random clicking just trying to find the wretched thing I couldn't see within this huge area given. if a hint is given it should tell you exactly where the object is or you may as well not bother! If there was a spinning top round either of the cages then I'm afraid I couldn't see it. needless to say I will not be buying this game.
May 9, 2013
Been there, done that. You've seen this all before.
This is another phone-it-in hidden object game. Nothing you have not seen 100 times before. This would have been innovative around the time of the first Mystery Case File games. Now it just seems tired and dull. The description said something about an endearing love story. I don't remember running across that. I don't remember much of a story at all. All I remember were scene after scene with a random list of items to find, many of which were impossible to see and required heavy use of the hint button. There is a pointless scoring mechanic for each scene. Not sure why HOG games need a score or what the point really is. The circus is, to me, such a setting with such great potential for storyline and visuals, that it seems a shame that it was given over to very basic HOG. While the artwork is generally nice, there is nothing innovative or especially fun with this one. With all the excellent gaming options on Big Fish, don't waste your time on this one.
September 1, 2012
It's really too bad...
Wow, microscopic / indistinguishable HO's! It's too bad, because the older crowd, who would really enjoy the music and artwork of this game, probably wouldn't be able to play it, as they wouldn't be able to see the HOs without a microscope. I don't think their glasses alone would do the trick. I'm in my 30's, I don't wear glasses, and I had a headache after 14 minutes. Tiny / blended / indistinguishable HO's, and timed games are deal breakers for me, so this is a definite no buy. Very linear game, quite similar to Amazing Adventures, but seems very dated. A LOT of reading too, if you want to get the story, which I found uninteresting. 2 modes - Timed and relaxed. Hints cost you points in either mode, and you will definitely be using hints...even then you may not be able to see the HO right away. I think I would run out of points and end up stuck. About the only things I liked about this game were the music, videos, and artwork from the 1930's. As always, try before you buy!
June 17, 2012
Not good
So sorry but it's not the best game you have...I didn't like the graphics and I hated the music...
May 1, 2012
Runaway with the Circus? - RUN ANYWHERE BUT NOT TO THIS CIRCUS!
Now who's brainchild is this??? I thought the worst game I've ever played couldn't be topped, but how wrong was I? The worst game I've ever played has been topped by this contraption here. I've deleted it after enduring the full 60 minutes of the trial as I couldn't proceed from the first scene. Reasons: The items are either very tiny, very blended into the background of the colour of the surface they are placed upon on, they are not what they are supposed to be (possibly yet another translation issue?) or as in the case of the last item on the list in scene one can't be found at all :-). I can just about cope with developers shrinking items to atom size, blending them into the colour of the background and then thinking "Oh wow! :-) What a clever bunch we are! :-)". But removing the dots from a ladybug so it can't be spotted on a curtain, which incidentally is the exactly the same red as the ladybug itself is not clever, that's taking the biscuit! The description of the items is a mix between the actual name they are known as (if you're lucky) or a silly attempt of beating about the bush. The ladybug in here was not just 'ladybug', but 'Lady of the Bug' and I have a feeling that this may be the excuse for the lack of dots ;-)? "We call it 'Lady of the Bug' thus created a new insect and can leave the dots out ;-) ". I mean who came up with this??? 'Lady of the Bug'...if they would've wanted to be REALLY clever and innovative they could've called it "Queen of a Viral Infection" or "Empress of Gastric Upheaval" Then I was looking for something that 'floats on water', so a ship, plank of wood, duck...no idea. I found what looked like a ship or a boat, clicked on it and it was picked up. But don't think for one second that it was the floating thingy I found...Oh no way!!! I'd found something that I later couldn't read up what it was, as the word or description has been crossed out in a way that made reading it retrospectively impossible. So if you find something green that looks like a landing boat of the US Marines, be on your guard, it could be this mystery item. I had to find 5 bowler hats, which should be a relatively easy task one would think. BUT IT ISN'T IF THE BOWLER HATS AREN'T ALL BOWLER HATS, BUT ONE IS STETSON AND ANOTHER A TOP HAT AN YET ANOTHER A CAP!!! (Sorry for shouting, I was really frustrated about that). So I clicked on every hat looking object and then got the warning that random clicking would result in a fine of 10 000 points and this brings me to the hint system. The hint system is bordering torture! You can't do without using them trust me on that, but use them and they run out and if you're flat on hints they don't just simply build back up after a while, but it will tell you that "You don't have enough points to use hints!" Remember what I said in the previous paragraph: "Random clicking will result in loss of points ;-) " The 'something floating on water' turned out to be canoe btw, which was impossible to make out and I found by accident through random clicking, resulting in loss of points, which prevented me from using the hint system. At the last item I had left on my list, I had enough points to use a hint (no idea how I managed that) and used it. It gave me an idea in which area I could find the missing bowler hat, but no bowler hat there in fact no hat there at all. I ended with a clicking frenzy in this area and after then minutes still no bowler hat. At this stage I had run out of items to find which would've made me more points anyway, so eventually I randomly clicked all over the shop, but no bowler hat found. I have noticed a pattern and summarizing my fidings: Points found by finding objects, points needed to use hints, items just simply aren't where the hint says they are, the last item not being anywhere to be found to go onto the next scene, can only lead to one conclusion: The game may consist of only the first scene? :-) The graphics are...if you've ever seen one of these monochrome movies that have been remastered into technicolor you'll know what I mean. There are a few good things about the game though: - The music is typically 30s and of the tinny sound quality of the time. So I'm ok with that, even though I'm not really into this style of music, but well chosen. - Apart from the devs I didn't come across any clowns :-) (clowns scare me) - The best feature of the game, however, has to be the 'exit' button, but I even that I found somewhat harder to find than on any other game ;-). Would I recommend this game? - Hmmm...I can't think of anyone who I hate enough to recommend this game to :-) So the answer is: NOPE! Regrettably this one would've made a game that's something different and it really annoys me that's it's been made so badly. I would really suggest that the devs take this back to the drawing board it has potential, but needs a lot of work imho. (I found it really difficult to write up review if after one hour I still found myself stuck on the first scene. So apologies for this one being more lengthy than my usual reviews)
April 23, 2012
One of the worse HO games I have ever played.
Terrible game. Poor graphics, colour is awful. I wish I would of done the demo first - never would of purchased this game. Because of the poor quality, some of the hidden objects are impossible to find.
April 26, 2012
The Apple logo is a trademark of Apple Computer, Inc.