Campgrounds
Adventure awaits in Campgrounds as you grow a prosperous company with Addie as your partner. You will develop campsites in astonishing locations and choose the path your business follows. Do you seek fortune? Do you strive to be green? Or can you find a balance? Uncover secret campsites by piecing together scattered treasure maps. Follow the clues left behind by an ancient civilization and unearth a hidden artifact. Do you and Addie have what it takes to become the next Campground Developer of the Year?
Develop exciting campsites
Unlock secret levels
Become Campground Developer of the Year
Game System Requirements:
OS:

Windows XP/Windows Vista/Windows 7/8

CPU:

1.2 GHz

RAM:

512 MB

DirectX:

9.0

Hard Drive:

195 MB
Game Manager System Requirements:
Browser:

Internet Explorer 7 or later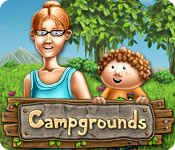 NEW299
The Big Fish Guarantee:
Quality tested and virus free.
No ads, no adware, no spyware.

Reviews at a Glance

Campgrounds
0
out of
5 (
0
Reviews
Review
)
Customer Reviews
Too tight to have fun
Campgrounds is far too clicky-challenging, a carpal tunnel syndrome game. The length is good with many levels, but in order to be fun, there really should be more than 1 way to reach gold. Since winning the gold depends on how fast you can click, and clicking fast depends on rapid-fire repetitive motion, fun soon gives way to cramps, and you can't get the gold. Games are fun if you can win; for us, especially the kids, this one just doesn't give.
June 17, 2012
Not fun after the free hour...
It seems a lot of reviews are from people who've only done the free trial - I agree, the first hour was fun. Beyond that, the levels get difficult, esp, in the 20s and up. I play LOTS of TM & Building games, and this rates near the top for concept, but bottom for fun. Pros: -Choose your path at multiple points = more levels -Nice graphics -Good variety of campers/buildings/foliage Cons: -Gold time limit too short in upper levels -Prices go up for no reason (buildings/parking spots cost up to double with no added benefit) -No discount for bulk buying (eg. $1000 for 100 supplies, $2000 for 200 supplies, $4000 for 400 supplies - other building games give bulk discounts!) -Cannot recoup materials when demolishing buildings - esp. frustrating because most levels require demolishing to reach goals (eg. need 6 campers, have 6 total spots, must first use spots for factory & greenhouse, etc) Overall, the game loses its appeal after level 20 or so, and I've played up to level 50 now! I kept thinking something would get better, but I was wrong...I much prefer other building games where if I don't make gold, I can re-strategize and go again, but some of these upper levels just seem way off base and playing one level 4-6 times with no improvement is too frustrating to be fun.
May 17, 2012
SUPER SLOW DOWN
The first few levels were great then the slow down hits, very annoying. Would not recommend, wish I could return.....
May 14, 2012
Not as fun as you would think
This game is normally the type of game I wait for, but amongst games of a similar nature it is quite dull and long-winded. I would imagine the designers would claim that it is challenging, but realistically it just is boring and arduous. Two descriptions no game player really wants. However, if you like this type of time management/ strategy game you may enjoy it. I personally found that it lost it's luster pretty quickly and still working through it (out of a lack of similar options) I never quite got past that initial allure. If you want the demo, you may find it a good time, if you buy it, I doubt that you will find much more. Try not buy.
August 23, 2012
Repetitive!
This doesn't get any more difficult as you progress through the levels and is very repetitive. Basically, you just do the same thing for every level. What you see in the free trial is no different throughout the whole game.
May 11, 2012
Same ol' Same ol'
Much like Royal Envoy, and the other build the village type games. To be honest, I was bored after 10 minutes. Interesting though that instead of the workers saying comments like, "On my way! I will get it done!" or "More work!" They actually MUMBLED! I kid you not. I could not imagine playing an entire game where the workers mumbled everything. The format had elements of Build-a-Lot as well. On the plus side, the graphics were very nice but this kind of game unless it has a great deal of charm like Viking Saga, which was a very good game, I am left bored out of my mind.
July 24, 2013
Good concept, poorly executed.
I liked the idea of developing eco-friendly campsites. The problem with this game was that you can only order 200 in supplies maximum so you build a campsite, order supplies, build a campsite order supplies, etc. Some of the upgrades cost 120 supplies and when you have to do 3 upgrades per campsite, you spend more time making the supplies (yes, you make them so you are down one worker). You also have to plant gardens but can only order 300 seeds at a time and each garden uses 100 (again, you are down one worker). Another problem is when the rent comes up, you have to stop what you are doing and click on each campsite to collect the rent or you lose it. You spend most of your time making supplies or seeds, or clicking to collect rent instead of completing the mission.
March 28, 2013
Build-A-Lot mechanics...again
I'm so bored with games that just use the same old, tired Build-A-Lot games mechanics underneath different "skins" and pass them off as new games! This is the same game(s) you've played before, but it has tents instead of houses, hotels, etc. What happened to creativity with time management games??
April 26, 2012
Sound effects are creepy
I had to stop playing this game because the voices of the workers were creepy. If I turned off the volume, then there was silence. No thanks. Good game otherwise.
August 5, 2013
Campgrounds?
Campgrounds is a game that I spent 15 mintues trying to figure out what I was doing and why I was doing it. The game told me what to do it's just that for the first 10 mintues i was doing what i was told to do but than i just lost intrest so i pressed many buttons seeing if anything intresting would happen but i thought wrong. Basically i thought the game was very boring, since the game was very repetitive and basic. I needed no skill, abd the level of challenge was poor as all you had to do was chose from either a tent or a building. I woudn't of even give this game one star! However the only good point about Campgrounds is that the visual quailty was imaculate! But i woudn't recommend this game.
June 7, 2012
The Apple logo is a trademark of Apple Computer, Inc.