Final Cut: Death on the Silver Screen Collector's Edition
Unravel the mystery of your father's death and brother's bizarre disappearance in Final Cut: Death on the Silver Screen! Your father was a famous movie director who liked to invent elaborate locks and devices. A mysterious villain demands you track down the pieces to his greatest – and perhaps most deadly – invention of all time! If you don't, your brother will suffer the same fate as your father.

Return to the family Art Deco mansion and golden era movie backlots to look for clues about a past you never knew your father had – and the dark secrets behind the villain's quest for his deadly invention.

In this Collector's Edition, play the bonus game to see how far the villain is willing to go – and how deep your father's secrets are – as you explore the sets of some of his greatest movies of all time.

Can you find out who the villain is and stop her before the final cut?

Get other exclusive extras in this Collector's Edition that you won't find in the standard version, including:
Concept Art
Wallpapers
Soundtrack
A rich, exciting bonus game
Game System Requirements:
OS:

Windows XP/Windows Vista/Windows 7/8

CPU:

1.4 GHz

RAM:

1024 MB

DirectX:

8.0

Hard Drive:

845 MB
Game Manager System Requirements:
Browser:

Internet Explorer 7 or later
Mild Violence
Use of Alcohol
Use of Tobacco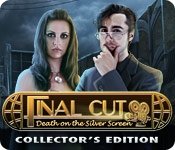 The Big Fish Guarantee:
Quality tested and virus free.
No ads, no adware, no spyware.

Reviews at a Glance

Final Cut: Death on the Silver Screen Collector's Edition
0
out of
5 (
0
Reviews
Review
)
Customer Reviews
Final Cut: Death on the Silver Screen Collector's Edition
181
181
Great story line
We really enjoyed the story line. I love playing hidden object games, and look for one's that aren't all about death and satanic subject matters. The CG might have been improved a little, but overall it was very enjoyable.
November 2, 2012
Chicaluv62
I have been with Bigfish game club for a few years now and so far I have not had any complaints about any of the games I like on this site, I love playing the hidden object and the time management games, and my granddaughters love the family games.
September 1, 2012
Lights and Action!
*these comments are based on completed game play in advanced mode* "Death On The Silver Screen" offers real relief from gimmicky games such as the latest MFC offering. For once, the "required" demon was portrayed as all that makes demons so seductively dangerous. The plot does not contain holes, but the its execution does. However, this failure gives the developers leeway for clever executions and grand special F/X. This game is fun to play and delightfully rich in visuals. If you ever wondered what a movie set looked like when Douglas Fairbanks Jr. was the swashbuckler de jour, "Death on The Silver Screen" is your golden opportunity to peer behind the celluloid.
June 15, 2012
Good HO
Puzzles are moderate, good plot, I enjoyed it, definately in my top 10 of choices
May 27, 2012
GOOD GAME!
Good game, long game, lots of HOs! Minigames were good, some were easy and a few were a little hard. Game is very long, at least it seemed so to me. Many, many Hos!! Good map, good, interesting storyline. Available achievements, which I didn't get all on any of them!! You have to find pictures, cards, lights and a mystery achievement. Bonus game was a little difficult, but I finally got it.
April 5, 2013
Fun Game
Overall I enjoyed this game; however, I had some issues with how the story unfolded. You play as the daughter of a film producer who just died. Your brother has gone missing and an odd maid is at your father's estate. You must search for your brother and solve your father's puzzle locks. The story takes place at your father's estate which includes a movie studio. The graphics are excellent, the voice overs are good, the live actors are okay and the music is nice. The HOS are good, some items are really difficult to locate. You do visit each HOS more than once. The puzzles are fun, but sometimes the instructions are unclear. The SG comes in handy when you can't figure out the instructions. There is a combo journal/map/task/list/father's diary book that is quite useful. The map is not interactive (unfortunately), but does show you where you have tasks to complete. Since the map is not interactive, there is a lot of back and forth between locations. This does get tiresome as the game goes along. I never looked at the task list or diary. The journal portion does come in handy for solving several of the puzzles. There is a built-in SG which stays on the last page viewed. During game play you collect achievements, search for pictures of the house, search for playing cards and look for lights to turn on. These were an enjoyable part of the game. The storyline is interesting and odd at the same time. I don't want to give too much away, but will say that, unfortunately the developers tipped their hand on a big piece of the plot too early in the game. They should have held a specific piece of information until much later in the game. Also, once this piece of information is revealed (and some back story to go with it), your character's reaction is definitely not what I expected. The ending of the main game was satisfying in most respects. I am probably one of the few players that had concerns about the main character's actions. The main game was lengthy; however, the bonus chapter was short. It did add a new location, which was fun. The ending of the bonus chapter was definitely satisfying. At the end of the main game, you must read the credits, they are quite amusing. Also, in the bonus section is a "Making of" video that is really funny. You can tell the developers had a good time working on the game. Even though I have misgivings about how the story developed, I do recommend this game. It was worth the price of the CE.
January 26, 2013
CLIFF HANGER
I played the entire game, including the bonus chapter, on the middle level of difficulty. Both the game and the extra chapter ended with the indication that additional action would be forthcoming. This game was good and long and had a lot of variety of puzzles in it. It also had achievements that could be won based on accomplishing certain tasks. There was a map, but at the difficulty level I played, it did not add a lot to the game, other than to give you a visual idea of how many times you had to back out and go left or right to get to the next action area. I used the hint button a lot to get me to the next action area, which is very time consuming and frustrating and one of my pet peeves for games that are designed like this. The mini games were not that challenging, if you could figure out what to do in the first place; the instructions for some of them left a lot to be desired. I did not play with sound, but did have the voice overs audible. They weren't that good and the moving lips weren't in sync which was distracting. My favorite character was the gardener and my least favorite was the brother, a real wimp.
December 15, 2012
Likeable
This game was likeable. It had a thring storyline, but sometimes bored me. Here are my thoughts on the game: Good Parts: 2 Modes, Regular and Expert (I played Regular) Thrilling storyline Great hidden objects, with some interactive putting a small twist in the game OK Parts: The puzzles were easy, but there were few in the game, which bored me Bad Parts: Sometimes I was left wandering aimlessley trying to figure out what to do Slow hint recharge The parts where you'respeaking to a character. They were very poorly animated, the lips didn't move in time with the voice. If you're going to uswe cartoon characters with voice-overs, at least make them realistic! Overall, I think the game was enjoyable, but needs improvement in some areas.
May 25, 2012
The usual
Yet another brother went missing in suspicious circumstances. Yet another mystery to solve, more intricate locks to open with items that have been hidden. Yet another mechanism to assemble. These games really don't rock my boat any longer. I have solved so many mysteries, found so many missing people, unlocked so many doors, I'm getting weary of it. Having said that, the game is ok, but nothing new. The graphics are good, so is the sound quality. Not sure why they tell you at the start not to turn the sound off. Apparently, it deepens the experience. Sorry, but I have to disagree on that one. Sound on or off, the experience was the same: Pretty boring! Two different difficulties, I played the demo in the casual mode. The HO scenes are a mix between straight forward items to find, e.g.: Keys (3) and some interactive ones for which you first need to find a tool to get to or make the item you need to find. The puzzles are ok. Usually intricate locks, for which you need to find parts of the mechanism first and these parts aren't really difficult to find, you just have to walk back and forth a lot. Of course, right at the start there'll be a pet that wants entertaining before releasing something you need. The game does have voice overs and even real actors. What I don't understand is that if they used real actors anyway (the maid e.g.) then why once the maid starts talking she turns into her own avatar? No idea why that is. I really don't want to spend any money on this CE version as I already found the game itself very tedious very quickly and really don't need or want any bonus game on this one and the other freebies that are thrown into this CE version are not really worth it in my mind. I really isn't challenging and doesn't excite me at all.
May 24, 2012
Great graphics and sound, story and length was ehhh, ok at best
What first drew me to the game was the gorgeous Art Deco graphics. Beautifully and masterfully drawn, without a doubt. The gameplay was ehhhh, just like any other HOG/Adventure that mimics the great Mystery Case Files Ravenhurst/Dire Grove games, but without the same "WOW" effect. Once you see it, you seen them all. I was bored by the way-too-obvious plot after it develops mid-game. Gameplay was slightly longer than the average HOG (about 8 hours worth), but the process is the same. You step into a scene, but you can't proceed until you complete a HOG scene and whoosh, there's the object you needed. Lather, rinse and repeat for about 1,000 times. Very boring. Even 450 to Paddington/Peril at End House, which is as basic as a HOG you can get, was much more interesting than this. I guess the point I'm trying to make is: THE STORY COUNTS A LOT MORE THAN FANCY GRAPHICS. I will recommend the game if you like a better-that-blah HOG game. But I can't say that I was full satisfied paying 13.99 for a game that looked promising in the first couple of hours, but fell flat towards the middle/end.
June 7, 2012
The Apple logo is a trademark of Apple Computer, Inc.