Weather Lord
There's a 100 percent chance of fun when you play Weather Lord, a unique time management game that puts the forces of nature at your fingertips! Use sunlight, wind and rain to coax bumper crops out of fertile soil, and then turn your harvest into the products people want. If you manage your resources well, your solar power stations and wind turbines will provide the energy your production facilities need. You'll also have to summon thunderclouds to remove boulders, send rain to quench forest fires and store up the resources your workers need to repair earthquake damage. If you stay ahead of the clock, the gold cup will be yours! Give Mother Nature a well deserved rest and play Weather Lord today!
Step-by-step tutorial
Good and bad weather
Control the weather!
Game System Requirements:
OS:

Windows XP/Windows Vista/Windows 7/8

CPU:

1.0 GHz

RAM:

512 MB

DirectX:

9.0

Hard Drive:

161 MB
Game Manager System Requirements:
Browser:

Internet Explorer 7 or later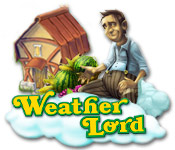 NEW299
The Big Fish Guarantee:
Quality tested and virus free.
No ads, no adware, no spyware.

Reviews at a Glance

Weather Lord
0
out of
5 (
0
Reviews
Review
)
Customer Reviews
Rain or Shine
I really like this game - glad I purchased. Challenging!
May 7, 2012
Come rain or shine...or a bit of both!
Great fun and a new concept in TM. You control the weather by buying basic weather such as sun or clouds then combining them to create the weather you need to make your crops grow, eg two basic clouds combined creates rain, you can also break apart your combinations to get back to your basics. You can also build solar stations, wind turbines etc to create power for factories you buy to process your crops. There is lots to do on this one and some tactical thought is required. The graphics were great, music was average and the level of challenge was just right, you have to work to get expert. I definitely recommend this game even to non TM fans. It keeps you on your toes and doesn't get boring or repetitive.
April 25, 2012
Weather the Weather
Yes, a TM with a different twist. I like TM games & Strategy games even more. This is a great combination of both. I didn't care for the music so I turned it down. I also had trouble reading the instructions & had to restart the game almost at every new level inorder to have enough time to read them. The game play is good & smoothe which is basically that you are given tasks to accomplish (crops to grow, rubble to clear, roads to build, etc) & you use different types of weather to do it. I found this game challenging & fun: A great game for older children of all ages. WARNING: You Do Have To Think!
April 26, 2012
i love builders
what a cute game,, instead of human workers, yuo start each level with certain weather, and have to buy others.u control weather,, but its the same principal, seems to be 30 something levels by looking at the screenshots, you have upgrades, roads to clear,,, seems to be a fun long game,, especially to get gold,,,btw you can continue without getting a medal another buy for me :D
April 25, 2012
New Type Of TM
It's a cute, fun and challenging strategy / time-management game. I bought it after 56 mins of playing. The game system is basically a farm-type time management with a little bit of building combined. However you are playing the farm owner but the helper(?# of the Weatherman. The storyline is somewhat poor #who is the weatherman and who are you playing?# and the instruction is confusing at the beginning. But I found it very interesting once I got used to it. In this game, you use weather units#?# like sun, cloud, and wind to make the plants grow, produce electricity#for upgrading farms or powering the factory), or put out a fire. You can combine two units into a different unit, ex: cloud + cloud = rain cloud, wind + rain cloud = thunder cloud. You can also break them back into the original units or sell them and get full refund. That makes a lot of flexibility in the strategy part. I like the idea very much. It reminds me of "My kinddom for the princess" that makes you think what to do first and next and keep trying for the best steps in order to get the best time. There is a little defect that the timer starts at the beginning of each level (even when you are still reading the instruction), but not at the first move or click. So I usually have to spend some time to read the instructions and purposes, think for the first steps, and then restart the level so I can start to move at the very beginning without losing time. In general, I enjoy this game very much. I hope to see more decent TM/strategy game like this one appear in the near future.
April 25, 2012
How Unusual....
This game is really different to the other time management games out there, and the levels are more challenging then most other games. You get scored on how fast you complete the level and will either get a 1st, 2nd, or 3rd place. Graphics are bright and engaging, but not too many controls to feel panicked. If you want something a little different then try this one!
April 26, 2012
A new take makes a good game
This game is pretty fun. It becomes challenging rather early on in the levels if you're trying to make gold - which I always am. The music is average, cheery background. The only thing I would like with the visual quality is that the writing would be a little larger when the man speaks, but otherwise it's good. I like trying to anticipate what weather I will need and having to break up the combinations to create new ones. It's a good time management game that I'll probably get with my next club credit.
April 26, 2012
Fun TM Game
Pretty basic TM game but with a new twist! I thought this was pretty fun. Not great but worth playing. I like that its not the same exact thing as every other TM game.
April 30, 2012
Unsure...
Im still in the trial, only have about 20 minutes left and I play it at different times because I cant decide if I want more. Check out more reviews to see if it fits your taste, thats what Im doing :)
May 19, 2012
ecological
ecological nice relaxing music and color
April 25, 2012