Weather Lord
There's a 100 percent chance of fun when you play Weather Lord, a unique time management game that puts the forces of nature at your fingertips! Use sunlight, wind and rain to coax bumper crops out of fertile soil, and then turn your harvest into the products people want. If you manage your resources well, your solar power stations and wind turbines will provide the energy your production facilities need. You'll also have to summon thunderclouds to remove boulders, send rain to quench forest fires and store up the resources your workers need to repair earthquake damage. If you stay ahead of the clock, the gold cup will be yours! Give Mother Nature a well deserved rest and play Weather Lord today!
Step-by-step tutorial
Good and bad weather
Control the weather!
Game System Requirements:
OS:

Windows XP/Windows Vista/Windows 7/8

CPU:

1.0 GHz

RAM:

512 MB

DirectX:

9.0

Hard Drive:

161 MB
Game Manager System Requirements:
Browser:

Internet Explorer 7 or later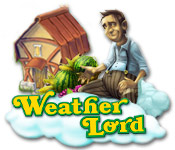 NEW299
The Big Fish Guarantee:
Quality tested and virus free.
No ads, no adware, no spyware.

Reviews at a Glance

Weather Lord
0
out of
5 (
0
Reviews
Review
)
Customer Reviews
A different spin on TM games
On the plus side, it is untimed. I mean, you can still get gold, but if you take too long, you still get to finish the level. So you take all the time you need, if you are like me, who likes to stop and think. It is resource managment game, with two provisos. You can combine or break apart your resources. You start with a sun and a rain cloud. With that you can get a also two shade clouds (breaking up the rain cloud), a shade cloud and a cloudy day (combine a shade cloud and a sun) or a sunny rain. (combine a sun and a rain cloud) as needed. You may need to break up and combine a lot at the beginning, when you are tring to get crops to grow. You might be forced to return a rain cloud to get a wind that you need. But once the crops start coming in, you can buy more of what you need, and things go smoothly. The other proviso is what makes it fun. Suns, clouds and winds, do not stay put. They move about, and somtimes hide behind the signs. You have to hunt them down, and drag tehm where they are needed. That keeps you on your toes. Then you need to power up too the solar stations, onr wind stations, or the thuner statios (a thunder cloud is yet another combination). You need the energy to be able ro repair roads and other things. And you need it to bring the crops to processing, as processed foods bring more than raw crops. In the end, you may have to decide how much energy you need, and wheher it is worth it to divert a sun or wind there, or even to tie up a cloud and wind for a thundercloud. Now, the animatios is a bit dull - at least compared with others games, and there is not much action, apart from the growing of crops.... But then chasing after fleeing clouds is action enough....
July 30, 2013
Who knew weather could be so fun?
In a lot of ways this is a pretty typical time management/strategy game, skewing more towards strategy. You assign specialized workers to various buildings to produce goods that you require to complete the level objectives. In this game, however, your "workers" are the sun, clouds and wind (or several combinations thereof) that you use to grow crops or generate energy (to be used to power mines or production facilities). Each type of crop has different needs: e.g. corn requires rainclouds (combine 2 clouds) and then sun in order to get a product. You can then sell this to make money to buy more weather elements, upgrade your farms, etc. You can "recycle" any weather element at any time to get the FULL cash amount back. So if you are quick at recycling unneeded weather elements for money then buying what you need, you can really increase your productivity. After you finish the introductory levels, around level 5 or so, it immediately becomes non-trivial to achieve expert time. Part of this might be that I was still getting used to the game and figuring out what the best way to spend resources is. Upgrade the farm? Or buy more weather elements? The gameplay doesn't change significantly, and later on I was able to achieve expert time on the first try most of the time with a general strategy I developed as I was playing through the game. The game has 40 levels, which seemed a bit on the short side to me. I liked the unusual concept and thought it was a fun little game.
May 20, 2012
Fun time managent game
I loved this game.I usually like only "dash" type games,but this was really cute.Easy to understand the instructions,nice graphicsThere was challenge,but not to the point of frustration like many building type games.I would have liked for it to have more levels.
May 17, 2012
Nice change in theme
I bought the game because it was different enough from the others. I enjoyed playing it. I didn't like the fact that you can't strategize before the clock starts so I had to look things over and determine my strategy and then restart the level.
May 15, 2012
Charming TM
I really did like this one. It's a TM in which you have to create various weathers to achieve certain goals like harvesting certain crops, producing certain materials and removing certain objects like swamps or rubble (preferably in expert time). So not much new, really, but I found the subject different. It's a nice change to the usual restaurant and shop related games. All the tasks could have been explained better and the speech bubble of what is explained disappears rather quickly. So I found myself guessing quite a lot which resulted in me not finishing many levels in expert time. But even without having to guess I would've found it quite challenging. It requires strategy and planning. This one will definitely go on my list of possible purchases.
April 25, 2012
A Good First TM Game for Children
As an adult...two thumbs down. BUT...this is a good game for young children to "cut their teeth on" as an introduction to TM games. I'm saying "yes" on recommending this game with the provision that I say that "for kids only".
April 29, 2012
Too crazy for me
I really wanted to love this game a lot more than I did. Part of it is me. Some time management games I can handle with ease, and others are just too crazy. Some of them just have too much going on for me to keep up, and this is one of those. I love the concept! You're making weather patterns (rainstorms, sunshine, wind, etc.) to help create things and upgrades, and grow plants, and possibly more (I only played the demo). It sounds like tons of fun! Unfortunately I just couldn't keep up with the game. Maybe the time limits are too tight. Maybe there's too much going on at once. I'm not sure. But by the time I neared the end of the hour demo period, I was sure that there was no way I could keep up with the pace of the game. If you're really good at mad-cap crazy run around like a lunatic TM games, this one is for you. But for pokey people like me, it is, sadly, a pass.
May 16, 2012
Sadly Disappointing
I have to admit that when I saw some of the reviews, I had imagined that I would feel differently. Time management games get released so rarely, and I have never thought of myself as particularly picky about them. Unfortunately, all of the poor reviews are correct! I downloaded the free trial and was bored in less than ten minutes - I could not even believe that is possible. For most time management games, it takes that long simply to get the hang of it. The graphics and storyline are simple: you must create weather to harvest certain items. The more you harvest, the more money you get. You get a few weather patterns that you mix and separate to make each pattern, but that is it. There is little room to grow with the game and no story to keep you going. I tried to stubborn out another 20 minutes, in the hopes that it would change, but no go. Big disappointment Big Fish! Hopefully there will be some more time management games soon to compensate, but for the time being, you are better re-downloading an old favorite.
April 27, 2012
Diabolical
This game is just terrible. It takes ages to do the second level and I couldn't even be bothered to finish the free trial. At first it shows up windowed, then when Mr Weatherman (what an original name) comes up, you can barely see him. I have unusually good eyesight, so I could manage to see, but others with strained eyesight may not be able to. The font is small, the game is boring and I am being unbelievably genorous to give it 2 stars. Honestly, some may say it wouldn't be worth one.
October 13, 2012
It's an ok game, but...
This isn't a terrible game, but a couple things made me uninstall the demo after 30 minutes of play. It's much too easy to accidentally sell off your bits of weather and the timer starts right away, before you even click anything. Both of those things would be minor in a good or great game, but in just an ok game? Not so much.
April 26, 2012