Dark Dimensions: Wax Beauty Collector's Edition
You've tracked down the latest Dark Dimension to Red Lake Falls, where a haunting beauty queen begs you to save the town – but from whom? Is it her brother, last seen busting through a shop window in a jealous rage? Or his stalker girlfriend? The real villain in this thrilling Hidden Object Puzzle Adventure game just might shock you – unless you're turned into wax first!

This is a special Collector's Edition release full of exclusive extras you won't find in the standard version. As a bonus, Collector's Edition purchases count toward three stamps on your Monthly Game Club Punch Card!

The Collector's Edition includes:
Bonus gameplay
Integrated Strategy Guide
HD Wallpapers
Concept art
Game System Requirements:
OS:

Windows XP/Windows Vista/Windows 7/8

CPU:

2.5 GHz

RAM:

1024 MB

DirectX:

9.0

Hard Drive:

772 MB
Game Manager System Requirements:
Browser:

Internet Explorer 7 or later
Mild Blood
Violent References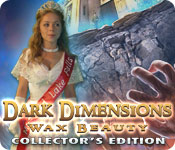 The Big Fish Guarantee:
Quality tested and virus free.
No ads, no adware, no spyware.

Reviews at a Glance

Dark Dimensions: Wax Beauty Collector's Edition
0
out of
5 (
0
Reviews
Review
)
Customer Reviews
Dark Dimensions: Wax Beauty Collector's Edition
93
93
white background
I started out really liking this game. The graphics were great, as were the sounds. I LOVED the music. Any time there is a spooky game, I generally buy it. But; when I got to the hidden object scene in the caravan, I got mostly white background with a few objects thrown around. I tried deleting & redownloading but it didn't help. DARN!!
April 29, 2012
Was expecting more.
Played the CE. Graphics overall were nice, sometimes a bit blurry and the character's shadows didn't show. Music and sound was okay, but the voice acting was HORRID :( I skipped them after the first few cutscenes. So slow and not synced! Gameplay was pretty weird because lots of times you had to move just from one room to the next for a HOS and then back to the previous. Confusing... But the HOS and puzzles were good, not too challenging and not too easy! Story was good and kept up the interest, though it reminded much of the movie House of Wax. The one single thing besides the poor voiceacting was ***SPOILER ALERT*** the bonus game play. It was very, VERY poorly executed :/ For example when you get to the cave where the snake dwells, you get a new note in your notebook AND IT REVEALS THE ENDING even though you haven't even finished the game play! The bonus game play felt very rushed and sloppy overall, like the devs wanted to get it done asap. HUGE minus. Overall it's anyway an okay gaming experience and I can recommend it. If you skip the cutscenes...
May 14, 2012
Good game, but lacking
I was very excited to play this after loving the first Dark Dimensions. I was really pleased with the demo, so decided to buy. I can't say that the game wasn't enjoyable, but there were several things about it that made it just not able to live up to City of Fog. The Pros: -the graphics are just as good as in City of Fog, which in my opinion is a very good thing. They are dark, but this is a dark themed game, so it's only appropriate for the atmosphere- but they weren't so dark that I found it impossible to see objects (just speaking for myself, here) -The storyline was very interesting -Puzzles were not too easy, a problem that I often encounter with other games of this type -The music was very well done The Cons: -The acting was terrible and the voices didn't sync up. I ended up speeding through the last few cut scenes because they were so awkward. -The storyline, while intriguing, got a little convoluted at times. At one point, I got really confused about what exactly was going on, so I went back and read through the journal, only to still be unsure. While I did like this game, it wasn't as good as I'd hoped it would be. I have not yet played the bonus game, and it's possible that I may not ever- I mainly purchase CE's for early access (and sometimes music, if the music is good). In any case, I wish I would have waited for the SE on this one. It just didn't feel worth the extra price to me.
May 5, 2012
So Disappointed
Dark Dimensions: City of Fog was one of my favorites, so when this came out, I did what I rarely do: I bought it without trying the demo first AND I bought the Collectors Ed. I'm not quite all the way through it and I'm tempted to just quit. The mini-games were different but some were not challenging and others were just too tedious to bother doing. The HOS were interesting with several interactive elements in most, but there were an awful lot of them. Someone said the voice overs were good?? They were awful, totally out of synch with the visuals and wayyy too slow. I don't mind a lot of back and forth and walking around, but after a while, you just got the feeling that it was all in there just to make the game longer. The graphics were great but the story just wasn't grabbing me the way City of Fog did and I never felt any attachment to any of the characters. I waited anxiously for this and it's a real let-down. I've never not finished a game before, but I'm considering leaving them all waxed.
August 15, 2012
stunning graphics, but otherwise ho-hum
this hidden object game takes place in Red Lake Falls, in a wax museum (or maybe the entire town has been turned to wax?). the "star" of this game seems to be a teen girl who was seeking to escape this little "cow town" by competing in beauty pageants, much to her twin brother's consternation. but she disappears and your job is to find her and to "save" the town. but from what? and from whom? graphics: gorgeous! this game uses some of the highest quality graphics and animations i've seen yet in a video game on this site. i enjoyed the use of actors for the storyline, which adds to the overall realism and quality of the game. also, in the hidden object scenes, at least some of the objects must first be assembled. puzzles: pleasant but not at all difficult or challenging. music: ok, but not inspirational. complaints: the voiceover soundtrack was not synchronized with the actors, which was really distracting. the scenes were often dark (as in "poorly lit" or "with little contrast") which made it difficult to see things (brightening the computer screen didn't help). although there is a notebook, there isn't a map, so lots of clicking around is necessary. my interaction: one hour demo, casual mode. although i will not purchase this game (unless there's an SE that is offered for a special reduced price), i do recommend it -- with reservations. those who liked "City of Fog" will like this game (this is the sequel), those who are new to hidden object-mystery games will like it and those who are fans of video game art will particularly enjoy this game. those who have played several hundred of these games and are looking for something new and different probably won't be as impressed.
May 31, 2012
Back to the drawing board, please.
I think that this game had the potential to be outstanding. It was beautifully drawn with a captivating, dramatic story. But there were so many flaws in the details that I really am a little disappointed. First, the voices weren't anywhere close to synchronous. There was a lot of lip movement going on with no voice and vice versa. That was really a let-down. Second, the mini-games. I'd consider myself a 100% hidden object/mini-game expert. I've played hundreds of HO games and I know all kinds of mini-games. But I never encountered a game where I simply didn't have the faintest idea what to do or how to achieve the goal. For example, the mini-game on the door with the golden chains and the "infrared" wax: Turn the gear in the top right corner left until the other gear is on the top position, put the switch to position 1, repeat two times, turn the gear at the bottom left corner right to move the gear on lever 2 to the right, pull the lever, then put gear ... wait, what?! I swear to God that this is the first game EVER where I had to skip not only one but several mini-games, because I found them too complicated. That's not challenging, that's frustrating. So, mini-game design: F. Repeat class. I guess, someone who is more into super-tricky riddles or complicated mechanisms would have a real good time playing this game. Overall, I would recommend this games, although the above reasons significantly decreased the fun for me.
June 3, 2012
IT,S FINE
i had a go , but i didn,t really like it and not good such as the first one is the best my friend gave me a cd the game ended silly even the bonus not interesting and attraction but wouldn,t recommend CE ,wait for SE, it good for fun instant nothing
May 20, 2012
Short and WAY too obvious a plot!!!!!
I have finished this game and find that it was definitely too short. The game play was fine...nothing great - could have been better for a CE. What I REALLY had trouble with is the plot - I won't give it away but let's just say that this has been done at least 5 times in movies that I can think of off the top of my head. As soon as I realized that I was right about the plot details (and this was really early on) I just lost most of my interest beyond playing another ok game. If I had known that it was just a trite remake in an ok HO game, I would have waited for it to come out in normal version and used a game credit or coupon instead. I ONLY recommend the game if you have NOT guessed anything to do with the plot...kinda hard but go figure.
May 2, 2012
Little Dark
Dark Dimensions.......Well i found the whole game Dark in i cannot see very well on HOG. The story is a little flat also. a 3 or 3.5 at a push for a CE game.
July 26, 2012
short but nice
my trial on this game was 2 short ,but it looks great
May 11, 2013
The Apple logo is a trademark of Apple Computer, Inc.