Shiver: Poltergeist
After inheriting a manor in England, you begin to explore the Kangale Estate and discover its history in Shiver: Poltergeist! Ricardo Chellini's life is incredibly dull and full of repetitive tasks that leave him unfulfilled. One day, however, he receives a letter informing him that he's the sole heir to an incredible manor in England. Travel with Ricardo to his new estate and discover its terrifying history in Shiver: Poltergeist, an incredible Hidden Object Puzzle Adventure game!
Terrifying locations
Incredible puzzles
For a more in depth experience, check out the Collector's Edition
Game System Requirements:
OS:

Windows XP/Windows Vista/Windows 7/8

CPU:

1.6 GHz

RAM:

1024 MB

DirectX:

9.0

Hard Drive:

409 MB
Game Manager System Requirements:
Browser:

Internet Explorer 7 or later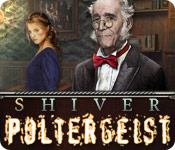 NEW299
The Big Fish Guarantee:
Quality tested and virus free.
No ads, no adware, no spyware.

Reviews at a Glance

Shiver: Poltergeist
0
out of
5 (
0
Reviews
Review
)
Customer Reviews
Shiver: Poltergeist
71
71
I can't recommend SE as you need the CE to finish the story also it's very short
*I played the CE* First of all I can?t recommend the SE version, apart from super short main game, you need the CE bonus to complete the story. But I can't even recommend the CE as there are no extras (other than wallpaper etc) and bonus was 45mins so CE was under 4hrs. It is trying to be an atmospheric game and mostly succeeds with this although in the middle it lost its way with this and with bog standard gameplay even the occasional good cutscene got lost. Game opens with a girl at the top of a lighthouse with a fire behind her and a cloaked figure rowing away. Plot is all told by finding notes around the place ? you are having a boring life when you find out you have inherited this old manor in an English island; intriguing opening, lonely eerie manor with only the butler as you arrive. If you want voiceovers you need to keep the music on. Sadly the occasional ?spooky? cutscene and there were some good ones, especially the rare first person ?movement? scenes but gameplay was so boring and bog standard at the middle it was unbelievable. At the very end the plot got interesting and was well done but it actually spelled out the things you didn?t know yet and was a literal cliffhanger so you would want to play the bonus so you would have to buy the CE version. :thumbdown: If you love HOS but hate puzzles then this is your game as there were only 6 puzzles in the main game so it seemed there were more HOS than they really were (14 HOS). Graphics were lovely and sharp sometimes but in HOS it was that faded, hard to see mostly junk pile with only mild interaction scenes which I can?t finish fast enough and that was hampered by the random click penalty. What was lovely to see though, was that the HOS weren?t repeated. Puzzles were easy, one was arcade target, look in diary for clues to some others. There are 3 choice of hardness and even the hardest had sparkles on HOS and black bar tips but hint and skip were not available. You can change settings mid game. Sometimes in the inventory there are items that are in a small box ? this can mean either puzzle or you need another inventory item on it. Plot got 3 stars for SE as plot isn't finished. There was no transporter map so there is a lot of backtracking. [b]Time 3hrs.[/b] Nothing irritates me more than devs cutting up plots like this so you have to play the CE to finish the story and as reading some comments a lot of people don't seem to know this and expect a sequel to this game to address the unfinished plot . :(
October 25, 2012
a bit sad
I had high hopes for this game, I reallllly enjoyed the other SHIVER: Missing Hitchhiker so much and thought this would be the same feel. Yes it was creepy and well put together but the puzzles didn't challenge me and the story left allot to be answered (maybe because I didn't purchase the CE, maybe the CE has way more game play and a decent end). The big heart break for me was the length here, I finished this game in 3 hours! and that was taking my time. I would only recommend this game for a Daily Deal price.
April 28, 2012
Average game
The graphics were very good in this game and there was a lot of atmosphere - exploring around a ruined house and grounds in semi-darkness and having fires spring up around you. The music was pretty good, voice-overs nothing special. Not much of a challenge other than remembering where everything is, with no map. The storyline was same old, same old SPOILER HERE with 2 lovers separated in life who have to be reunited in death. Really nothing new here. The HO areas were not too cluttered and the mini puzzles fairly interesting - I never did figure out the family tree puzzle, and the game finally just gave me the answer. The fire-starting poltergeist wasn't too frightening and nothing jumps out at you. The biggest drawback to this game is the extremely brief play time - about 3 hours. The ending is abrupt and surprising and sad, not what I'd been waiting for.
April 28, 2012
An okay game
This game is too short, but it will keep you occupied for a few hours and it was fun to play. I did not understand the story line, even after finishing the game. At one point in the game, it became intriguing due to an elevator scene, but it never played out. Sort of a ho-hum game, but enjoyable just the same.
April 27, 2012
extra credit for the logic puzzle
Have become so bored with "find the object". Desperate for a challenge... This game does have a couple decently challenging puzzles.. It gets a whole extra star for including a "logic puzzle". But the cut scenes were long and the end was so pathetic that I wasn't certain if I was done or if my computer just froze. Has potential.. Just didn't wow me. So three stars for the sense of "it was... fine".
April 28, 2012
Back and forth, back and forth
I got dizzy, pick something up go back to use it, then go back to somewhere else and find something then go somewhere else and use it then go back and fall asleep... It got VERY boring. I only played the free 60mins but got about a third of the way through. All in all it's an ok game but nothing spectacular. No idea why it's set in England, there's no need for it, the castle/mansion place looks about as English as a bratwurst. Don't know what the sound is like as I don't play with it on, but judging by the subtitles the butler is as English as bratwurst too. And sidelines as a gardener for some reason... you would thnk the house could do with some attention rather than the roses. I am going to recommend it but only if you don't mind the boring moving around and if it comes up cheap.
April 27, 2012
A good game done not so well.
Well, besides having some technical issues that are not quite resolved (I finally figured out something that worked you can read in the forum). I thought the story started out as being really good, but it was like a balloon that lost a lot of air. The story line fell with lots of gaps in it. What was the purpose of the Butler??? You never find out. I thought so many ways this was going to be a good game (like the first), but I think the designers were rushed on making a deadline and it showed. Now for the good thing. Like I said storyline very good, but fizzled. The graphics, music, effects...top notch. I do like the variety of games. Its not just HOS all the time, a little puzzle decipherment, acquiring clues to other puzzles, a bit of sleuthing. It really kept my interest, but the tech issues left me frustrated and then when I did finish the game I was stunned with a few questions in my head about why certain things were never cleared up which should be. I think the editing could be improved. Overall, the game needs work it left you the gamer hanging and I dont mean hanging for the next sequel more like "Wait! what happened here?!".
July 4, 2012
Intriguing Storyline, but hard to find objects drop my rating
This game was avergae, with it's briliant storyline keeping it from failing. Here are my thoughts: Good Parts: The thrilling storyline which really hooked me Tutorial Quickly re-charging Hint button OK Parts: The Butler- sometimes he provided valubale infornmation but other times he was a nuiscance Bad Parts: The background light made objects incredibly hard to find. I had to fold my laptop screen down and bring it closer, and that still didn't help The ghost thing that starts fires. She really annoyed me Lack of puzzles The game really bored me Overall, I think the game has a thrilling storyline, but other than that I don't see any reason to recommend it
May 25, 2012
ending unsatisfactory
This is a nice looking game, the gardens are beautiful and the mansion is good, the fire effects are well done, and some scary moments. A lot of running back and forth but feels satisfying when puzzles are solved and you work out when to use the many inventory items that are collected; however I got completely confused who loved who - and who was jealous of who etc and the ending was very, very poor which is why Ive only given 3 stars. The games just sort of stops. I guess the CE finishes the story but it does feel a let down after quite good gameplay. There are better games out there for your money.
July 20, 2013
Creepy, Cool, but super short and easy
I just finished this game without much effort at all. The mini games are very easy I thought...the HO's were good! I will admit, the storyline is really cool and creepy, but dang. It's super super short! If you get this game, get the collectors edition, then you get a bunch more game play. I will say the other Shiver game is WAY better. So if you had to choose, do the hitchhiker one. I'd still recommend it if you like the creepy stuff (I totally do...)!
October 18, 2012
The Apple logo is a trademark of Apple Computer, Inc.