Shining Plume
Accompany Jun and his friends as they learn about life through the most harsh situations in Shining Plume, an exciting Role Playing Game (RPG). Jun is a proud and talented samurai, one of the last of his kind. He lived a tranquil life with his master until something unexpected happened. The events of one tragic night changed his life and the world forever. Help Jun defeat his enemies and explore a world full of secrets and hidden dangers!
Cunning enemies
Harrowing battles
A compelling storyline
Game System Requirements:
OS:

Windows XP/Windows Vista/Windows 7/8

CPU:

1.2 GHz

RAM:

1024 MB

DirectX:

9.0

Hard Drive:

117 MB
Game Manager System Requirements:
Browser:

Internet Explorer 7 or later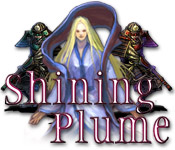 NEW299
The Big Fish Guarantee:
Quality tested and virus free.
No ads, no adware, no spyware.

Reviews at a Glance

Shining Plume
0
out of
5 (
0
Reviews
Review
)
Customer Reviews
The storyline is half the game
This review is based on the entire game. RPG's are my genre, and I am picky about them. I expect a good story, interesting enemies, and a functioning mouse. This RPG meets all three criteria. I enjoyed the vernacular used in the stories, as I found it humorous. The storyline is interesting and did motivate me to complete the game to see how it turns out. I am also looking forward to the next chapter to see how the adventure progresses. There were a few side quests, one of which I HAVE to mention. One injured townsperson will request that you hunt down a monster and take his horn. When you attack this monster, you will learn that it has an extremely high HP. Defeating this monster will take a long time, and the characters have a most amusing conversation just prior to the fight. I can honestly say this is a first as far as enemy battles goes. Very creative! The mouse can do almost everything that the keyboard can do. The only place where that didn't happen was in finding hot spots. I could not click with the mouse on hot spots and have them recognized. I would have to move to the hot spot and press the space bar. The game took 8 hours for me to complete. I am playing the game through a second time as I believe I missed a few side quests, so I imagine the true playing time for me will be closer to 10 hours for the game. Not bad for a game! Overall, this was one of the better RPGs; it really got me involved in the story. Eagerly awaiting chapter 2! As a note to the developer - you have a few spots where the grammar and spelling are incorrect. You should fix those and re-release this chapter. This is an excellent game which loses a bit of its luster because of those spots.
April 30, 2012
Played through the trial period and got hooked
I found this to be one of the better RPGs on this site. I got engrossed in the storyline. The fight sequences are typical to this type of game in that they are turn based. The characters are a bit on the stereotypical side but overall I would have to say it's a pretty good game. I had to purchase it when my demo ran out.
April 27, 2012
great
I needed thisgame. my son and i use to play this type of games before he passed away. Good memories
May 6, 2012
shining plume
I really liked this game firstly thought money was hard to find but then got oodles later and liked the story line and the spells
May 3, 2012
the further i get into it the more i like it
some of my favorite rpgs are; 3 stars of destiny, laxius force and the aveyond series ... the more i play Shining Plume the more i like it. the fights are hard and repeated and i like how some enemies are floating and some come up quick. The story is minimal, i just spacebar away and never read it .... i like the fact that you don't need keys to open chests but i also wish there was more challenge or hideouts and secrets like on the aveyond series for example but it is getting better as i go.
April 29, 2012
Good RPG..... don't have enuff on BFG to dislike any of them ;)
Played the demo, bought the game... gets better later on.
April 29, 2012
One of the more funny RPGs
At first look I had to let a sigh out in disappointment at how awful this game looks graphically. Upon playing it the storyline to me in and there were far more laughs to be had then i have had with any other RPGs.
February 5, 2013
Problems with the game
I love RPGS and though this one is slightly hard to get into, its not a horrible game. I do have many problems with it though: The writing style is full of slang and makes it harder to follow the story Some areas are far too hard to try to get into and since gold is scarce at first getting the proper items needed to get through is very hard When I got to a certain area in the game, it asked me to save then it booted me to the main menu and anytime I try to load that game it just keeps booting me out. I was unable to continue and feel cheated because of it
April 28, 2012
Not my fave from Amaranth
A new type of storyline from Amaranth Games. Same graphics and layout as the others such as Aveyond, but challenge level and enjoyment lacking. A good game for beginners, but very wordy. You cannot get a good feel for the game just by the free trial because there is sooooo much dialogue at the start. The game took me about 8 hrs to finish and I was a bit disappointed with the ending. I suspect there will be a sequel, but it will have to be much better than this one to receive a good review.
April 30, 2012
Shining Plume
Like most reviews you see on BFG about RPGs I am constantly looking for the next Aveyond! This is not it. I took one look at this and thought, 'nahh, not for me'. However a spell of boredom prompted me to give it a go. I have only played the demo and if I wasn't studying (I'm a very bad procrastinator) then I would buy this to see it though. The game to me, is rather refreshing! It isn't futuristic like some RPG's have become and it also is't quite as old styled as others tend to be. So far, there are no vampires, ghosts or werewolves (this may change, only played the demo remember). There is a lot of ninjas of course, being that you are playing as a rather 'proper' samurai. For me the culture change was wonderful and some of the knowledge that has gone into this is rather lovely to see. So far, I have not encountered any 'monster' that I could not defeat. This obviously could irritate the lover of a challenge but it suited me well. I also haven't got hopelessly lost and resorted to a walkthrough! If you play RPG's then you know there is a fine line between a challenge of finding something and being stuck endlessly wandering with no clue where you are, what you're supposed to be doing which ends in complete frustration! To me, there isn't much of a storyline to keep you enthralled, but I do rather like the characters. You can see the makers have put in little hints of a past for you to want to know about, however that alone isn't enough for you to keep playing and I could take a guess at what their pasts are already. Main pros: Fast paced Correct levelling for the 'monsters' you face. No wandering and getting lost. Main Cons: Storyline is not quite enthralling enough to be a 'must buy NOW!' Side quests so far have been quite scarce (three I think given and I haven't completed any) If you're a beginner to RPG's or if you like to play at a 'normal/easy' level and follow the story, you would probably like this. If you love a fight, challenge and captivating storyline, maybe not.
January 2, 2014