Abandoned: Chestnut Lodge Asylum
These days the Chestnut Lodge Asylum is abandoned and forgotten, but many years ago a terrible tragedy unfolded behind those rusty gates. Every year, patients disappeared from the asylum without a trace. Neither the nurses nor the police could find any clues. But one day, everything changed. My dreams draw me to the asylum and I yearn to return to my normal life - a life without nightmares, premonitions, and fears.... Explore the Asylum and its surroundings, find out the true story of this place and face your fears in this gripping Hidden Object Puzzle Adventure!
Creepy atmosphere
Integrated Strategy Guide
Solve the asylum mystery!
Game System Requirements:
OS:

Windows XP/Windows Vista/Windows 7/8

CPU:

2.0 GHz

RAM:

1024 MB

DirectX:

6.0

Hard Drive:

289 MB
Game Manager System Requirements:
Browser:

Internet Explorer 7 or later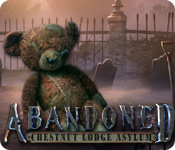 NEW299
The Big Fish Guarantee:
Quality tested and virus free.
No ads, no adware, no spyware.

Reviews at a Glance

Abandoned: Chestnut Lodge Asylum
0
out of
5 (
0
Reviews
Review
)
Customer Reviews
Abandoned: Chestnut Lodge Asylum
167
167
OK / Good game but could've been so much better.
I don't know if my review got through last time so I'm resubmitting since my browser decided to act up during typing out my feelings last time. *sigh* Anyway , good points : Somewhat interesting story and some creepy areas and parts in the game reminds me of interactive fiction even though it is not an interactive fiction game due to the fact that it can often be a mystery about where to go and what to do next bad points : should've had more things added to the game and story to make it overall much more interesting and fun It's not a terrible game but I wouldn't be surprised if I learned that it was somewhat rushed to be released. It feels like there should be so much more to this game than what is there. I feel a little cheated and disappointed. things could've been explained better in the guide and there could have and should have been more things added to the "extra" section ...for example , more wallpapers and a concept art section would've been nice It would've been nice to have gotten more backstory on the various patients and more to the story in general stories within stories / substories and things would've added a lot to this game
October 5, 2012
Not my cup of tea
I found this game rather difficult to see the objects to be found. Very few were able to be spotted with such dark background
September 23, 2012
good, but has issues
Overall, this was not a bad game, and I'm not actually sorry to have spent time on it or to have used a free game coupon on it, but, for me, it has some issues which make it "good for sale or free, but not to buy." It just left me vaguely dissatisfied. Grungy style of art; appropriate to story, but makes a number of the HOS rather gray, foggy, and difficult to see. Story is a bit disjointed or vague; doesn't lend itself to making it easy to figure out what to do next. Minimal interruptions with cutscenes A few cutscenes were there for shock value and were possibly too intense for younger viewers. Moderate amount of skeletons and decomposition. Spider warning: one whole room is covered in webs and there's a big one. Clown warning also Lots of back and forth; a map to jump around would have been very useful Pros: Big game. Lots to do, lots of places to visit, lots of puzzles to solve. Took me over 4 hours even with a lot of SG use. No click penalty on the HOS, which was good as I found some of them hard to see. Has SG built in on non-CE game, but you will need it as it's often tough to tell what to do next. Cons: - Developer needs serious help with translation and spelling: "hummer" in one HOS had me looking for a bird, but hint revealed they wanted a hammer. The singular of plant leaves was translated as "leave" instead of "leaf" resulting in "mint leave." You pick up an item later in the game which they call a "level," but which is actually a scissor jack. However, there's no penalty for bad clicks and the hints recharge relatively fast, so you can work past it. - game doesn't always react to things as expected: e.g., setting the spider's legs in position. One leg happened to be correctly positioned when the mini started; I fixed the rest of them, but nothing happened until I moved that first one out and then back into the correct position. That's poor programming. The elevator activation code had issues, too.
September 1, 2012
Good Game but......
I too had problems with this game. I got stuck in the boiler room. I mistakenly added the fuel before I had the instructions. I had to start again and did finish the game. It is a pity about the glich as it is a good game otherwise. I found the screen a little too blurry and found the ending strange to say the least. It seems to be a case of the lunatics taking over the asylum. It is hard to recommend it unless willing to risk problems.
May 28, 2012
I got bored after 30 minutes
I only tried the free 60 minute trial but never finished it. The HO scenes were dark and somethings were hard to find, some were misnamed as well, it seemed to be translated poorly from another language. As far as I could tell it was a case of moving from one scene to another and searching through junkpiles of HO scenes with no rhyme or reason behind it all. The story wasn't properly explained so it didn't engage my interest and after 30 minutes I lost the will. If this came up as a cheap game I might consider it but wouldn't waste either my money or a credit on it.
April 29, 2012
Tired HO
This seems like a really old game. Whether I've just played too many Hidden Object games I can't be sure. I don't want to give away any spoilers so I won't comment on the storyline. Graphics seem low grade, the child you meet in the grounds looks like he is made of dough and talking by remote control. HOS are dull even though there are several two part tasks (fit the wheel to car to find the car) but even the list is uninspiring. From the graphics to the cursor. I couldn't find one thing and that was because the image was too dark to see it. Shame, the premise is one that usually grabs me. Who doesn't want to break in to the spooky asylum in the dark and the rain, sigh.
April 28, 2012
Not very impressive
This is based solely on the demo version of the game, as I will not be purchasing the full version. Here is a breakdown of why: The visual effects are good, if a trifle dark during HOS, but that generally doesn't bother me. The music was standard fare, not really a help or a hindrance. VO was not bad, but not good either. HOS were standard, though not overly cluttered. Mini games: I found three in my hour and frankly, my seven year old could figure them out. Finally, the story just fell flat for me. It wasn't believeable, it had little to no cohesion and it felt like I was just running around, gathering random items without making any real progress in the story development. Not much fun. Overall, I didn't care for it at all. I highly recommend trying it before purchase.
April 30, 2012
Not Such A Great HOG
I thought that this HOG was bland. There were only two characters that you interacted with at the beginning of the game- the rest of the time you're on your own. There weren't a whole lot of hidden objects in the game; there were some, but most objects were either out in the open or obtained from HO scenes. I thought that the storyline was pretty weak and not at all interesting. One thing that I thought odd... according to the strategy guide there should have been a HOS (which never appeared). Additionally, I had an object in my inventory which I was suppose to use in order to complete an objective (again, this was according to the strategy guide), but I never completed the objective and the game ended without having ever used the item in my inventory. There are 22 morphing objects in the game - I found 18 and could have gone back and looked for the other 4, but I just wanted the ordeal to be over with. Al in all this HOG wasn't worth my time. Good thing I got it as a freebee.
May 8, 2012
Another Asylum...Please Stop!
Very unlike me, I did not finish the trial. Enough of the dark depressing asylum games, with a child in jeopardy. I am getting to yearn for bright games with a possible positive story line that leads to "happily ever after" . I know those are few and far between, but I am no longer going to buy the old tired asylum story line games.
April 29, 2012
Amateurish Game
Story line was confused. Sequencing of puzzles was random and not cohesive. A lot of running back and forth for no reason at all. The walk-through strategy guide was ludicrous as it did not follow the game and was full of errors. Very frustrating game as it showed a lot of promise but the execution was just plain unpolished and amateur.
May 14, 2012