Gardenscapes: Mansion Makeover™
Welcome back to Gardenscapes! Having restored the garden to its beauty and grandeur, it's high time to have some guests over to show off! Thankfully, the mansion has a spacious hall for everyone to gather. The only problem is that the hall is in quite a dilapidated state: the wallpaper is curling and peeled, the fireplace cold and broken, and heaps of old newspapers lie scattered about. It's time to roll up the old sleeves once more, and with the heroic assistance of Austin the butler, turn the hall into a masterpiece!
60 unique items for interior design
Animated screensaver and original soundtracks
Turn the hall into a masterpiece!
Game System Requirements:
OS:

Windows XP/Windows Vista/Windows 7/8

CPU:

1.0 GHz

RAM:

512 MB

DirectX:

9.0

Hard Drive:

400 MB
Game Manager System Requirements:
Browser:

Internet Explorer 7 or later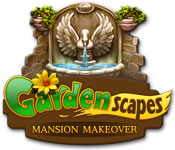 NEW299
The Big Fish Guarantee:
Quality tested and virus free.
No ads, no adware, no spyware.

Reviews at a Glance

Gardenscapes: Mansion Makeover™
0
out of
5 (
0
Reviews
Review
)
Customer Reviews
Gardenscapes: Mansion Makeover?
253
253
Manson Makeover
This game is cute, but way too menotinious. This would be much better if you where able to decorate as you saw fit instead of his taste. Would be really cute if we could decorate the other rooms as well. Over all I liked it.
September 10, 2012
Decorate the mansion
Decorate the mansion and find many hidden objects.
September 5, 2012
Enjoyable game
Hi, I don't normally play these kind of games, but the good reviews prompted me to try it. And, actually I enjoyed it. Fun, good graphics, nice characters and storyline. Made a nice change to the HOGs and adventure games I usually play. Even bought the gardenscapes after playing this one which was also good fun!
September 5, 2012
like gardenscapes
loved this as I did gardenscapes...waiting for next one to come out.Shame there isnt more games like this
August 18, 2012
Gardenscapes: Mansion Makeover
Its good. Just take long between levels. Slow pace.
August 16, 2012
Nice and Long
This game has a fun storyline and combines the hidden object with action because you have to buy new items as you earn money for selling items. Its long, a nice time consuming game and I would stop and get back to it later. Great buy!
July 29, 2012
Addictive!
My first time playing Mansion Makeover and was hooked before my trial was done and enjoyed it so much I got the first release as well. The only con was feeling like you were making progress on rooms only to go back and it's right back to where it was. How great it would be to see the rooms slowly get cleaned up and organized and remain that way, would be much more of a sense of accomplishment along with getting the garden or mansion restored. Would love to give 5 stars if not for that..
July 25, 2012
Not as good as the original Gardenscapes
Whilst I quite enjoyed this game it was over a bit too quickly, it would have been nice to be 'doing up' the whole house and not just the entrance hall/drawing room or whatever it is, also the choices for decorating are a bit lacking, if you want to change something such as the 3 piece suite you have to do it one item at a time which is a bit of a swizz, however short though it may have been, it kept me occupied over the past 2 very rainy days!
July 14, 2012
A Sequal That's Better Than The Original
The first Gardenscapes was a great game, and I occasionally go back to it and play a few rooms just for fun. This game - Gardenscapes Mansion Makeover - is even more fun. The graphics are excellent and the characters are fun as well. It's entertaining to click on the guy and his dog to see what they'll do. I have one complaint and if there is a third gardenscapes, I hope they get it right this time. You always get a choice of three items each time you make a purchase - one of the choices always seems to fall beautifully into a 'red' themed mansion. I love it and really enjoyed the final results. Then I played it a second time, looking forward to a new color scheme. That's when I realized the game's big flaw. There is no second or third distinct color scheme. You mostly get choices of white - or once in a while a blue. I don't see why the creators of the game couldn't have set up the other two choices as two additional distinct color schemes. A stronger blue scheme distinct from the white theme. Or perhaps a green scheme instead of a white scheme. The sad part is, since they had to create all the items to choose from, following three distinct color schemes would not have cost them any additional time. It can't take any longer to color a lamp blue than it does to color it white or red or green. I had to force myself to finish my second time playing the game because I was determined to verify if there was another good color scheme than red. I just finished the game using anything but red items. The choices if you are not using red, as I said earlier, are basically white. There appears to be somewhat of an effort to go with blue - but there weren't enough items in blue to make it as much fun or as intense or complete as the red. If the game did offer 3 strong, distinct color schemes, it would have gotten stright highest marks from me. Please note that the extra low rating I gave to Visual/Sound Quality was due to my issue with the color scheme. The music with the game is good and the quality of the graphics is excellent.
July 10, 2012
Lots of fun, a bit repetitive later in game
I have really enjoyed this game. I had never played the original Gardenscapes, but I had a free game credit and this game had great reviews, so I went ahead and bought it. Great decision on my part. I have been playing this game a little bit each day, and it has lasted me hours. This is not a short game. Just when you think you're almost done, something new comes up. In this game you are a property owner who has a beautiful garden (from the first game), but a mansion-specifically a main hall- that needs a lot of work before some guests are scheduled to arrive. To earn things to buy for the mansion, you sell things found in different rooms of the house. People will show up and tell you what they want to buy, and you have to find that object in the room you're in. In between searching rooms for objects, you can buy things to decorate your main hall. The decorations get more expensive as the game progresses. This is a pretty straightforward hidden object game. There are only so many rooms to search in this mansion, and as the game goes on you will see each of these rooms many times. That is one of my main reasons for giving the game 4 stars. I do appreciate the length of the game, but it does get a bit old after awhile. I have found that playing just a little each day helps it seem fresher. The game does try to move around the objects in each room a bit and give you new things to find each time. The graphics are nice, and objects are very easy to pick out. That doesn't mean everything is super easy to find, just that there's nothing unidentifiable. The hidden object scene rooms aren't exactly junk piles, but they're not neat either. A real bright spot in this game is the butler. He is taking care of the mansion and main hall while you are selling things. In between selling, you can interact with him and have him do things around the house. There are also times when he'll give you tasks to do. It's worth it to just wait a minute between room searches to see what will happen next. Overall I really enjoy this game. Later in the game I would just recommend trying to pace yourself to keep the game from getting old.
June 29, 2012
The Apple logo is a trademark of Apple Computer, Inc.