Gardenscapes: Mansion Makeover™
Welcome back to Gardenscapes! Having restored the garden to its beauty and grandeur, it's high time to have some guests over to show off! Thankfully, the mansion has a spacious hall for everyone to gather. The only problem is that the hall is in quite a dilapidated state: the wallpaper is curling and peeled, the fireplace cold and broken, and heaps of old newspapers lie scattered about. It's time to roll up the old sleeves once more, and with the heroic assistance of Austin the butler, turn the hall into a masterpiece!
60 unique items for interior design
Animated screensaver and original soundtracks
Turn the hall into a masterpiece!
Game System Requirements:
OS:

Windows XP/Windows Vista/Windows 7/8

CPU:

1.0 GHz

RAM:

512 MB

DirectX:

9.0

Hard Drive:

400 MB
Game Manager System Requirements:
Browser:

Internet Explorer 7 or later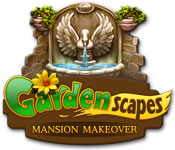 NEW299
The Big Fish Guarantee:
Quality tested and virus free.
No ads, no adware, no spyware.

Reviews at a Glance

Gardenscapes: Mansion Makeover™
0
out of
5 (
0
Reviews
Review
)
Customer Reviews
Gardenscapes: Mansion Makeover?
254
254
Lots of fun, a bit repetitive later in game
I have really enjoyed this game. I had never played the original Gardenscapes, but I had a free game credit and this game had great reviews, so I went ahead and bought it. Great decision on my part. I have been playing this game a little bit each day, and it has lasted me hours. This is not a short game. Just when you think you're almost done, something new comes up. In this game you are a property owner who has a beautiful garden (from the first game), but a mansion-specifically a main hall- that needs a lot of work before some guests are scheduled to arrive. To earn things to buy for the mansion, you sell things found in different rooms of the house. People will show up and tell you what they want to buy, and you have to find that object in the room you're in. In between searching rooms for objects, you can buy things to decorate your main hall. The decorations get more expensive as the game progresses. This is a pretty straightforward hidden object game. There are only so many rooms to search in this mansion, and as the game goes on you will see each of these rooms many times. That is one of my main reasons for giving the game 4 stars. I do appreciate the length of the game, but it does get a bit old after awhile. I have found that playing just a little each day helps it seem fresher. The game does try to move around the objects in each room a bit and give you new things to find each time. The graphics are nice, and objects are very easy to pick out. That doesn't mean everything is super easy to find, just that there's nothing unidentifiable. The hidden object scene rooms aren't exactly junk piles, but they're not neat either. A real bright spot in this game is the butler. He is taking care of the mansion and main hall while you are selling things. In between selling, you can interact with him and have him do things around the house. There are also times when he'll give you tasks to do. It's worth it to just wait a minute between room searches to see what will happen next. Overall I really enjoy this game. Later in the game I would just recommend trying to pace yourself to keep the game from getting old.
June 29, 2012
Almost perfect
I bought 5 days ago and already played thru 3 times so I could try all the decorating options. Cons: the 'celebration' banners and balloons won't go away and they interfere with re-decorating. The options for each decor item have a description that covers the sofa you're trying to match; it needs to be moved. The items you're trying out flash continuously making it hard to tell what something will look like; it's annoying. The 'find 20 of this' portion of the game should give money but it gives you stuff you don't care about. It would be nice if they let you go into these rooms for other purposes instead of the same old rooms over and over. Austin and the dog add a lot of fun to the play. Good story. Clever clues.
June 11, 2012
Too short
I loved the first Gardenscapes and eagerly awaited the sequel. It took so long to come out I expected a lot. Then it finally did and it took me about two evenings to go through it. You're only redecorating one room, not the whole hall. The choices aren't that great for furniture and wall coverings etc. But mainly it is way way too short. I expected far more. I would recommend this game, as long as people know it's not a real sequel but more like a book that's followed by a short story with the same characters. Enjoyable but just not nearly enough. What were they doing in all the time it took for it to come out?
May 8, 2012
So Cute You May Overlook the Monotony.....
Endearing characters, great graphics, cute interactions, and lots of potential caused me to buy the sequel but.....Expensive items required so much play that I started to memorize object placement. Too much work for quick purchases. First, more choices for styles, colors and objects. Pick the floor and walls before the furniture. Vary the play. If items are going to be 10 rounds to obtain, offer a variety of games or some type of quick side jobs to get cash levels up or just for interest. Love the interaction with the dog so I would still recommend both versions.
May 13, 2012
Not for everyone!
If the definition of 'fun' is trying to find the same objects over and over again just to get money to buy stuffs, then this is the most fun game ever. After visiting several rooms and selling things from them, my daughter (who plays the game) realizes that she has to go to the same rooms again to sell the same items, again. 'Didn't I just sell that Monalisa painting, or the lute, or the fan, or the balloon, or everything else?' As I wrote above, depends on your definition of 'fun'. The objects are at the same place and has the same look/position every time. The developer probably changes 4-5 objects out of 20 that you need to find in a room. Basically, you can find all the objects easily, except for the hint helper which are the camera and the thermometer.
July 12, 2012
Good Game
I know this game is very popular, but i am not so enthusiastic. I agree the butler is fun. It is a good game, but there are two reasons why i will only buy this game when it is a DD. First of all there is only one room to decorate. If there were five or six rooms i would have been more enthusiastic. Secondly, and this is a real pet hate of mine, the prices people are willing to pay for items does NOT make any sense at all. Who would pay $37 (I think) for pea-pods, while a guitar costs less. If the prices were more appropriate to the items, i would love this game. I love Farmscapes, which is a Match 3. My first love is HOGS but because of the very stupid prices i do not like it in this game and NOT the first Gardenscapes either. I give this game 3 stars.
May 7, 2012
Not as good as the first one
I didn't find this game as challenging nor as engaging as the first Gardenscapes. Also didn't like the redecorating choices offered. There didn't seem to be as much interaction between the guy and other people as in the original. I thought the guy was the butler...where are the owners??
May 9, 2012
sadly disappointed :(
I played the first game of this series and loved it so I expected it to have the same plot but with something a little extra but as far as I could see it gave you less. I would have liked to decorate the mansion instead of just the hall and a few more challenges from special guests would have been nice. Over all (yawn)
March 30, 2013
Cute Game for Kids
After all the rave reviews, I expected the game to be more challenging. On the positive side the game is fun and relaxing. The butler, Austin, is very amusing, and the little dog is adorable in appearance, You redecorate a mansion room using various furniture, carperting and window treatments,. On the negative side, some of the rooms are too dark, and it's difficult to find the hidden objects. Also, I could live without all the mice, rats, spiders and snakes. The jerky and repetitious movements of Austin and the dog are very distracting and annoying. This is not a good game for people with low vision problems.
September 21, 2012
Hidden objects were too simple.
I was excited to see this game because I loved Gardenscape. I really should have played the trial. The graphics and the sound (music) were great. I really liked the decoration choices for the mansion but the hidden object part of the game was so simple that I feel a 5 year old would be bored with it. I am retired and must admit I felt foolish playing the hidden object part of this game.
May 24, 2012
The Apple logo is a trademark of Apple Computer, Inc.