Syberia - Part 1
Exclusive
[Note: If you own the original Syberia, this is the same adventure.] Search a mysterious estate and find a brilliant and mysterious inventor in Syberia: Part 1 and experience the first part of this incredible trilogy! Kate Walker is a young lawyer visiting France to close the sale of a large manufacturing estate. But when the estate's owner turns up dead, Kate must search for the hidden heir. Delve into a mechanical wonderland filled with puzzles and surprises, on a journey that reaches far into the imagination in Syberia: Part 1!
Find a missing inventor
Solve awesome puzzles
Search a mysterious estate!
Game System Requirements:
OS:

10.7/10.6

CPU:

600 Mhz (INTEL ONLY)

RAM:

128 MB

Hard Drive:

258 MB
Game Manager System Requirements:
Browser:

Safari 4.0 or later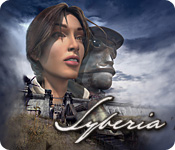 NEW299
The Big Fish Guarantee:
Quality tested and virus free.
No ads, no adware, no spyware.

Reviews at a Glance

Syberia - Part 1
0
out of
5 (
0
Reviews
Review
)
Customer Reviews
zzzZZZZZZ
Though the game is quite interesting visually, it bored me to death with all the idiotic dialog and the constant back and forth clipity clopity. I really tried to get into it (all three), but just couldn't.
June 27, 2013
slow
tried the trial on the back of reviews and was prepared for hunting, repeating etc but my patience ran out, there's just not enough positive events like actually finding things, or getting things to work to move forward, just needs speeding up with more to do and would be a really interesting change from goth HOGS.
May 6, 2013
Very Disappointed
For years I have read about Syberia and what a great game it is... how people compare newer games to it and nothing beats it. BLAH BLAH BLAH! I waited to purchase this game for a time when I could afford the large file purchase (megabite wise, not money wise). I was on a very small GB usage allowance per month and never could buy it earlier. Well now I have and I understand that it has been split into parts. This review is based on the first of the parts. First of all, visually I thought it was incredibly boring. For a supposed European town, it was so beige! The storyline promises so much, and is quite interesting, so that's a plus. Unfortunately I found that it took too long to work out what to do and where to go, and I hate using walkthroughs so I spent my time going back and forward all the time aimlessly. I actually didn't finish the game, and apart from Sinking Island, it is the only time I have quit before ending. I'll give it another go when I am desparate, but for now I have moved on to Delaware St. John and a bit of paranormal excitement.
March 2, 2013
I'm Sorry But This Game Is Just Weird!!!
I really did not like this game. Good Parts: Voice-overs were actually pretty good. OK Parts: Graphically, the game needed a bit of work. They were fuzzy and old. The sound needs a bit of work too. Like someone else mentioned, the walking sounds like wood and the sounds are annoying all-round. Bad Parts: The tutorial annoyed me. You would click on something, but it wouldn't do it and it would tell you what to do, then you had to click it again. There was absolutely no hint of any sort in the game, so when you got stuck, you were well and truly STUCK. Because there were no hints, you would expect there would be a strategy guide, but no, the developers had to annoy us a little more. The storyline is very poorly presented. The intro is weird, just people moving and no voices and from then on the story is very hard to follow. I didn't play the original Syberia, nor do I plan to after playing this game. It's a disgrace.
September 6, 2012
Disappointed =/
I am always buying games. This game I am not going to buy. Though it has potential, it takes forever to get to where you need to go to get something done... or leaves you scratching your head on what to do next. The help button tells you what your objectives are, but when the character walks in most parts and runs and stops at other areas... it gets rather old and leaves you bored. I played the 60 min freebee to see if I would like it. I did not for those reasons. Like I said, has potential and if they would have had gamers that tried the game before they put it out, it's flaws could have been fixed to be a more enjoyable game.
June 20, 2012
Liked the storyline, hated the game
I really wanted to like this game, if for no other reason than to start playing adventure games that didn't rely on HOS. I had the right idea but picked a very poor adventure game. It's unbelievably slow...you have to have a lot of patience. I've got more patience with my 2-year-old than with Syberia Part 1. The only things I liked about this game were the storyline and visual and audio effects. The rest were just not worth my time. Let me start off by saying that I did play the demo first. I was hesitant, but I finally relented and bought the game because I thought it was going to get better. I thought the pace would surely pick up...I was so wrong. Not only did the pace not pick up, but everything has to be done in a certain order. What kind of adventure game is this??? After consulting the walk-thru, I discovered that when you perform tasks or pick up objects out-of-order, nothing else in the game will flow. This game gave me such a migraine that I finally just turned it off. I ordinarily don't quit games, but I made an exception with this one. The only option I have now is to start a completely new game and hope that I won't have to follow the walk-thru step-by-step. That completely ruined the fun factor for me. I don't plan on playing this again, but I will ask my husband to play to see what his thoughts are. If he can complete it, then maybe it's just me. If he can't, then maybe it's just the game. I think I'll stick to my hidden object/puzzle/adventure games in the future!
March 27, 2012
Atrocious Butchering of a Great Game
There is no excuse whatsoever for the hatchet job Anuman has done on Syberia. It's terrible. It's been ruined, just as Dracula: Path of the Dragon was ruined to make it playable on platforms other than the PC. Characters in Syberia no longer gesture or show any personality. Except in the cutscenes, they move from place to place but otherwise just stand there and look blank. Kate is now programmed to run and she sounds as if she has wood blocks attached to her feet. The river doesn't even flow and touches like that were part of what make this game so beautiful. It is a mess and Benoit Sokal should be crying at what they've done to his wonderful Syberia. If you want to play Syberia, go get it somewhere else, somewhere you don't pay far more than it's worth now, somewhere you can get the entire game in its original form. It's a classic of adventure gaming and never deserved this butchery.
March 7, 2012
What??!?
I saw the title of this game mentioned in another review and purchased it without doing my homework. The excellent mention of this game that I read referred to the original version and not this mess of a tiny piece of the game. This probably took me about 3 hours to complete. Large file game, what?! I get that this is now supposed to be the first half, but it wasn't much of a game by itself. I admit, I did go to the walkthrough once or twice because some of the tasks didn't make a lot of sense, but that isn't what made the game so fast for me, there just wasn't a lot to it. I don't want to spoil anything, but if the point of something is supposedly to match colors, then shouldn't the colors actually match (legs); if they don't, it isn't a puzzle, it's random trial and error. The walkthrough I looked at was for the original game and several things from the original game are missing from this version which seems odd since this is now just "part 1". The story line was robust and if you can find the original full game, it's probably worth the money, but I'll never see how the story ends because I'm not wasting my money on part 2 since this one was so short and disappointing.
April 13, 2012
It's not 2002 any more
This game seems unchanged from the 2002 version that I first tried 3 or 4 years ago. It's almost unplayable by today's standards. The controls are clunky and don't follow any of the standards we're used to. If you're looking for a visually impressive game and you don't care how hard it is to get anything done, this is the game for you. If you loved it 10 years ago, this is the game for you, maybe. Many of the reviews here are from people who loved this game 10 years ago. I question whether they'd feel the same way if they came upon this game for the first time today.
February 29, 2012
Syberia-Part 1
I couldn't even get through the entire demo,this game bored me to death.It doesn't have any depth or meaning to it.The graphics were grainy and it looked like an old pc game version from the 90's the sounds are equal as the graphics .Challenges i didn't even bother didn't hold my interest to even play with it.Storyline wise not good at all.I wouldn't waste money on this game which is completely boring,it looks outdated and frankly not worth playing it.
February 29, 2012
The Apple logo is a trademark of Apple Computer, Inc.
The Windows logo is a trademark of Microsoft, Inc.