House of 1000 Doors: The Palm of Zoroaster
Guide Kate Reed as she searches for the artifacts that can break the power of a cursed gem in House of 1,000 Doors: The Palm of Zoroaster! A cursed gem that has left a trail of smoldering bodies in its wake is threatening the residents of the House of 1,000 Doors, prompting the head of the mystical dwelling to once again summon Kate Reed to its aid. Guide Kate as she searches for the artifacts that can break the power of the gem!
Find the artifacts
Save the House of 1,000 doors
For a more in depth experience, check out the Collector's Edition
Game System Requirements:
OS:

Windows XP/Windows Vista/Windows 7/8

CPU:

1.6 GHz

RAM:

512 MB

DirectX:

9.0

Hard Drive:

410 MB
Game Manager System Requirements:
Browser:

Internet Explorer 7 or later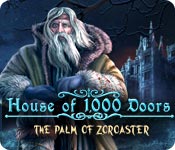 NEW299
The Big Fish Guarantee:
Quality tested and virus free.
No ads, no adware, no spyware.

Reviews at a Glance

House of 1000 Doors: The Palm of Zoroaster
0
out of
5 (
0
Reviews
Review
)
Customer Reviews
House of 1000 Doors: The Palm of Zoroaster
117
117
Feeling very much like a dull sequel?
I think the storyline was a bit to dull according to the original House of 1000 Doors.. Here it was a bit too, I don't know.. Easy to figure out what to do next, where you where heading. Would have liked to know more about the Lancasters or other residents in the house this time, but all I did was to travel through other citys, meeting characters not nessesary for the plot. I don't know. For me this was not as exciting as the first, you never really had that.. 'This is gonna freak me out if somebody lurks around here'-kind of feeling. But I think many will enjoy it, I did, for the first 45 minutes ;)
June 11, 2012
I liked this one!
I really liked this one, I would recommend it to players who care of excellent graphics and chellenging storyline. I'm sure that everyone who played the part one, played this one too!
September 8, 2012
good game with one criticism
This is a great game - I liked the varied venues and the puzzles are interesting. However, I did find the lack of a re-set button on the mini-games frustrating, and would like to suggest one be considered for the next one,
August 8, 2012
Great game
This is a good series of games. The ideas are fresh, there is complexity, and the graphics are good. The fact that there is a mixture of "doors" and "reality" is a plus.
May 5, 2012
Fun Game
Fun game. Just as good as the first game. Not much for the morphing objects but it's ok. Thank goodness for the map. It helped a lot.
May 6, 2012
Well that's it, huh?
I truly enjoyed this game. It was (in casual mode) easy to follow and I didn't rely on hints like I usually do...I enjoyed it so much that when I got to the end, it was a bit of a let down. Would have liked the ending to have a bit more drama, and perhaps one more level for resolution. Other than that, glad I bought the game...
May 16, 2012
Good, but not the best in the series
This game, House of 1000 Doors: The Palm of Zoroaster, is very good. I've played another game in the series, Family Secrets, that I thought was a little better though. Both games are structured the same, with four mysteries to solve in order to finish the game. In this game, you start in a hallway that has four locked entries to other times in history. There is also a piano where you get keys in order to open the locks. Once you open the lock, you go into several areas, finding objects you need in order to end up with skulls. Each skull helps you to open another area once you take it back to the piano. My main complaint with the game is that there isn't enough explanation. Some of the 4 areas end very abruptly - suddenly you're back in the hallway. And the game ends very abruptly also. I'm sure the collector's edition has a better ending, but you shouldn't have to buy the collector's edition in order to understand the game. This game is still well done, with beautiful artwork and logical use of the objects you find. It's not quite up to the level of the Family Secrets game, but yes, I do recommend it.
October 18, 2013
TRAVEL WHILE YOU SAVE THE WORLD
BASED ON COMPLETED GAME ON EXPERT MODE I liked the lay out of this game. Visiting the different locales to accomplish tasks was very interesting to me. I liked how the game closed off the locales once I completed them which prevented unnecessary backtracking. I LOVED the jump map. It saved me a lot of time. The story is pretty basic, find this and that to save everyone, but the presentation is superb. It's logical, smooth and kept me on the edge of my seat as to where I'd get to go next. The puzzles and IHOS are straightforward and easy, except for one puzzle which did make me work a little. I wasn't crazy about the graphic of the heroine because it seemed old fashioned and not very realistic. I would have liked for her to look much better. Another tiny complaint I have is that the people I met in the places I visited s/a India, all appeared to be European with English accents. It's a slight detail, I know, but as thrilling as it was to "visit" India, it would have been even more so if the people I encountered were as realistic as the scenery....just a small complaint...:) Otherwise, I really enjoyed this game.
August 26, 2013
What an adventure and an education!
Just finished the SE version of this game, wow, wow, wow! I'm actually giving this game 4 1/2 stars just for the journey and education. But it all boils down to two things, folks, get the glove to get that 'cursed' gem! You get to journey through portals leading you to: Tibet, India, Jerusalem, and Madagascar. Very cleverly developed. I played this game on my laptop, and I have the other game House of 1000 Doors: Serpent Flame CE version on my desktop, which I started a couple of weeks ago and forgot I had it. Anyway, the Palm of Zoroaster is very intriguing, indeed. I really like the House of Doors series and the original is my favorite thus far. However, you will not be disappointed with this one and I highly recommend it. Lots to do, plenty of interactive HOS, graphics were really good, but the junk pile is what it is a 'junk pile'. Yes, there's always those roses and butterflies amongst the spiders and scorpions and bugs! The VOS were very good, puzzles were challenging in some cases, and the map was fantastic. I'm glad they had it. I counted 35 areas that we had to complete. The beyond objects (morphing) were neat, and all in all, I was very pleased with this game. You need to read the notes, the journal, pay attention to the symbols, etc., and it's all cool! You won't be sorry. The game flowed well. Esthetically, I prefer Blue Tea Games but I can't complain. For a change of pace, though, I think I'll chill on the Serpent Flame game right now and find me a more cheerful storyline. After a while demons, goblins, witches, ghosts, murder, and mayhem can be a bit much. But this was intelligently written and a lot of effort went into this game. Kudos to the developers!
July 7, 2013
Great Game
I bought this game about a year ago and have just finished playing it for the second time. I think it's really a lot better than the first House of 1000 Doors in both the story and game play. There is a good balance between the number of puzzles and HOS. I love the beautiful graphics and well done voiceovers. The interactive map tells you where there is something to do and transports you to that location, and there are a lot of locations and some backtracking, so the map is really helpful. I think the game might be really cumbersome without it. The only criticism I have is the abrupt ending as is usual in SEs, and the length. I think it's about one chapter, or location, too long. I had kind of forgotten what I was looking for, and especially why I needed to find it. So for those reasons, I'm only giving it four stars.
May 28, 2013