Tiger Eye: The Sacrifice
Outwit powerful villains and break an evil curse inflicted upon your love in Tiger Eye: The Sacrifice! In this adventurous romance, you and your love, Hari, have escaped pursuers in China and arrived home in California. Once there you realize that your enemies are closer than you think. Now you must find your best friend, whose life depends on you!
Beautiful orchestral score
Challenging expert mode
Exciting puzzles and word games
Game System Requirements:
OS:

Windows XP/Windows Vista/Windows 7/8

CPU:

1.4 GHz

RAM:

512 MB

DirectX:

9.0

Hard Drive:

583 MB
Game Manager System Requirements:
Browser:

Internet Explorer 7 or later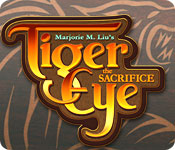 NEW299
The Big Fish Guarantee:
Quality tested and virus free.
No ads, no adware, no spyware.

Reviews at a Glance

Tiger Eye: The Sacrifice
0
out of
5 (
0
Reviews
Review
)
Customer Reviews
Tiger Eye: The Sacrifice
97
97
Tiger Eye - had to sacrifice myself to finish
Very slow moving game..........had to force myself to continue until free play time was up. Slow moving between scenes. Not really a true Hidden Object Game as is usual from BFG. Too many embedded puzzles to complete before moving on. Idea is good, but needs work!
May 6, 2012
Would have been a pretty good beta
This is a review of the version I bought from the developer (sold as a finished product). It seemed as though it would be great as a beta product. The graphics in some areas needed alot of sprucing up, while other areas were very good. The voice-over conversations between characters had different sound levels and qualities, obviously performed at different times and settings. The music was quite good, likely a re-do of the very nice music from the first game in this series. Sadly, Hari was mostly missing while our heroine did most of the work; figuring out puzzles after puzzles and counteracting the Magi and his minion. There were LOADS of puzzles. I just got tired of doing so many puzzles at every turn. The hint button was quite generous or I'd not have finished all those puzzles, at all.
May 6, 2012
Surprisingly Good Puzzle Adventure
BASED ON FULL DEMO Being a stickler about graphics, and disliking the older realism style, I really didn?t expect to like this much after reading the reviews. Still, there was some disagreement over the quality of the artwork, so I thought I?d take a peak. I?m ruling with the minority voters on this one. I think the graphics are great. They are what they?re intended to be, that is, photorealistic. Which is, admittedly, out of fashion, but that doesn?t speak to their quality. The scenes are all crisp, clear, and bright, and I haven?t seen anything like a junk pile yet, not even the workshop. I?m also not too sure about saying it doesn?t have HO scenes. There are plenty of things to find, it?s just they are right there in the general location, not in a separate pile. You must find a set of particular items, often several sets, in order to progress to the next location. So if you think of that location as a multiples HO scene, it makes more sense. A nice touch is that the game tells you how many items are needed for each set, and when you have found all the items that are in one place, so you know to look for the rest of the set in another. I do think I am able to appreciate this game more than other reviewers because I HAVEN?T played the first, which seems to have set up expectations that this one doesn't deliver on. This is not the world?s most exciting or sophisticated game. The romance (what little there is of it) seems childish, but it?s an easy time killer and nice to play.
July 24, 2013
Just meh
The first in this series is AWESOME and at the time it came out and even to this day, there aren't a lot of games that are like it. The first one I have replayed multiple times still unable to get into the expert round LOL You need 50 hint points to do it I think. In the first one, Hari and Delilah are attractive lol and the love story was very compelling and one of the most amazing parts of this game in my opinion because it crossed boundaries other games hadn't before in terms of the things they discussed and the fact Hari was in a towel for most the game lol This game however was lackluster, boring and the love story had vanished. I like how they tried to put some adventure into the story but I would have preferred the same formula they did in their last one. It just made sense to the game. Also, I would have liked it if they used the same character pictures because the 2 they found to replace Hari and Delilah are awful and both of them look haggard. If this was meant to pick up where the last one left off, what happened on that plane flight? I liked the variety of puzzles. i did hit expert mode in this game because you only need 20 hint tokens although Im not dying to replay it. The plot was all over the place. In the last one, it had a clear plot, people were after them blah blah so why when they got to her house was the plot focused on other people entirely? Why not pick up where the last one left off instead of picking up where it left off but having a whole new plot line? At the end of this I was left confused because why is she now a shape shifter? or is she? Either way, this game was short, took me maybe 3 hours and only skipped like 2 puzzles. Usually puzzle games are much longer. The first one in my opinion is a classic game and this one is just meh. I could have lived without it, thank god I had a free coupon for it. I only recommend this game to people who want to know how the story ends but maybe you should just read a review or walkthrough...I guess I recommend it for the puzzles, its definitely not the worst game Ive ever played just compared to its prequel, its awful.
July 26, 2012
Sequel Not As Good
I prefered the first part of this series to this one. I didn't enjoy this as much.
June 8, 2012
Wonderful, crafty and fun
I purchased this game without expectations on what this was about. I am glad I did buy it. Something told me this was a different game. Beautiful story, loved the oriental theme, characters were excellent. You will love them too. Go get it and enjoy!
May 30, 2012
Not a lot of fun for me but the demo is worth trying to see if it's fun for you
Just because it wasn't fun for me, doesn't mean it wouldn't be fun for you. Perhaps I should have played the first game in the series but the reviews and synopsis of this game sounded so good. For me there was way too much jumping from scene to scene. The objectives were not clear, even though I did use the tutorial mode. you have to click on something that seems out of place in a scene before you can find out what object you are looking for in that same scene. I like a little more direction when playing a game. The graphics are well done, the soundtrack very pleasant. It's not a bad game, just not my type of game.
May 22, 2012
A poor sequel
It's been a while, but I did enjoy the first one. The sequel however fell short. The storyline was somewhat lacking, the cut-scenes were plain, basic and boring. There was no suspense, and the romance was dreary. The puzzles and games, however, were enjoyable. Often different to the regulars, and a good variety and fun to play. But between all the cut-scenes and feeble attempts at story-telling, there just didnt seem to be enough of them. I'd recommend this game, but only just.
May 20, 2012
Don't expect it to follow the book!
If you've read Marjorie Liu's book, "Tiger Eye", and expect the game to follow the book... well, you'll be disappointed. The storyline was so toned down and rewritten that this half of the game bears very little resemblance to the book. Also, the puzzles were far too easy and after playing part 1 (which was much more well done), I had been really expecting part 2 to be as enjoyable as part 1, and looking forward to its release. The only real improvement in part 2 is the excellent visual and sound quality. So, unless you want to finish the game after playing part 1, or are a fan of Marjorie Liu, I'd suggest skipping this one. Play the hour demo if you must, but... don't have high expectations.
May 14, 2012
The Sacrifice
When I bought this game, I didn't realize the "sacrifice" was going to be Hari's character. He really doesn't show up as much in this game as he did in the first Tiger Eye. I found myself missing that character. Especially because I'd really been looking forward to this game. I think that was the biggest disappointment. Also, I expected more of the secondary characters to make appearances in the story, as they did in Ms. Liu's book. Other than that, I enjoyed the game play and the challenge. It's not your typical hidden object game, which I also liked. I'd be interested in seeing more games from this company, but continuity should be looked at.
May 12, 2012
The Apple logo is a trademark of Apple Computer, Inc.