The Bluecoats: North vs South
In The Bluecoats: North vs South you play as the head of one of the armies of the Civil War. Your aim is to conquer the American territory. Head up the Yankees or Confederates and destroy your enemy! Taking up positions, capturing states, assaulting and capturing enemy forts, attacking trains and protecting your railroads... you'll have to deal with everything! Capture the port to use the reinforcements coming from Europe. Protect yourself from storms and be wary of ambushes and bandits. To come out in one piece, you'll have to master taking turns, armed battles in real time, 1 against 30 shoot-outs, and horseback train chases in this colorful strategy game!
Relive the Civil War
Dynamic and strategic battles
Several mini games
Game System Requirements:
OS:

Windows XP/Vista/Win7/8

CPU:

1.0 GHz

RAM:

1024 MB

DirectX:

9.0

Hard Drive:

230 MB
Game Manager System Requirements:
Browser:

Internet Explorer 7 or later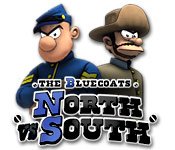 NEW299
The Big Fish Guarantee:
Quality tested and virus free.
No ads, no adware, no spyware.

Reviews at a Glance

The Bluecoats: North vs South
0
out of
5 (
0
Reviews
Review
)
Customer Reviews
The Bluecoats: North vs South
30
30
Not a bad game but not great
I really wanted this game to be like the old North vs South on the NES. It was not. You have no autonomous control over your troops. The controls are sticky and not very smooth. There is no accounting for how troops would fight in a realistic situation. Many times I had entire groups of calvary wiped out by infantry. Game play was slow and there is no way to speed things up in the options menu. After seeing things a couple of times you get the gist but there is no way to skip watching the same cheesy cut scenes. Also, it was insanely difficult to get anything done. Everytime I would think I was on top of things the Indians or Mexicans would wipe out my troops and I'd wind up fighting several "months" of skirmishes just to get back to the same position. Several times I had the South backed up against the wall only to lose several battles in a row and I was never able to feel I was doing something to turn the tide of battle. Line the troops up, point them at an enemy and click. If they live then you win, they die you lose. Like the title says, it really not a bad game but it does make you slog through a bunch of slow reacting scenes and repetitive cut scenes to get to the heart of the game. I'm going to recommend this game with some reservations. If you liked Landgrabbers then you should like this game.
May 29, 2012
Read first
I wish I had read the reviews before playing. The is played against the computer which is almost impossible to beat I would win some and lose most, I played the demo version bout 30 min. of it or less.
June 10, 2012
meh
its not hard, i beat the north in less than half the alotted hour.horses vs. cannons, cannons vs ppl, duck till after they shoot then shoot them.
June 10, 2012
Could have been better
Overall the game is pretty bad. The designer should have spent more time on the mechanics of the game. The visuals are fairly decent renderings as cartoons. The biggest issue is that the lack of tutorials. In the field when targeting an enemy unit, you will need to continue to click on the enemy to fire at them. In the fort-mode when they peek you can kill them, however this is next to impossible without a mouse for quicker reaction speeds. If you place yourself as strong and the Comp as weak it makes for a pretty quick game as long as you take the correct path and stay on the offensive as much as possible. The concept is solid, however more time spent ironing out the game could have made this a much more enjoyable game.
June 9, 2012
Hopeless
Wow. I'll say it again, WoW! I wanted to like this game as the concept seemed somewhat original or at least different from the same ol' run of the mill. Unfortunately, it's a flop. There are no instructions to speak of, it's sort of hit or miss. You really have no control of your troops or the outcome of the war. The game seems extremely slanted towards the computer being the victor in all situations. I'm very disappointed in the game. Graphics are just fair, audio is nothing special.
June 2, 2012
pfff! It's not the same
I played this game as a kid but I as you kan read from the title it is not the same. The original game is know is from 1989. Ok the graphics are better than they were back than but it's 2012 the graphics should be better but they are not wauw. The gameplay is not brilliant and it lacks a certain je ne sais qoui. My advice is to leave this game be and find yourself another game because this one is not really worth your time. I only played this one for old times sake.
May 30, 2012
Horrible Game
I played almost the full hour. This game is absolutely terrible. The game is kind of like playing Risk against the computer, except that you have almost no chance of successfully winning anything, ever. It seems that every element about this game is weighted heavily against the player, and since the tutorial is useless and there are no instructions or help, its impossible to win. If you like to fight losing battles and enjoy struggling in vain, this is the game for you! Otherwise (like your player will often do in this game) beat a hasty retreat. I suggest saving yourself plenty of frustration and don't even bother with this game. Wish I had a third hand so I could give it three thumbs down.
May 29, 2012
Don't even bother
Absolute train wreck of a game. No documentation, no clarity to what you can do, why you would want to do something, or anything else. I am surprised that BFG would even put this dreck in their catalog. The turn based game is slanted immediately toward one side, the "real time" combat is unwieldy, and you have no idea what units do, who they should target. I never even got to the fort attack mini-game, as I dropped out and uninstalled this. Add to this that you can take the port and try and defend it, but probably won't get anything from it most of the time if you do. Mexicans and Indians may or may not attack, but if they do, you lose your unit automatically.
May 29, 2012
??? :-S
Probably a strategy game. I figured out that you can either play as a Yankee or Confederate, but that is about all I could figure out. So I went for Yankee, got some territory and could move my two soldiers to different areas. This I did to trumpets blasting that I would associate more with gladiators in the arena rather than the Civil War. Once my two figures stood on different areas of the map, I clicked 'ok' (or 'continue') and then the enemy did the same. Then I could see the enemy's train moving in a smaller window and some sort of hatch opened and somebody fell out. My turn again and I moved my two guys to different areas...again and the ones I stood on before had my flag on them, so I can only assume that I had conquered this territory. Then my train moved and a guy fell out of the hatch for a reason I can't fathom. I could see a ship belonging to the enemy delivering supplies. There was a 'shop' in which I could've bought something (more troops, weapons...)if I had managed to get some gold. Eventually me and my enemy 'met' on the same plot on the map. A new scene came up and I found myself on what I think is supposed to be a battlefield. Fighting began and I quickly lost all my troops. "Why?" you may ask and all can I say is: "I haven't got the foggiest idea." But I think I can safely say it may be because there weren't any proper instructions to the game. At least I didn't come across any. I didn't even know which states of America were mine, into which I moved my two guys, let alone what sort of advantages or disadvantages any of my actions would result into. It felt as if I played the rough idea of something that may have been a great game if it had been finished. I suggest to give it a spin and perhaps somebody can make more sense out of it. I can't recommend or not recommend this game, as I really don't know what this is supposed to be about.
May 29, 2012
Not worth my Time
Wow what can I say the download took longer than the time it took me to realise this was an awful game. I think the main reason I didn't like it was because there was absolutely no tutorial, so wasn't real sure on what to do or the objective of the game. Usually I just buy games on bigfish without trialling them first certainly glad I played the trial. Can not recommend this game at all.
May 29, 2012
The Apple logo is a trademark of Apple Computer, Inc.