Rebuild the History
Help the world rediscover all the beauty of past generations in Rebuild the History! Problems of the past centuries have made our life harder and left famous buildings in ruins. At last, peace has come and now we are living in a calmer, safer time. Follow your dream and rebuild the forgotten historical buildings that your generation only knows from the movies. Gather resources, solve Quick Challenges and learn about famous historical buildings in this fun classic Match 3 game. The world needs somebody to make things better and rebuild what has been lost!
120 levels to complete
Vivid graphics
Rebuild History!
Game System Requirements:
OS:

Windows XP/Windows Vista/Windows 7/8

CPU:

1.6 GHz

RAM:

512 MB

DirectX:

9.0

Hard Drive:

111 MB
Game Manager System Requirements:
Browser:

Internet Explorer 7 or later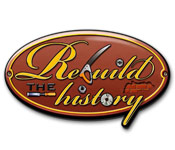 NEW299
The Big Fish Guarantee:
Quality tested and virus free.
No ads, no adware, no spyware.

Reviews at a Glance

Rebuild the History
0
out of
5 (
0
Reviews
Review
)
Customer Reviews
Rebuild the History
39
39
You might like this game if you keep playing it
Let's get one thing out of the way up front: this game is not really timed. The timer only limits your ability to get resources and money, you do not ever "lose" a level, and you can replay any you didn't do well at. Also, the time given is extremely generous. The only reason for the timer is to avoid the possibility of people intentionally not finishing a level and just gathering lots of resources, which is not the point of the game. I've played the game for about 4 hours, and it is really quite a fun game #OK, traditional match-3, but I like that#. The levels get new bells and whistles, eventually locks and probably worse. It seems to be an extremely long game. As far as the building of monuments is concerned, I actually like the fact you don't have to waste a lot of time watching someone build them #like in Cradle of Rome#. Instead, you go to your album and see a picture and get a written history of the thing you worked to build. The two things I will criticize are the fact that you have to wait for all tiles to fall before you can make any move #even on the far side of the board#, and the music, which is frankly crazy-making in its insistent repetitive nature. Bottom line: If you like a pretty classic match-3 that has few truly bad features, this might be your game.
May 9, 2012
OK for Beginners . . . Maybe
It's a match-3 game, without much of a challenge. You match 3 or more items, collect resources, and pick-up power-ups along the way. There really is no storyline. You gather resources, but you really don't have anything to do with them once you get them. The power-ups are your usual assortment, nothing new. The game is timed (doesn't not have a relaxed mode). However, you don't need one because the timing is generous. Recommendation-- For beginners only.
May 9, 2012
Don't Waste Your Time
Typical Match 3 game in which you have to amass resources to rebuild certain historical buildings. This could have been an okay concept for a game, but unfortunately the game has several problems: * No "relaxed mode" option. You HAVE to get a certain number of resources and you HAVE to get them within the time allotted. There's no in-story reason for the rush; according to the storyline, you're the only person who's interested in rebuilding these old monuments, so it doesn't matter if you get them done in a hurry or not. * The game doesn't show you the re-constructed buildings. Instead, it subtracts the resources needed to re-construct Building A and then tells you that it's time to re-construct Building B. The game does tell you that you can see the buildings on a certain page--but there's no button to take you to that page. This is a point at which large, lush visuals would have been extremely useful. I cannot think why the designers didn't employ them. * The Match 3 board does not fill the entire screen of a standard monitor. This means that the items on the board are rather small and a bit harder to see than they had to be. * The background of the Match 3 board is a medium shade of grainy grey. This isn't bad when the item in question is a red apple or a stack of gold coins, but it doesn't contrast well with nails (light greyish-white) and stones (dark grey). * The music is grating and repetitious. It's ten notes in a rhythm something like this: "Dah dah DAH dah dah DAH, dah dah dah DAH." Once the notes end, the "song," for lack of a better word, loops around to the beginning again. * The introduction is poorly spelled ("payed" instead of "paid," for example) and suffers from occasionally missing punctuation (such as missing periods/full stops). * The written narration is done in a font that is supposed to simulate writing without being in cursive. It would be more suitable for a game set in Victorian or Edwardian times. In addition, thin, hard-to-see letters of greyish-black don't contrast well with the yellowish-grey of old parchment. And, as with the game board, the instructions were written on a small area that did not fit the entire screen. This made a good portion of the instructions absolutely unreadable for me. * The storyline is thin to the point of non-existence. You want to rebuild a ton of old buildings. That's it. There is no antagonist; nothing bad will happen if you do not, and nothing good will happen if you do. Rating: D-.
May 9, 2012
I don't know but I enjoy this game.
I don't know but I enjoy this game. You have to play a little more and it will reveal it's interresting features. I really like the Quick Challenges and although not every Power Up is the best in usability it has several really good ones. Using disasters to aid yourself is a good idea if you ask me :) I suggest to play it more not only 10-20 minutes and you may like it.
May 10, 2012
Did not find the fun of it
The idea behind the game sounds nice, reminded me of 7 wonders or Cradle of Rome/Persia: a match-3 game to gather resources and re-build destroyed historical buildings, but is not even far of those: 1. 3-matches only work with click and click, so there's no way to drag the items; you get a bit angry as soon as you go beyound the 3rd level. 2. You are gathering resources but do not know what your goal is exactly and there is no explanation as to what to do with them. Not even a number to compare your current resources to your target. 3. The reaction of the game is pretty slow and you cannot click again to create a new match until everything has settled down (at its pace...) 4. There are some misterious power ups you are not even allowed to know what they look like in advance... no hints at all. 5. Music is ANNOYING. Definitely it looks like the developers never saw or played a match-3 game.
May 9, 2012
Have fun
I have enjoyed playing with this game. I liked the visual background and sounds were nice also. I see a lof of further possibilies in this game.
May 10, 2012
timed match three
I love match 3 games.....this one has timed levels and you have to wait until tokens fall before you can continue. no no no. I will have to pass on this one.
May 9, 2012
I thought I would see buildings rebuilt....
but no! Just play the levels, gain lots of resources and nothing! You just move onto the next portion of a nodescript map! Sorry, there is no incentive to keep playing this - it is just boring. Even the map is vague brown and unexciting. Where is the animation? The storyline? The interest? You start off with a very vague premise and go downhill rapidly in terms of the story. So - a rather badly done game - do not recommend it at all. Save your money!!!
May 9, 2012
Best match 3
This is game very god. This is in my best top 3 games because not boring and very new.
May 16, 2012
My favourite match 3 game.
I would say that the game is very good and a lot of strategy to be able to properly play with it and that is why I like it. I love that this is not as varied as those who find such dull: a gunmen fighting games. As far as the graphics are better than most I love the most and find it to be the best game ever played in the match which are 3.
May 17, 2012
The Apple logo is a trademark of Apple Computer, Inc.