Depths of Betrayal
Exclusive
Stop a mechanical monster before it destroys an entire town in Depths of Betrayal! Uncover the truth and stop the terrifying machine in this incredible Hidden Object Puzzle Adventure game. Protect the people of the town and figure out why the machine turned its back on its creator and went berserk. Search amazing locations and find important clues to solve the mystery and save the town in Depths of Betrayal!
Protect an entire town
Solve the mystery
For a more in depth experience, check out the Collector's Edition
Game System Requirements:
OS:

10.7/10.6/10.5

CPU:

1.6 GHz (INTEL ONLY)

RAM:

1024 MB

Hard Drive:

306 MB
Game Manager System Requirements:
Browser:

Safari 4.0 or later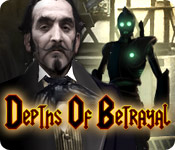 NEW299
The Big Fish Guarantee:
Quality tested and virus free.
No ads, no adware, no spyware.

Reviews at a Glance

Depths of Betrayal
0
out of
5 (
0
Reviews
Review
)
Customer Reviews
Great but short
I really enjoyed the game but about 45 minutes into the game the demo was over. I always check the walkthrough to see how far I got and there was not 'alot' left. Not sure I'll purchase this game or not because of lenth of game. The game inself was great. Nice music. Great graphics. I like when you have to move from area to area to find objects needed to make something work.
March 17, 2012
good not great
Somewhat enjoyed this game The graphics, cut scenes and voice-overs are great. The background music became annoying and I muted it. The HOS consist of having to find 3 to 5 things to unlock an item you need. Unfortunately some of the things you have to find are not in the scene with the HOS, and I'm not liking these types The mini games were enjoyable.
May 6, 2013
Wonderful
I definitely enjoyed this game especially because it has a plot line that has not been overdone. I also liked the fact it was more adventure than hidden object. It was find the silhouette type of game with the circles which I normally don't care much for but for some reason it worked with this game and I loved every bit of it. The music fit the scenes as did the voiceovers. I LOVE how when you exit this game and come back in that it not only replays the beginning of the story but replays the intro to where you left off so it triggers your mind about what you were doing before and so on and brings you back into the story. Talk about involved. The ending was kind of abrupt but according to other reviewers, the bonus chapter wasn't the ending, just a bonus so I guess the developers just ran out of steam or didn't know how to completely cut it. I would have liked to know what happened to Morgan or how it all tied in together but it just kind of ended. The abrupt ending is why I give this game 4 stars instead of 5. This game took me a couple days to play and I probably put about 4 hours into it. I will replay and I do recommend. More like this please.
August 7, 2012
Interestingly Different
This is a game that, while not overly impressive in some ways, makes up for it in gameplay. The plot, firstly, is a little off-puttingly convoluted at times. Character names (like Dr Fake) seemed uninspired and yet it is necessary to keep them all in mind because we're taken through several different turns trying to figure out who the bad guy is, and several names which are presented as key turn out to be mostly superfluous. However, the twists and turns, if you can keep all those involved straight, will make you curious to play through to the end. The graphics are much the same as usual except in how they relate to playstyle. The track is fairly unubtrusive, though your character's speech is very quiet compared to both the music and the in-game voice overs. Playstyle ... this is where I was grabbed. Rather than the traditional come-across-a-HO that these games normally playby, in this game every scene IS your HO. In terms of graphics this can get a little wearisome as everything is, therefore, a junkpile. On the other hand, it's refreshing enough to be worth it. Each scene that you come across contains several objects to be 'unlocked' as it were, and to do so you must find usually four items within the scene. Some, with a red ring around their image, must be interacted with, with objects rewarded from other HO scenes or simply found lying around elsewhere. So, yes, there's a lot of traipsing back and forth through scenes, but the game is set up to make this easy. It is split into areas, each one conisisting of four or five scenes and at the completion of these scenes the plot brings you to the next area. If you play for plot, this is not bad, though not terribly new. If you play for graphics and vistas, then this probably isn't for you. But if you're playing for a new experience, a variant take on the same-old same-old, then this one is definitely at least a try. Do yourself a favour and play the demo, because if you like it, you'll be sorely sorry to have missed out.
May 17, 2012
Enjoyable Game
I enjoyed this game, nice to have circles instead of lists of things to find. Clever storyline. very helpful hints. Great graphics. Read the words at top of screen or you will end up like someone else who didn't "quite get it". Well done Devs & thankyou BF.
March 27, 2012
A Good Time for all
The game was well done. The hint button was well done with hints of where to go next and filled quickly. There was a lot of help with the sparkles and hand as what to pick up (maybe a little too much help) in the casual mode. The art was well done and the music was just right. It was easy to follow and the storyline was not boring as long as you kept the goal in mind. The choosing of what you wanted to say next was a little on the slow side and the finding of objects made a bit of going back and forth distracting. But overall I would buy this game and recommend it.
March 25, 2012
Surprisingly Good!
To be honest, I have never enjoyed playing games when those circles appear and I have to find the items to fit in them. I would not have even tried the demo if this game had not been a DD. I'm happy I tried the demo and I'm happy I purchased the game and I'm especially happy that I played the game and completed it. This is not a difficult game. The Hint Button refills very quickly and when one is prompted to go to another area it does not count as a Hint. Hints are good; not just "there is nothing to be done here" - a practice some other devs seem to rely on. Items found for the circles sometimes show up in that area and fit right in and other times interact with an item in a different area or show up in a different area. So it is often interactive and I like that. One thing that impresses me is that it is so easy to place items in those circles. In some other games I have struggled to get them in in just the right way so they will be accepted. Not so in this game; they go right in with an audible "click." Picking up items is also easy; there is no "I've got to put the cursor on exactly the right spot or it won't be picked up." Game play is smooth. The town in trouble is a fascinating place; not a normal town. I won't give away anything more than that except that thinking outside of the box is a good skill to have in this game. There is also humor. I especially liked interacting with the guards. There is a journal which is quite helpful. A map would have helped simply because most of the areas started to look the same to me #probably because this is not a normal town# and I started getting confused about how to get back to an area I had just left a few minutes ago. That's just me; I don't know if others have that problem. The Hint Button led me back and so I did tend to rely on it more than I wanted. I used the WT only once and then could have smacked myself. It was so OBVIOUS!! Graphics are quite nice, clear and well-drawn. Somebody is very creative! As for length, I would have liked it to be longer simply because I enjoyed it so much. If I had known it would be this good I would have considered the CE and I recommend checking the reviews for the CE and playing that demo. Puzzles can be skipped and the wait is not too long although longer than the Hint Button refilling. I had to skip a couple of puzzles because I have problems with them due to some brain damage. Playing them helps even if I cannot complete them. I know I can go back and play the game again, concentrating on the puzzles. That is exactly what I am doing now. So: Good Hint system, Hint Button refills quickly, Puzzles can be skipped, Journal, Interactive items to fill circles, Smooth game play, Engaging storyline, Walkthrough is available. Overall - it is fun. And what is more important than that? I certainly got my money's worth for this game. :)
March 22, 2013
Fun gameplay, good storyline
Not sure what you'd call this type of game; perhaps a bit like a FROG, except that instead of finding object fragments, you find the pictured items (which could be at a different angle and thus look different) in a list and when you get them all, you're rewarded with an inventory item. My favourite part of the game was the story. It was an interesting sci-fi cautionary tale with some depth to it and was told well. The Golem was quite menacing, and the ominous music theme whenever he appeared or was nearby contributed to the feeling of dread. The puzzles were pretty good, although nothing outstanding, and the difficulty was above average. There was quite a bit of backtracking as you run around using inventory items to complete other inventory items or to open paths to new locations. The hint system is very good though and will always lead you to where you need to take an action, so you won't really need to refer to the walkthrough. I enjoy this type of HOG a lot. Usually the graphics aren't that great, but they're actually quite good in this one and the animations and cut scenes are very good. The game was also satisfyingly long.
July 15, 2012
More fun than I expected
I generally demo this sort of game and save for when I need to waste some time but this one really had me interested. Hint system is very helpful, graphics are very nice and objects are well hidden often but not invisible or tiny. As for buying, I usually only buy games with lots of replayability, but I'm tempted with this one. Depends on game length.
March 18, 2012
Fun Game
I really like the fill in the circle with objects games so this one was right up my alley. Puzzles were fun and doable. Story was confusing but interesting. I just had a good time playing this one.
August 9, 2012
The Apple logo is a trademark of Apple Computer, Inc.
The Windows logo is a trademark of Microsoft, Inc.