Fabled Legends: The Dark Piper Collector's Edition
Exclusive
The Dark Piper strikes in Fabled Legends: The Dark Piper! The fiend unleashes infested rodents into the town of Hamelin using the magical Pied Piper Flute. As the Fabled Inspector, you are summoned by the duke to investigate and stop this mysterious figure. Defeat the Dark Piper before he leaves a trail of destruction all across Europe!

This is a special Collector's Edition release full of exclusive extras you won't find in the standard version. As a bonus, Collector's Edition purchases count toward three stamps on your Monthly Game Club Punch Card!

The Collector's Edition includes:
Bonus Gameplay
Integrated Strategy Guide
Concept Art
Stop the Dark Piper!
Game System Requirements:
OS:

Windows XP/Vista/Win7/8

CPU:

1.0 GHz

RAM:

512 MB

DirectX:

9.0

Hard Drive:

684 MB
Game Manager System Requirements:
Browser:

Internet Explorer 7 or later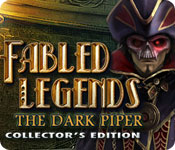 The Big Fish Guarantee:
Quality tested and virus free.
No ads, no adware, no spyware.

Reviews at a Glance

Fabled Legends: The Dark Piper Collector's Edition
0
out of
5 (
0
Reviews
Review
)
Customer Reviews
Fabled Legends: The Dark Piper Collector's Edition
100
100
Kitty's Thoughts: Flute vs Flute
This is one of their better side games besides the usual blue tea epic game series we all known as Dark Parables. However, I will tell you why this game deserves your attention. Storyline: Basically, you start off as a festival, but not all goes well. A mysterious character known as the dark piper summoned bunches of rats to the city. Yes, I will emphasis on the rats. However, as a detective you jobs is to scoop out and find out what really happened. Overall, the story is pretty compelling, and I will say this, "There is soo many twists, but it all worked out." They really did a good job on the story. Level of Challenge: This game is well balanced as you progress in the game. It starts out as easy, but the puzzles and clues start to become more difficult to comprehend at times. One thing I liked that was an add on is the extra tools which they never add in other games to help you in your findings. Though they are limited, it still adds a spice to the challenge of when to use these special tools. Visiual Quality: Unless you are in the hidden object scenes, the game contains nothing but silence. However, the music is pretty decent in the hidden object games. If you like the music in these types of games, your not going to be as easily annoyed. Overall, a few of the sounds I did remember hearing before to be honest. I believe it was best that most of the game is silent since you are indeed traveling in an empty area. Fun Factor: I had to say, the combination of the mystery, the animated scenes, and the methods are very catchy. I was pretty much hooked til the end of the game. I was also caught off guard by one of the twists as well which like I said does add some spice. In the end, I would recommend this game. This definitely suits more of the adult and teen players. I wouldn't advise it for anyone under because the game is overall pretty dark and scary especially the rats. I mean they probably could, but I wouldn't let them play it like at night. In the end, the game is awesome to try. Kitty Out!
September 10, 2013
Fun Hidden Object Game
I was very surprised by how entertaining this game was for me. This is the first time I played anything in the Fabled Legends series but, I was not disappointed! I loved all the hidden object sequences, couldn't get enough of them. The story was pretty cool and the graphics are amazing, as well as the music. The puzzles were also fun and I enjoyed completing them. I look forward to discovering more of the FL series.
December 29, 2012
Better Than I Thought It Would Be
Never played when it first came out because sounded kinda rinky dink. Bought it today on the half off sale. So glad I did. Absolutely loved the game. Very challenging. Loved the graphics and the whole story line. So glad I decided "what the heck it's half off"
December 16, 2012
Only one thing I didn't like, otherwise great!
As with the other games from this developer, the visuals are rich, color-filled, and a feast for the eyes. The music was suitable and not oppressive. Good length of game; got my money's worth. Level of challenge was fairly good, and the storyline was a twist on the traditional fairy tale, which I enjoyed very much. One thing though: they didn't have enough of an intro to place you in the story. I felt like I was more or less dumped into the game with minimal preparation. This made me have to try to get my own motivation going, but happily the rest of what's good with the game helped me to do that. It would have been five stars from me if this was not the case. I have a love-hate relationship with morphing objects. I can never find them all. But I love to look for them, so, gee, guess that means I'll have to play the game again... In games from this developer, look for their "nod" to BigFish. Sort of like an "easter egg". Very nicely done, and I heartily recommend this game.
September 8, 2012
Pretty good game
I have become jaded with CE games. Spend more money for not that much extra. I loved the graphics on this game - VERY good. The game play was good for the most part, but I found some things did not lead well into what needed to be done. As some have stated, there is a LOT of going back and forth and this does get old after a while. I was NOT prepared for some of the story line. So good job. I don't know if I was just being blind or if I went in thinking one thing - Pied Piper, and got fooled as to what happens. While I liked the bonus game, I did not get how the two were related. Without giving away the cut scene too much, a comment is made about this group, but then you get no explanation for why it exists or how the bonus level ties into the main story. But it kept me playing. I have found that I am no longer willing to just play a HOS game. I like a good story. So, for the most prt, this was a good story.
July 3, 2012
Entertaining game
Fun & entertining game. There are game play choices of casual, normal & hard. We played the normal version and found the games to be not too difficult and the sparkles just right. There are some hidden object scenes that are interactive, although it was a bit annoying to have the hand icon appear and could pick up an item that was not to be used in that particular scene. Mini games were not too difficult and were fun to play. There is a map that shows where you are and where there is an objective. The objective book jumps out at you when you have a new one to achieve. Makes one jump when it happens. Never did really get used to it happening. The graphics are excellent, as are the voice overs and music. We have not completed the game, so have no comment on the length or the collector edition extra features. So far, the game has been very entertaining.
June 10, 2012
Enjoyed but some solutions VERY hard.
This was a fun game but a couple of the solutions to get something or do something were "not typical" and I would have never tried shooting a blow dart ...for example at a lamp shade. The game is divided in two main chunks and bonus game play after winning. The bonus game play did not have the same quality of graphics - but it was still a good game.
May 28, 2012
Definitely worth the CE
Long game and good length bonus game play makes it a good CE. There were plenty of places to go but I felt there were areas of the town like the shops in the main part that could have been utilized and were not. It was slighty confusing of where to go at times, and boring at times which is weird because I thought it was a good game, maybe because the characters were a bit drab. The graphics were good but a bit dark in some areas. Still very detailed. This should have been and excellent game but I feel it was lacking some fun in it and I can't pin point what it is. I thought it was creative, I liked the buttons on the right for the rat and crow whistle... The puzzles were good, but not great. A bit easy and not varied enough. Overall I think it's worth buying and I did enjoy it but it could have been more fun. I should have loved this game, what I loved was the length and bonus play.
May 28, 2012
Good fun !
Cool graphics, lots of traveling around the game, good puzzles.
May 25, 2012
A Classic Twist on an Age Old Tale
This game was great, Here are my thoughts: Good Parts: Built-In Strategy Guide Quick recharging hint Horror-Movie like storyline A new twist on an age old tale The puzzle at the beginning. It was cute OK Parts: Interactive things were hard to figure out Bad Parts: All the rats. What's with that? Many of the items yo needed to complete something were found very far away from the scene Overall, it's no surprise this game was developed by Blue Tea. It's thrilling and exciting, and I definitely reccomend it
May 25, 2012