Fabled Legends: The Dark Piper Collector's Edition
The Dark Piper strikes in Fabled Legends: The Dark Piper! The fiend unleashes infested rodents into the town of Hamelin using the magical Pied Piper Flute. As the Fabled Inspector, you are summoned by the duke to investigate and stop this mysterious figure. Defeat the Dark Piper before he leaves a trail of destruction all across Europe!

This is a special Collector's Edition release full of exclusive extras you won't find in the standard version. As a bonus, Collector's Edition purchases count toward three stamps on your Monthly Game Club Punch Card!

The Collector's Edition includes:
Bonus Gameplay
Integrated Strategy Guide
Concept Art
Stop the Dark Piper!
Game System Requirements:
OS:

10.8/10.7/10.6/10.5

CPU:

1.0 GHz (INTEL ONLY)

RAM:

512 MB

Hard Drive:

678 MB
Game Manager System Requirements:
Browser:

Safari 4.0 or later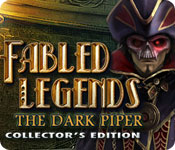 The Big Fish Guarantee:
Quality tested and virus free.
No ads, no adware, no spyware.

Reviews at a Glance

Fabled Legends: The Dark Piper Collector's Edition
0
out of
5 (
0
Reviews
Review
)
Customer Reviews
Fabled Legends: The Dark Piper Collector's Edition
100
100
Just a ok game
I played the demo and would not have bought it if it wasn't 1/2 price. The HOS are different and hard to see what your looking for. The music puts me to sleep. Has a map but doesn't tell you much except where you are. The hint button is useless to me, I want one that tells you something. The game is not very clear on what to do next. You have to just keep going back and forth to find out what to do.
May 9, 2013
Lovely graphics but disappointing
A well known story - rats and the Pied Piper but with a twist. Some scenes are a little macabre but overall nice to look at. The graphics are very nice and the storyline interesting. The characters can be a little intimidating and sounds are fine. There are 6 chapters plus the bonus with three modes of play. The usual HOS scenes - a list including some items that need to be found by performing an action within the scene. Some may find the scenes a little cluttered and dark but this did not detract from the game - rather, it added to the atmosphere. Some items are difficult to see but with a little patience, completing the scenes is achievable. A disappointing thing is that all the scenes had a number of items that could be picked up to find another but they were not all used in once scene - nor were a lot of them used in any second visits to the scenes. This made it confusing knowing which item you needed to do what to find the listed item. The puzzles are very nice to look at and fun but certainly not hard to do. The first two chapters took about 40 minutes at an easy pace and there are about 4-5 HOS and 2-3 puzzles in a chapter. There is an objective book and a map which shows where you need to achieve things but it is not interactive. Also disappointing were the nuber of spelling mistakes and the incorrect names for some items. The strategy guide also missed some explanation re finding items which made it difficult to follow and work out what to do. Also included are morphing objects which make the hint meter work more quickly when you find them. The tutorial left a little to be desired, not explaining the morphing objects until you fell across one and they were difficult to find in some scenes. Overall, in spite of the disappointments, the game is enjoyable with the journey being achievable for all. Not sure that it is worth a CE price but for those who love HO games, it is one for addition to the library.
May 12, 2012
not my favorite
I think this game started off really well but somewhere along the way it deteriorated. You were never finished with one area so there was constant backtracking. Towards the end it became endless junk piles. Also when you'd find something it wouldn t be anything you needed right away so I had to utilize the hint button a lot just to see where to go. I was wanting the end to come so badly that I finally quit before the very end. Finally very few puzzles and they were all repeats. If you want an endless game of running around and junk piles then this is for you.
May 20, 2012
A Good Game But Didn't Rock My Socks To Buy the CE
This review is for the whole demo time as I was still in chapter 1 when time was up playing in normal mode but I'm a slow game player and take my time. Warning: To those of you who have a rat phobia. The story: You have been summoned to the town of Hamelin to defeat The Dark Piper and infested rodents. 6 chapters + bonus chapter 3 play modes: Casual, Normal, Hard There is a widescreen (stretch screen) option. Strategy Guide: Main game pages 1 - 41 . Bonus game (The Midas Liar) - begins on page 42, but won't let you see the rest of it until you finish the main game. Only shows the first 3 chapters during the trial. All extras are locked until you complete the main game. There is a journal which list your objectives/task that need to be completed. There is also a map which is the compass down at the bottom and it has little squares that you have to "hover your mouse" over to see the names of the places. It will also show where you are, objectives and areas of interest. Not much traveling back/forth during the demo time for me but I'm sure that would pick up the further along in the game. HO scenes: Found by word list what I've played of this and are interactive. A little on the Sanford & Son junk pile side but not too bad in my opinion as I didn't have trouble locating anything as I didn't use the hint. The scenes in this area pretty clear for me. Puzzles: I only came across a couple during the trial and considering I'm not a fan of the puzzles they were pretty easy as I didn't have to skip them. Hint/Skip: Can't comment since I didn't use them but they are available of course. 20 morphing objects to find. My overall impression: I'm going to start of with what I liked: The graphics/artwork along with voice overs is just excellent like the rest of this developer's games I've played. I also to my surprise still found the story to be good considering I have a mice/rat phobia. It didn't bother me as much as I thought it would. Now for what I didn't like. While I do like the finding by word list however when I'm looking for a change in the way of finding items I always look to this developer since their games are usually the FROGS (fragmented pieces). What I played of this there was none so if you are looking forward to playing a FROG game well you may be disappointed here in this regard. I also didn't care for the journal AT ALL just popping up out of the blue right in the middle of my computer screen here every time it updates it with a new objective/piece of information as that REALLY startled me and I found it downright annoying. The HO scenes: I also found it downright annoying that I was able to pick up stuff that had absolutely nothing to do with that HO scene at the time. I'm not sure what was up with that??? The Compass Map: Sorry but I didn't care for this map at all. In order to see where you're at, you have to "hover" over the little squares and you can't use it to travel back/forth if you wish. I also didn't realize I had to find morphing objects as I didn't see anything listed about that until I just happened to stumble across one by accident. Now the real kicker here and I will be putting this in my reviews every time I see this in a game: Why does the stuff have a lock on it especially after a person buys the game? Why do they have to play the whole game before they can see the bonus and all the other extras? Sorry but once a person buys a game they should have access to everything in that game. Please tell this developer and all the other ones to stop the madness on this already. While I'm passing on this CE I still find this downright annoying and just not right. I know some others are annoyed with this as well just from reading the game forum. Overall, I give this 3 stars as I still found this to be a good game although I do have a mice/rat phobia which I could of done without them. This game however just didn't rock my socks to where I just had to buy this CE. I will more than likely purchase the SE when that comes to the site. Thanks anyway Big Fish and developer. While this CE version isn't my cup of tea I still recommend it after reading some reviews now that I've played the demo. I think most will just love this game. I know I'm in the minority with this game but oh well. This game didn't impress me THAT much. As always definitely give it a whirl and decide for yourself.
May 10, 2012
Every thing perfect but the storyline
After a while, I decide to finish this game again and I feel a little dissatisfy. I think this revenge storyline is too familiar and this game didn't give me a rightful ending.Thing always happened this way: Something terrible happened in the past, no one there to helped the character, then years went by, he/she strong enough to revenge, then from middle of nowhere, a good guy with pure heart appear and destroy his/her plans. I was like: Come on, I feel the pain of the Dark piper, and some parts of me want to support him. Why can't we just try to convince him to just revenge the duke and his employer and spare the rest of European? Or at least try to convinced him after knock him out? I remember a story of Sherlock Holmes, when he found out that doctor revenge for his fiancee's dead, he decide to spared that doctor. And that is the type of character I would like to play. This detective character make me feel like I was a nerd. I still recommend this game because all the other factor are good. I love the way player interact with environment, but that make me feel so close to Dark piper's pain, but that probably just me.
May 18, 2012
MET MYSELF COMING AND GOING
This is one of those games where you can't figure out where to go next without referring to the strategy guide, which, thankfully, was built in. Sometimes you could tell where to go by the items in your inventory, but you would get most of the items in your inventory way before you needed them in the game, so their future use was no help in finding where they belonged. The hint button worked in a scene if there was something left to do, but if not, all you got was a message saying "nothing to do in this area", which is not help at all. There is a map, but it is pretty much useless, and seemed backwards to me. If I wanted to go up a level as shown on the map, I often had to go down a level in the game to actually get to the intended place. Right and left moves also seemed to be backward on the map. The map did not show active areas where you could find the HOS games or other areas that needed action. The few areas it did show as awaiting attention where totally misleading because you couldn't complete the action without finding other items in other areas. And the map did not enable you to move between areas by clicking on it. You have to go back to the game and move "5 steps down, 4 steps left, one step forward" as an example. I hate games that work like this. I am an impatient player, which is why I used the strategy guide a lot. There seemed to be little linear logic to the game, just hit and miss movements until you suddenly found something to do. When I have to use the strategy guide as much as I had to with this game, it irritates me and takes all the fun out of the game. I'm not going to recommend this game, nor am I not going to recommend it. I know some players like this kind of game, but I don't.
June 29, 2013
Visually disappointing...
This game looked good, but I just didn't like it. The story is interesting, but a little disgusting (rats and more rats!). But that's not my main problem with the game... I just didn't like the grafics. This game had everything to be good, including appropriately spooky voice overs, but, for me, it was just dispponting :(
May 21, 2012
Locks, rats, HOS - nothing else
This game could have been a hit but it missed on a bunch of critical points: 1. It is impossible to complete in hard mode - the zoom cursor is all over the place so you do not know where the objects are you need to pick up. Basically everything you click on is a zoom in cursor. 2. No puzzles at all. There were only 2 types - those were for kids 3. Poor story line. Basically you do not do anything else by going back and forth and trying to locate HOS because there nothing else to do. 4. What is the matter of having tons of boxes and shelves that need keys? No better idea of how you can hide items I was very please with the graphics and the music. Other than that there is nothing I can really advertise. And please remember - RED WINE does not burn. It cannot catch fire. I have completed the game in 5 hours. 3 stars is fair mark for it.
May 26, 2012
Well-produced, but lacks logical flow
First, I like most games, and I realize that most of the games we play take place in a world of fantasy, make-believe and the supernatural. That's a lot of what makes them such a great escape. But I found this game required way too much traveling back and forth from one end of the town to the other for objects located in places that really made no sense whatsoever. Even the items in inventory required to obtain the special objects didn't behave in reasonable ways. There is a map which indicates where uncompleted tasks are, but there is no way to move instantly from one spot to another. This got extremely tedious, getting worse later in the game, and I wasn't motivated enough to finish.
May 26, 2012
Repeated Travel
The game was not boring but required visits to the same sites to many times. I can rate the map as 2 because it did not eliminate the need to travel back or forward to the same places. It would have been better it you could click on the map to go directly to where you need to go.
May 19, 2012
The Apple logo is a trademark of Apple Computer, Inc.
The Windows logo is a trademark of Microsoft, Inc.