Secrets of the Seas: Flying Dutchman
Uncover the Sea Secrets of the Flying Dutchman in Secrets of the Seas: Flying Dutchman! Find hidden objects and solve adventuresome puzzles in this oceanic hidden object puzzle adventure game!
Game System Requirements:
OS:

Windows XP/Vista/Win7/8

CPU:

1.0 GHz

RAM:

512 MB

DirectX:

9.0

Hard Drive:

1396 MB
Game Manager System Requirements:
Browser:

Internet Explorer 7 or later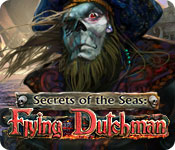 NEW299
The Big Fish Guarantee:
Quality tested and virus free.
No ads, no adware, no spyware.

Reviews at a Glance

Secrets of the Seas: Flying Dutchman
0
out of
5 (
0
Reviews
Review
)
Customer Reviews
Secrets of the Seas: Flying Dutchman
33
33
Secrets of the Sea
The storyline was good. graphics were good. I recommend this game.
September 16, 2012
Adventure Ahoy!
BASED ON COMPLETED GAME I enjoy this game every time I play it. At first it seems pretty simple. Your friend has lost a bet with an evil PIRATE CAPTAIN, and is forced to join the crew of the FLYING DUTCHMAN, a legendary ghost ship that can never make port, doomed to sail the oceans forever. However, throwing your lot in with him in the hopes of rescuing him, you find yourself HELPING the CAPTAIN, AGAINST HIS WILL, to UNDO the curse. Plenty of land-based action as well as on the ?briny waters?. I like the GRAPHICS on this one. They?re not the best you?ve ever seen, but they are BRIGHT, COLOURFUL & RICHLY TEXTURED. MUSIC was TYPICAL swashbuckling stuff, but I really liked the AMBIENT sound in much of the game. VOICEOVER was limited to the opening. The GAMEPLAY was a good mix of 2 parts ADVENTURE, 2 parts (INTERACTIVE LIST) HO SCENES ? visited twice, 1 part PUZZLES. None of it was hard. But... HINT outside HOS was useless, and there was NO MAP. There was a JOURNAL, with essential details. You have COLLECTIBLES in the form of PEARLS, which offer backstory, and are a NECESSARY part of the game. A surprising amount of story was included in this game, making far more interesting than a standard pirate game. No underwater locations, however, to my sorrow. Still, solid entertainment.
May 24, 2013
saved by pirates
i have a laundry list of complaints, but my 3 stars are based on my unnatural love of all things pirate. the storyline was lame and most of the time non-existent. nightmares of the deep did this so much better. the puzzles here were all the same, spin one circle and three others spin. spin a different circle and only one spins, somehow find a way to make everything match. there was nothing new or exciting about them, but they were easy enough and i don't hate that type of puzzle so they got the job done. one plus was the HO scenes. they were rare for this type of game, and some of the best i've encountered. even though objects were replaced upon subsequent visits, each object was cleverly hidden without being ridiculously small. and each HO scene gave you something vitally important. otherwise there's a lot of searching in this game. it's not so much adventure as searching, for the obscure random object that inexplicably solves the task at hand. inventory items were used sometimes in the same room, sometimes dragged out through most of the game, which i found very irritating. how many times you can attempt to use a wire? what i loved most was the music and graphics, this game will go far due to those alone. overall however, it was all bells and whistles with little substance.
July 12, 2012
Good, Fun Game But a Couple of Problems for Me
WHAT FOLLOWS IS MY REVIEW OF PLAYING ON THE MIDDLE LEVEL OF DIFFICULTY: I originally played a part of the demo of this game on "casual" and found it too easy. I decided at that time not to buy it, but when it was offered as a DOD, I changed player and played on the middle setting. Wow, what a difference. Not even the HOGs were highlighted in any way, and that is one thing I think is wrong with this game. With the middle setting, you get faster hint and skip recharge in HOGs and puzzles, and you do get a weak hint outside of the HOGs, but no sparkles or glints. Since you get things you need as a last object in the HOGs, it is vital to your ability to continue the game not to miss one. The second thing I disliked was that the hints outside of the HOGs only tell you, "There's nothing to pillage here." But there may be a HOG hiding somewhere in that same scene. So you learn you'd better run your cursor all over the entire screen to ensure there's no HOG, and you have to do it every time, because the next time you visit that scene, you may find one. Playing on the middle level I had to use the walkthrough several times, which is annoying when you have to get completely out of the game each time. I really wish the devs would have included a sparkle for the HOGs in this level, but otherwise the game is fun to play and quite long.
May 21, 2013
Secrets of the Seas: Flying Dutchman SE
This is a decent game considering it's release date. I have played both the Collectors Edition and this Standard Edition and there isn't any significant differences in my opinion. The following is a recap of my review of the Collectors Edition. The Flying Dutchman moors once every seven years to gather fresh souls in his crews. The captain wanders around taverns, offering sailors a chance to play dice with him. If the sailor wins, he receives mountains of gold, but if he loses, he is doomed to spend eternity aboard the Flying Dutchman as a servant! Unfortunately, this is exactly what happened to your friend Michael. Michael blew his entire inheritance in a card game and out of desperation he chose to play the captain a high stakes game of dice....and lost! Your luck however, was just the opposite, you won! The captain made a bet with you, if you lose you will be his servant, if you win you may board the Flying Dutchman and be with your friend, nobody will harm you. Now you must figure out how to free Michael from his lifelong contract and then figure out how to leave a ship that has just set sail for another seven years! The cutscene video was horrible, some of the worse graphics I have ever seen, yet the game itself had decent graphics especially if you take into consideration how long ago this game was released! There aren't any frills either, no map, no special effects, and the game is easy to play, yet enjoyable. Once aboard the ship you will collect pearls to fix the captains broken necklace which I suspect will be the bargaining chip for Michaels release. The Hidden Object Scenes are slightly interactive list finds and they repeat the HOS at least once so if you get stuck be sure to check out one of the previous scenes. The mini games are very basic such as repeating a color sequence. The mini game I thought was the most interesting was the game of dice you play with the captain. You roll 5 dice and choose 3 of those dice that add up to one of the numbers written on a sheet of paper, your tally must equal 6 different numbers to win. The Collectors Edition has Screensavers, Concept Art, Wallpapers, Game Music, Mini Games, a built in Strategy Guide and a Bonus Chapter, enjoy!
November 9, 2014
Yep, thar she "blows"...
Don't waste the time nor the money on this one. Too many games are rated 4 stars that should be only three at best. Poor story line and development. back and forth and just not a good game. Ho's are good but that is it. I rated three but was generous.
May 28, 2012
Bring me some Booze!
I love the pirate genre even though it has been done to death. This was a captivating and spooky little HOPA game with beautiful graphics and cut scenes. The opening music had me lost in memories of POCO and Captain Jack Sparrow. Good times!
May 18, 2013
Boring!
Way too much backing tracking from scene to scene for 1 clue. Most puzzles were easy. Bored with it 1/2to 3/4 way through. I would not recommend this!
July 30, 2012
Slow!
First I have to say that I only played about 20 min. of the trial. I just couldn't get into this game. Slow going and rather boring, something missing. Good game for a beginner to play. Cannot recommend this game due to no excitement and to slow moving.
May 28, 2012
Easy gameplay but rather boring
My review is on the hour long demo as I found the gameplay quite simple; you don?t really need to use your brain to calculate what to do next, there is no map so you will have to go back & forth regularly but the world isn?t that big so is not a problem. This is a decent looking game, crisp graphics & some very nice artwork although not very colourful; there are some reasonable voiceovers & the dialogues is clickable, the music is pretty awful though. There are 3 modes of play, casual with flares to signify the H0s & glints with a 60 second hint recharge, advanced with no flares & a long 2 minute recharge or hard with no hints or sparkles. You find the hint a little way into the game, it is an ugly but cute lobster, in addition you will also find a journal that gives some good clues. The hint is useful outside the H0s as it will let you know the scene is complete for the moment. The hidden object scenes are ok & have interactive items; there are quite a lot of them. There are fewer mini puzzles & these are the usual type & it really depends on which mode you select as to how hard they are. I found that on the easy for instance the simon says sequence of lights was far less complex than in the two harder modes. I found the clicking a little dodgy, sometimes I had to click several times to pick up an item or shut a close up down using the in game cursor.
May 23, 2012
The Apple logo is a trademark of Apple Computer, Inc.