Inspector Magnusson: Murder on the Titanic
Unravel a tale of murder and conspiracy on the famous RMS Titanic. Help Professor Jakob Magnusson as you travel from the depths of the engine room to the finest suites aboard the great ship to uncover who murdered lowly coal tender Charles Taylor, and why. Solve puzzles and expose clues in this thrilling adventure to piece together the evidence that reveals the dark conspiracy connecting the murder to the doomed ship's tragic destiny!
28 Captivating Hidden Object scenes
Challenging puzzles to test your wits
Interact with a cast of colorful suspects
Game System Requirements:
OS:

Windows XP/Windows Vista/Windows 7/8

CPU:

1.0 GHz

RAM:

512 MB

DirectX:

8.0

Hard Drive:

120 MB
Game Manager System Requirements:
Browser:

Internet Explorer 7 or later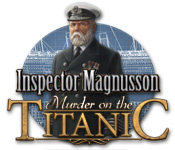 NEW299
The Big Fish Guarantee:
Quality tested and virus free.
No ads, no adware, no spyware.

Reviews at a Glance

Inspector Magnusson: Murder on the Titanic
0
out of
5 (
0
Reviews
Review
)
Customer Reviews
Inspector Magnusson: Murder on the Titanic
50
50
A good basic hidden object game
If you love a game full of hidden object scenes then this might be for you as this is full of them; the graphics are very clear & the artwork well drawn so the objects are not difficult to find. As well as dedicated H0 scenes some of the main scenes are also full of items to locate; you might find some of these harder to find; for instance a lipstick was miniscule. The hint recharges in 30 seconds if you need it. There are also some mini puzzles, the usual sliders, put together a photograph, move coloured balls into a specific circle, etc; nothing too difficult if you are used to them although I confess I am useless at putting a specific set of colours into different rings so had to use the skip button. You make your way through the ship via a map & as you jump to a scene there is a lot of dialogue (no voiceover but clickable) with various members of the crew & passengers. You have a journal which gives you clues & details of what you have learned. In the menu there is a bonus option & you can set wallpaper as you play, new wallpapers open up as you solve different areas of the ship. There is no choice of gameplay so expect sparkles & either too much hand holding by way of pop ups that tell you what to do or a complete lack of information e.g. when you pick up a box where should you put it? I found the gameplay rather disjointed & the cursor would not always drop items where I wanted them until I had tried a few times.
May 14, 2012
My Advice: Play the demo and decide
I bought this one and played to the end. It was not terribly challenging and the storyline is convoluted and implausible. It also says some not very nice things about some very real (now dead) people which may border on libel. *But* there was no torture, there were no "experiments on humans" or animals, no vampires, and none of the stuff that's so prevalent in HOG, FROG and IHOG games these days that I've almost completely stopped buying them. Yes, there were murders and there was death and yes, there was "blood", but it didn't have the potential to give me nightmares. What I liked about the game were the graphics. Truly beautiful colors and drawings for most of the game. There are some portions that are comic strips to advance the story, and even those were well done, in black and white. The hidden objects were not all that tough to find - just enough of a challenge for me. The puzzles weren't complicated and the game guided me well. The map colors are dim, so it may be hard to see when one picture lights up. That's how they indicate where to go next. That and the sparkles on the map icon in the lower right. If the map is not sparkling, you're not done in the current scene. Overall, I would recommend playing the demo to get a taste of this one before buying it. If you have coupon credits to spend, it may be worth it to you, especially if you, like me, are getting VERY tired of the far too many far too dark themes for hidden object games these days.
May 14, 2012
A real 'Sinker' (Ouch)
I probably would have enjoyed playing this game many moons ago when I first discovered there was something called Hidden Object games. Back then these games were the only ones available and HOGs were just getting popular. Then they started becoming interactive and this is basically what we have before us. A very 'old-looking' basic HOG with interaction involved. Sorry but I will definitely pass on this. Not only is it dated, old looking and clucnky, I had some minor problems which tells me that there are still some 'bugs' that need to be worked out. Game options include one game mode and custom cursor. There are no V/O and alot of dialogue to read. Graphics are crude and lifeless. HOG scenes are not very difficlt however some items are too small to detect. You are equipped with a journal, a map that at times can be used to get from one place to another. There are puzzles to solve, a varity of mini-games which were not challenging.The storyline is a murder mystery that takes place onboard the Titatic and you are assisting a famous Swedish detective. Actually you are being 'bossed' around to do the heavy labor by lifting things, finding things and cleaning up. Since we all know the fate of the Titanic, solving the mystery seems pointless. I really don't know how the story will go and to be frank, I really dont care. Possibly fans of basic HOG games may enjoy the gameplay but I personally will just let this game aqgo down with the ship. RIP.
May 14, 2012
Enjoyed this one alot
I'm surprised this game didn't get better reviews than what have been given so far. I rather liked it since it was refreshing to have a Titanic game back again and have it be a good game as well. Graphics are lovely and clear and gameplay moves along nicely without giving frustration. I liked the story line immensely & (since I don't want to ruin any of it for people who have not yet played this game) there are one or two parts in the story & dialogue that tugs on the heart. HOS were clear and objects not too difficult to find. The time travel which is so much a part of the game made it a little different & kept it interesting. Overall, a good game & if you love HOGs/Adventures I would definitely give it a try. Happy Gaming :)
May 14, 2012
Enjoyable and an interesting take on the Titanic tragedy
This game was a lot of fun. I enjoy a story along with my gameplay, one that's not contrived or convuluted as some have been lately. This story held my interest a lot and the hidden object scenes and puzzles were nicely done. There was an interesting mix of historical and fictional characters and when the final conspiracy was revealed, I was quite surprised! The artwork is quite breath-taking, and I am currently enjoying the downloadable main menu screen as my desktop background. If you enjoy all things Titanic like me, then this is one you'll want to try. It has a lot more interesting story than the recent Hidden Mysteries: Titanic (although I enjoyed playing that one, too#, fascinating character interactions, and fairly challenging gameplay #but not so much that you're clicking the HINT button at every opportunity). Enjoy!
May 14, 2012
Not worth a credit
I wanted to like this game. I love games that revolve around the Titanic, but I could not get into this one. Very confusing, hint, does not work well outside of a HOG scene. Very basic game, no voice overs, lots of reading. Pass for me.
May 14, 2012
Inspector Magnusson: Murder on the Titanic
This game has no planet or loved ones who need saving from ghosts, werewolves or an undead madman. No one is on a deserted island where I have to hunt for tiny objects in an untidy pile during a heavy rainstorm. For those who only enjoy the above, Murder on the Titanic will seem rather boring, I'm sure. However, I liked the brightly lit scenes, the early 20th century atmosphere, and the idea of having nothing more dangerous than a murderer prowling about the great ship. The HO scenes were do-able, the text was kept to a minimum, just enough to keep the story moving, and the mini-games were different and a bit challenging. All in all, it was interesting (to me) without being intensely drama-laden.
May 14, 2012
Great HO Fun
I'm a fan of the Titanic, and a HO fan, so this game really worked for me. The game is very light adventure with quite a lot of hidden object play, framed around the investigation of a murder on the Titanic. The art is very high quality, and fit the opulence of the ship perfectly. While there is a fair amount to do around the hidden object scenes, they are the real focus of the game. The scenes and objects are very well done, and even the occasional small object was clear enough for me to identify it. The hint allows you to select the object you want pointed out, which I greatly prefer to a random choice. There is no timer or click penalty, so I just relaxed and enjoyed exploring each scene. I particularly liked the fact that the objects mostly fit the scene and theme of a location, so it isn't just a jumble of random objects. I haven't repeated any scenes yet, and There have been some interesting twists on the standard list (I liked having to organize the tools...I may be a bit OCD) There is a lot of dialogue in the game, as the mystery unfolds. I enjoyed reading through it, but it can be clicked through if you just want to get back into the action. The journal stores critical details on the story, so you won't end up lost. The puzzles were pretty straightforward, and most were at least familiar. I didn't encounter any I needed to skip, and all of them were worked into the story so they didn't seem random or arbitrary. I also quite liked the music...it fit the setting well, and had a good ominous mood to it. If you want a good, old school hidden object game with a very cool setting/story, then I think this is the one for you.
May 14, 2012
Inspector Magnusson: Murder on the Titanic
I played this demo and didn't like it. The map that supposed to transfer you to other room didn't show which picture to click to move. I felt frustrating what to do after HOG... had to play around it before I figured out what to do. The hint didn't help you in the areas outside of HOG. Not for me. Have fun!
May 14, 2012
Thought the game had a lot of flaws
I did not like the fact that the hint system really only worked on the HO screen and not with all the screens. EX: Nothing when it came to the rearranging of the tools. Could not see were they went, very discouraging and no way to skip. Not for me.
May 14, 2012