Dark Alleys: Penumbra Motel Collector`s Edition
During a road trip your friend's daughter is kidnapped by a mysterious man at the Penumbra Motel, the scene of murder and strange occurrences 50 years ago. You must head into the heart of madness to not only find the girl, but unravel the mystery haunting the descendants of the Penumbra family and the Motel grounds.

This is a special Collector's Edition release full of exclusive extras you won't find in the standard version. As a bonus, Collector's Edition purchases count toward three stamps on your Monthly Game Club Punch Card!

The Collector's Edition includes:
Wallpapers and Screensavers
Original soundtrack from the game
Concept art
Game System Requirements:
OS:

Windows XP/Vista/Win7/8

CPU:

1.4 GHz

RAM:

1024 MB

DirectX:

9.0

Hard Drive:

590 MB
Game Manager System Requirements:
Browser:

Internet Explorer 7 or later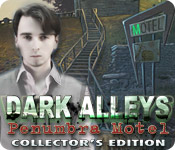 The Big Fish Guarantee:
Quality tested and virus free.
No ads, no adware, no spyware.

Reviews at a Glance

Dark Alleys: Penumbra Motel Collector`s Edition
0
out of
5 (
0
Reviews
Review
)
Customer Reviews
Dark Alleys: Penumbra Motel Collector`s Edition
126
126
enjoyable game
My review is based on the playing the demo. I found the game quite fun, puzzles were relatively easy, story line was fine though nothing new, no hidden object scenes which I missed. The graphics were good but not exceptional. I found the music too repetitive and the actors' voices were often out of sync with the video. All in all an enjoyable game though by far not the best from ERS.
May 19, 2012
One of my favorites
This was one of best games I played this year. A complete adventure game, with no tedious, unrelated hidden objects to find. I would of given it 5 stars, however it did have a glitch in the beginning and I had to start over with a new profile. I noticed in the forums there were different glitches, which I didn't come across. Even being glitchy, it was worth playing.
May 17, 2012
the "real people" thing
usually i dont like real 'actors' in games, but this one added just enough to keep it interesting, so ok not bad. lots of "scary" stuff makes for a fun time, and its easy to get through...nice game..go see!
May 14, 2012
A NICE AND CREEPY ERS GAME
I like this game developer. They put out the best games. I found the mini-games too hard for me, but luckily, there was a skip button. I didn't find the hint button very helpful, and had to rely on the strategy guide, which I wasn't happy with. The strategy guide was too small and hard to figure out. I liked the live actors, and wished for dennis kleinsmith to appear. Oh well.
May 14, 2012
Dark Alleys
I thought the 30 mins I played were enough for me. But its not the type of game I favour saying that does not detract from its quality.
May 13, 2012
Good but needs tighter story.
To me, I've found that there's another developer that's proven that they're the master of gorgeous graphics, but this developer has proven themselves to be very adept at crafting games that are very good at puzzles and out of the box thinking for the adventure. (*sigh* Wish they could get together...) Anyway, I did enjoy the game based on the thinking part of it as noted above. That said, I have to say that the storyline started out very promising and held my attention. After a while though I lost track of some of how it fit together. I don't want to spoil the story for you, but I will say this: I like ghost stories but I wish that developers/writers would sometimes skip the sci-fi stuff like soul sucking machines etc, and stick with a natural realistic story. To me, people doing evil things in our ordinary world are scarier than some fantastical stuff. So this kept the game from being a 5 star. If they would have only tightened the story and made it real world scary like it started, I would have rated it higher. I still enjoyed it though and recommend it for those who like an adventure with lots of places to explore. Oh, another thing -- I found a four leaf clover in one of the scenes. Look for it; I hope you find it too!
September 15, 2012
Worth to play
Nice game, scray storline, but some puzzles are annoying, some of them are too easy. Overall - it is a good game with lots of thing to do.
June 24, 2012
It's not Bates Motel, but give it a try
*imo, based on the demo*, i'd call this adventure-light. While you pick up items for use while trekking around, there are no HOscenes. Graphics are decent, tho not extraordinary; i think we've seen better from ERS. You've got minigames/puzzles; some nice voice acting by real actors, which i think are well done here; cutscenes that are provided by film reels you find, & these are integral to the story. The music is an interesting backdrop; it's more quirky than spooky, & seems to be purposefully misleading - kinda like the lighter stuff you'd hear in old Alfred Hitchcock or Twilight Zone stories right before the axe drops or the body falls out of the closet & scared the pants off you 'cause you didn't see it coming. I've not reached the part yet where i didn't see it coming in Penumbra Motel, & unfortunately don't think that point's gonna come. Although i love the basic idea of this story, especially the adventure play as opposed to primary hidden object type gaming, i'm sad to say the game isn't knocking my socks off as far as challenging, engaging gameplay. It's just too easy & predictable, which will likely keep me from going for the CE. I did so want to love this game, but if it just doesn't do it for me, i do think this is a good game for folks who are tired of constant hos & looking for a not-too-hard game that still has a bit of the spooky factor. Give it a demo, & Have fun gaming, y'all.
May 13, 2012
A slightly 'PENUMBRA' Experience
This year on Mother's day, instead of recieving flowers, candies, hugs and kisses; we get murder and meyham while we set out to rescue a young girl from the clutches of a very creepy old dude and solve an old gruesome murder mystery that surrounds the very sinister looking Penumbra Motel. (Why I am not put off by this fact causes me some discomfort). I am a big fan of the developers and am slightly surpirsed at the direction that they took when creating 'Dark Alleys'. Unfortunately, to my dismay, this game is definitely not up to their usual high standard of games and the more I played, the more I felt let down. My major complaint was that there was absolutly nothing challenging about this game and I found it way too easy to play. Although I am basing my review on the demo, I doubt that things will change. It appears that the developers created an Adventure IHOG, only without the HOG scenes and yet the game mechanics are your usual run of the mill IHOG. (I hope that made sense). Unlike their previous games, such as the AZADA series, the challenge and fun factor that I eagerly anticipated and looked forward to just wasn't present here. Unfortuantely 'Dark Alleys' just did not thrill me nor did it offer me the challenge that I expect to find in an Adventure game. On the other hand, it would be remiss of me not to priase them for the artwork and the graphics and animation which I felt were very well done. Although they are grainy and rather gloomy, (unlike the graphics that I am accustomed to), they did create an atmosphere that suited the storyline and I especially liked the use of real actors which added some realism to the game. Game features include the journal, objectives, a SG that keeps your place and a film projector which you use to view cut scenes. There are three modes of game play and widescreen option. Game mechnics are the same that you see in any IHOG Adventure game: solve puzzles, collect objects for your inventory and play mini-games; unfortunately all of which were too easy to do which I found rather dissapointing. I honestly think that this game is slightly over-rated and should not have been issued as a CE. Sadly I think that the developers have missed the mark in their efforts to create an Adventure game that would appeal to hard-core palyers like myself. Had they offered some challenging features such as morphing objects, awards, achievments and complex mini-games, I probably would have enjoyed my gaming experience more but alas, despite the "look" and "feel"of the game, I got bored very quickly. It appears that 'Dark Alleys' offers you a slightly 'Penumbra' experience. I do however think that newcomers to this genre will enjoy this game and therefore I will recommend it. After all it is Mother's Day, and what better way to celebrate it than to spend it with your everyday psysho killers, demons and ghosts.
May 13, 2012
Started Out Rocking My Socks Then Went Flat and Frustrating
This review is for about 2 to 3 hours of the game. I know it wasn't over 3 playing the "middle of the road" as far as difficulty. The story: You're on a road trip and your friend's daughter is kidnapped by a mysterious man at the Penumbra Motel, the scene of murder and strange occurrences 50 years ago. Not only must you find the girl but unravel the town's secrets. This is what I would call an adventure game. While you're not navigating a character like the Nancy Drew games however you are 'wandering around" as this plays like a HOG where you get inventory to move forward in the game however no HO scenes to this game. 5 chapters plus bonus chapter and extras locked until you play the whole game. Strategy Guide: Only shows first two chapters during the trial time. A total of 53 pages. Pages 1-44 is the main game. Pages 45-53 is the bonus. 3 play modes and you can switch modes at anytime during the game as I checked all of them out.. Easy mode lots of sparkles and text clues. The harder modes do have some text clues up at the top when you click on something to help you along for some areas of the game not all. There is a diary which holds story/notes along with a goals tab which you have to hover your mouse over to see the goals. There is no map. There's also what looks like a tool box to me anyway down at the bottom which holds some puzzle pieces when you find them in the game and then when you come across a puzzle (some of the puzzles) that box opens up and places the pieces of the puzzle for you automatically. There's also voice overs along with real live actors and some cut scenes. The graphics dull and somewhat grainy. Now for my overall impression of the game here: I'll start off with what i liked: Well I was drawn into this game immediately with the opening scene and the girl going into the store and not coming back. What really had my attention is the story here as it made me think of the movie "Psycho." The out of the way gas station with a big house up the hill where the trouble begins. A suspicious family member who may still be lurking after all these years. The kid in the story even looks like Anthony Perkins/Norman Bates! The voice overs, characters, cut scenes I found to be very well done here. Just excellent. The graphics/artwork while not this developers usual nice, crisp and clear seemed somewhat dull, gloomy and grainy to me anyway but appropriate considering the surroundings (buildings) rundown. All this held my interest along with game play, no hints/skips even as it's different from this developers usual work during the trial of the game so I purchased it immediately when the trial was over. Now for what I didn't like and this game went flat for me and downright frustrating: After the one hour trial while i ran into two characters the story seemed to go flat and I found myself basically just wandering around from place to place to get stuff to move forward in the game. The music grated on my last nerve as it seemed to be about the same over and over. Then we have this goal button here which at first I thought it was broke but by accident my mouse/cursor just happened to be in the right spot and it brought up the goals so you can't click on it like the diary have to hover over it. I also didn't like the tool box as that about got on my last nerve as when I'd come to a puzzle it would open up and put the pieces in there but I didn't have all the pieces for the puzzle to even do it?? I found this annoying. When I finally did get all the pieces well way too many rotate the circle puzzles for me as I was find these downright boring and tedious and want to skip them. I did 2 or 3 of these then enough already. Where this really went down the hill for me and I finally had to stop all the madness, cut this off and pull the plug: When I want a hint/skip well I shouldn't have to wait until I finish my cigarette to get it. RIDICULOUS. I do like to figure out for myself is why I didn't play the easiest mode. i also don't like to refer to the guide too much so if I come to an area where there isn't a clue or I want to skip I don't mind waiting a minute or two but anything beyond that is RIDICULOUS. Overall I give this 3 stars and the best I can do for this. It started out rocking my socks and then went flat and frustrating for me. I play games for fun and escape and not to be frustrated. When it gets frustrating well I pull the plug. I'm so glad I only paid about $7.00 for this instead of the usual $13.99 cause of the weekend sale on game credits. I have no desire to even finish this game. Since I'm a slow game player i probably still had about 2 hours left to complete it but just don't care. Sorry. Thanks anyway Big Fish and developer of this game. As always definitely give it a whirl and decide for yourself..
May 15, 2012
The Apple logo is a trademark of Apple Computer, Inc.