Dark Alleys: Penumbra Motel Collector`s Edition
During a road trip your friend's daughter is kidnapped by a mysterious man at the Penumbra Motel, the scene of murder and strange occurrences 50 years ago. You must head into the heart of madness to not only find the girl, but unravel the mystery haunting the descendants of the Penumbra family and the Motel grounds.

This is a special Collector's Edition release full of exclusive extras you won't find in the standard version. As a bonus, Collector's Edition purchases count toward three stamps on your Monthly Game Club Punch Card!

The Collector's Edition includes:
Wallpapers and Screensavers
Original soundtrack from the game
Concept art
Game System Requirements:
OS:

Windows XP/Vista/Win7/8

CPU:

1.4 GHz

RAM:

1024 MB

DirectX:

9.0

Hard Drive:

590 MB
Game Manager System Requirements:
Browser:

Internet Explorer 7 or later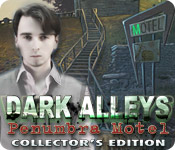 The Big Fish Guarantee:
Quality tested and virus free.
No ads, no adware, no spyware.

Reviews at a Glance

Dark Alleys: Penumbra Motel Collector`s Edition
0
out of
5 (
0
Reviews
Review
)
Customer Reviews
Dark Alleys: Penumbra Motel Collector`s Edition
125
125
Lackluster Game
The storyline is a bit weak, as are the characters. There are no HOS, and the entire game is based on searching for an abducted child. The player has to find clues throughout what resembles the 'Bates Motel' grounds, but unfortunately, lacks luster. Most assuredly, the most annoying part is figuring out the medal combinations. Some of the puzzles could use a 'reset' button, and the voiceovers were slightly off sync. Overall, it is an adequate game which some may enjoy playing.
May 25, 2012
Beware the tin man-spirit-thing!
I laughed so hard as when I finally got to meet the villain/ghost/evil spirit. Looks like a robot a 8 yr old built out of scrap metal, pretty scary lol ! Also, I didn't realize that if I ever meet a vicious snarling ghost dog, all I have to do is pet it and it will go away :o. good to know! Otherwise the game isn't too bad, apart from the terrible human actors. The story has a few holes, the ending (bonus) just leaves you hanging, like they just ended the game cuz they ran out of ideas.. very surprised there weren't any hidden object scenes like most of this developer's games, but there still was a lot to do. An average CE, not very challenging even on advanced mode. Good length to regular game and bonus play.
May 17, 2012
not as great as i was expecting
i enjoyed the real actors in the game, but that was about it. the game wasnt challenging at all, and played very quicky. also, during the "extra" content i had to completely exit out of the game to interact with any of the scenes. i guess it froze or something. i would recommend this game only to beginners and not for someone looking for a challengs
May 15, 2012
Not a true hidden object game
While the game did have good quality and was challenging without being too difficult, it was not truly a hidden object game. There were no 'true' hidden object scenes. It was just picking up certain items and applying them in other locations.
February 24, 2013
Game lacks something
I am dissapointed with this game as it is cold. It lacked something and as a result I could not get interested and am struggling to finish it. While it has no hidden objects it is wall to wall mini games which I found annoying. Only for those who love puzzles.
June 2, 2012
I was not a big fan
I found this game redundant, illogical and frustrating. It was either too simplistic or impossible to follow. The bonus chapter was a complete waste of time. I am sorry I paid extra for it. It was however, beautifully drawn and I thought the scenes were alluring. It sad that there was almost nothing to do in most of them.
September 21, 2012
Huh???
My review is based on: 1) completed the Collector?s Edition (CE) including bonus game 2) played on ?hard? level-no sparkles, but had in-game hints. I had more fun trying to solve the mystery of why this game got so many 5-star reviews, than I did playing the game. I read all the reviews (93+me) after I completed the game. My conclusion is: Adventure Gamer?s (AG) have been so thirsty for non-Hidden Object Games (HOG) (me too), and even HOG enthusiasts are ready for a change, to the point AG & HOG gamers don?t want to discourage the game developer, ERS, from making more non-HOG adventure games, by giving the game a lower rating. I don?t recommend the CE version of this game, but will recommend the SE version which is now available (2 days after I purchased CE, sigh). My impression is this game seemed like a full-length beta game (work still in progress), put out by ERS as an experiment to see if there is enough interest in reviving the non-HOG AG. If so, it worked; keep trying ERS!!! Length: above average-based on many locations to explore, a few challenging puzzles and me missing a few inventory items at first glance Story-- showed promised, but didn?t deliver. What happened ERS? I don?t get it. This game showed me the merits of some gamers placing a well written story at the top of their criteria list. Send the author(s) to some writer?s workshops then come back to us with more experience. As it stands now, the ?story? comes across as a rough draft with undeveloped characters, with shallow/no explanation of their presence or importance. The bonus game seems like an after thought to the story, like the writer said, ?oh, since I mentioned the name of this character in the main story, I better add him somewhere else in the game. I know, add him in the bonus game with a mwahaha (insert evil laugh), the end.?
June 17, 2012
very disappointing - bonus game review at bottom
The only reason I bought it was knowing that it was this hyped up, long awaited ERS game so I thought it would be something special when it didn?t even come up to the standard of a good ?same old? game. Azada libro was far better than this, being a straight adventure game. ERS concentrated on the live actors and seemed to not put as much effort into gameplay or plot or even some of their graphics. And although the lip synch in the actors was mainly good - when it wasn?t, it?s just so off putting. They are obviously trying to catch up to elephant and BFG with using them but just putting live actors into a ?C? adventure game isn?t being different and it doesn?t make a blah game good. Plot was a mishmash of a nod to haunted halls and every other game ? mostly children in peril, and ending been done so many times. I?d forgive the tired plot if the gameplay wasn?t as tired. There was nothing new or exciting or even captivating about this game. There didn?t seem to be many new areas to explore. In the middle of the game, puzzles were few and far between and the lack of achievements or things to collect (which should be a minimum for a CE game) made the middle part of the game boring. There was a puzzle which was a twist on the rotating rings puzzle and that was good but you had better like it as it kept repeating, getting slightly harder each time. The last hour suddenly got more interesting and had a couple of harder puzzles in it very close to each other, with some others. I would have loved if it had been spaced out a bit more, so I could have enjoyed them in amongst the same old tired gameplay. Most of the puzzles were on the easy side. There was a choice of 3 settings of hardness for gameplay. I play on the hardest for ERS games as they are easy games to play. But I still got full explanations for all the puzzles even though they say there would be no tips and occasionally I still got the black bar tips which they also said wouldn?t be there. Do developers not know that when you play on advanced you don?t want any hand holding? I think this should have been a SE game and not a CE game, when you think of games like phenoman: city of cyan and urban legends the maze were straight SEs (that were far better than this) I don?t understand how this was a CE. I haven?t been as disappointed in a game I bought for ages. The plot was 100% tied up in the SE main game. BONUS GAMEPLAY - Actually the bonus gameplay was good, it was puzzle heavy so for those that don?t like puzzles or skip them then it will be super short. It took me 45 mins no skipping but if you find puzzles harder it will take you longer. I wish the main game was more like this. The setting was about 50% same area as before and 50% new. The one thing that was really bad about the bonus was the plot. But because the gameplay was OK by then, I didn?t mind too much. Other bonus ? 4 music ?tracks? you hear being looped over and over during the game, screensaver, concept art, wallpaper TIME ? main game ? 5hrs plus 45 mins in bonus so in all quite a short game (compared to others)
May 14, 2012
Not a favorite.
I do not give very many negative reviews but this game is not worth the time invested. The story is very difficult to follow. After playing the entire game and the bonus game I still cannot give you a plot synopsis. I found the sound track very annoying. Shrill and repetitive. On the plus side the ghost graphics were very good. The games were not hard and were mostly just tedious. I had a difficult time deciding where I should go next after accomplishing a task and found myself asking "what now" a lot. Personal taste aside I cannot recommend this game for any skill level.
May 27, 2012
Kind of a Disapointment
Well, I am surprised. This game started out interesting and ended poorly. While it wasn't the best game beginning ever, it was at least 4 stars until about three quarters in when it became very easy and very hard (by which I mean the few puzzles were beyond hard but everything else was very easy). The ending was very anticlimactic and almost pointless with very little explanation either during the game or at the end. I am still not exactly sure what the point was and who did what. I was so board, I didn't bother to do the bonus chapter and probably won't ever. I just don't care. The music was grinding, never really changing and very annoying. I had to mute my computer many times because it was just too much to handle. The lack of voice overs was shocking and just brought the game down another notch. This game had all the makings of a great, spooky adventure but failed every time. The graphics are another bone to pick. I almost like them, except for the constant flashing. If they had stopped that (maybe done it once or twice every 2-4 minutes) I don't believe I would have a headache right now. I am actually very sorry I bought it (a first for me for when I try out a game first and end up hating it). I gave 2 stars instead of 1 because the environment was actually kind of creepy and some of the story was actually pretty good. However, it isn't worth even using a free game code on. Don't waste your time on this one, there are so many better ones out there!
September 25, 2012
The Apple logo is a trademark of Apple Computer, Inc.